---

22nd Annual National Nomad Convention
The Wagons take South Dakota
July 10-17, 2010
By Diane Preston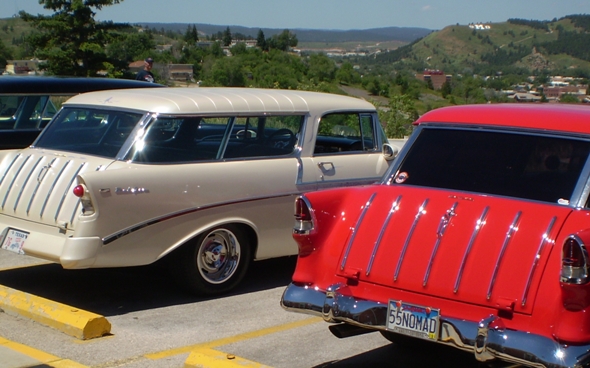 I'd been preparing for this trip all year with tour books, museum guides and Triple A maps. Bill had put new tires and a new larger air conditioner evaporator in the Nomad to get it ready. On Thursday morning, after the rush hour traffic cleared around Dallas, we headed north on a leisurely trip in our 1956 Nomad to the Chevy Nomad Convention in Rapid City, SD. We made the five-hour drive up I-35 to Arkansas City, KS by Friday afternoon. We spent the night and visited with Bill's nephew and saw his new 2010 Grand Sport Corvette.
Friday our goal was to arrive at Grand Island, NE early enough to see the Stuhr museum, that advertised having 250 vehicles on display (we love car museums). It didn't take us long to look at the 10 Model A Fords they had and we weren't too interested in the 240 pieces of farm machinery that made up the rest of the collection. It was an excellent museum, though.
We had time to drive 40 miles west on I-80 to Minden, NE where we planned to spend the night and tour the huge Warp Pioneer Museum. We spent an hour in the main building of the museum that has a large collection of cars arranged in date order. Later the Nomad contingent from Oklahoma City arrived to meet us as planned. Tracy and Larry Myers, Jr. and an adorable teenage niece were in his Dad's coral and gray '55. True and Sherri Osborn were in their Rochester Fuel Injected custom yellow '55. Annette and Larry Myers with two hyper-caffeinated grandsons were in their beautiful blue custom '57 pulling a trailer. Their 4L60E transmission was acting up. Saturday morning while the rest of us were touring the museum all morning, Larry and Larry, Jr. found a place to put in synthetic transmission fluid and filter. (This is your reminder to change fluid at 50,000 miles.) He also had to stop using the overdrive because it was down-shifting too much when towing the trailer.
The four Nomads headed northeast on "scenic" Route 2. There's nothing out there except grass, an occasional cow and LOTS of LONG trains carrying coal east!!! Fortunately for Preston's 12-per-gallon '56, there were a FEW gas stations, but we had to get by with less than premium grade fuel to avoid Ethanol additive. We had to deal with the repercussions of using Ethanol gas when driving the Nomad across Nebraska in 2003!!! We arrived in Alliance, NE in time to see Carhenge and take a few pictures. (A humorous re-creation of Stonehenge) Interesting, but not something you'd drive out of your way to see.
Sunday morning it was a short drive into Rapid City, so we took a side trip into the Black Hills. Lunch was at Hot Springs, SD where first-time-Nomaders, Gary and Dana Hamm, waved us down to look at the cars. Myers and Osborns set off to tour Wind Cave and Prestons took a drive thru the Black Hills. We followed a thunder storm into Custer, SD, finding the streets already covered with half-inch hail. We immediately drove the Nomad under someone's empty carport and waited for the localized storm to pass or fizzle out. Then we drove on to the Convention hotel in Rapid City. We picked up our name badges and greeted lots of old friends. As soon as we got to our room we ran into the Lugos from San Antonio and the Carters from Ohio.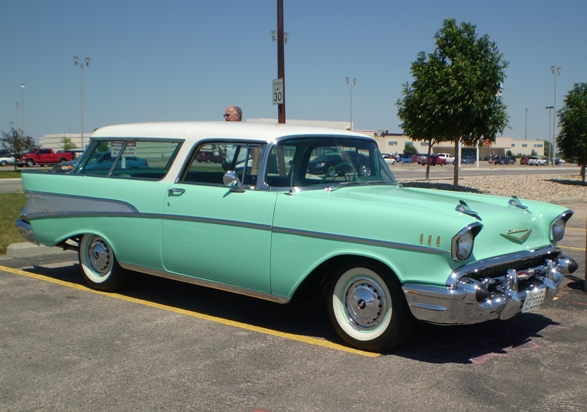 Sunday evening classification began for the car show. It was raining a little, but most cars got classified. There were special kids' activities Sunday night, so all the kids/grandkids could meet each other. The indoor water park at the hotel, and the local attractions had encouraged more kids to come than usual. We enjoyed dinner at the hotel with the Hamms, our new acquaintances from Nebraska. The balcony of our second-floor room overlooked the parking and swap meet area, so we had a great view of everything that was going on and everyone there. It was also a great place to hang our car cover and nose mask (bra) to dry on Monday.
Monday was registration, classification, judges' meeting and Mad Martha's traditional seminar about the local history and attractions. This new time slot for Martha Gatsby's seminar brought in a large audience. Monday night was a Rock & Roll party with a DJ and 50's trivia.
The Ramkota Best Western had lots of restaurants nearby, so we could walk, if we didn't want to move the Nomad. They also had LOTS of parking. Judging director, Terry Hardy, set up the Tuesday car judging in a separate lot, so we didn't have our traditional Chinese fire drill Monday night trying to move the cars into their pre-classed positions. Having the cars arranged by classes makes the judging a lot easier and faster and the participants are more likely to compare the cars accurately. There were 71 Nomads being judged. Some were restored stock, many were modified or customized, some were trailered, but most were driven. Bob Miller's one-owner '55 was original and unrestored.
Tuesday afternoon a special tour was available if we wanted to go to the nearby Hot Rod Institute. It was interesting to learn about their 18-month program for teaching body work, painting, engine, chassis and upholstery in three-month sessions. Tuesday night we drove to Fort Hays for a chuck wagon dinner and music show.
Early Wednesday morning everyone loaded onto four busses to do our day-long guided tour of the Black Hills area. Our tour included stops at Mount Rushmore, Crazy Horse Monument, Custer State Park and Needles Highway. Our bus driver told us lots of interesting stuff about the towns we went thru and the events that had taken place in the area. We took a steam locomotive from Hill City to Keystone where our bus picked us up to return to Rapid City
Thursday was the annual membership meeting where we got information about the 2011 Convention in Dayton, OH, and the 2012 Convention in Sacramento, CA. We were free the rest of the day to do local sightseeing. Fourteen Nomads went to a nursing home to exhibit the cars for a couple of hours. The trip there was definitely worthwhile because they have the BEST view of the city!!! Thursday evening was the awards banquet with lots of trophies and door prizes. There were 364 people in attendance at the Convention from 36 states, Canada and England. Furthest distance driven in a Nomad was Ed and Mary Robertson's '55 from Pulaski, Mississippi.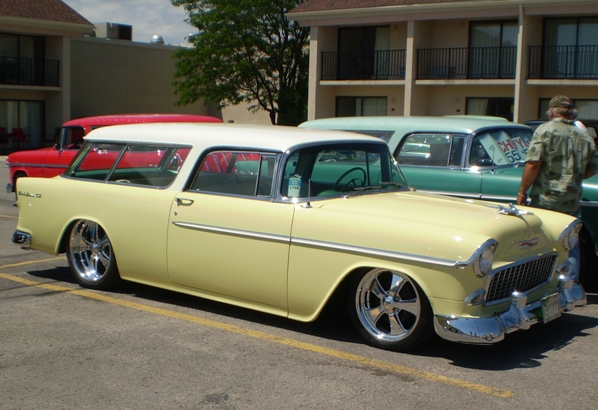 All the trophy winners get their "official" photo taken for the Nomad Post on Friday morning before leaving. We drove to Sturgis for breakfast then enjoyed the scenic loop thru Deadwood before stopping to see Jim and Kathy Stratham's home near Spearfish. They've recently moved from California to South Dakota and have built a beautiful log home with a great view and GREAT garages. Going to these Nomad conventions allows us to meet fun new people all over the country who share our interests. Jim even found us a hotel room in Spearfish for Friday night, amidst the hundreds of Corvettes that were in town for the Black Hills Classic!
Friday evening Spearfish had a large Arts & Crafts fair in the park and ALL the great Corvettes were lined up, four deep for four blocks along downtown Spearfish. The Black Hills Corvette Classic begins in Sioux Falls, on the eastern edge of South Dakota. They have three days of autocrosses, car shows and other events there. Then they all drive I-90 clear across the state on Wednesday to do three more days of events, including drags and driving tours around Spearfish and Sturgis on the western edge. We found 45 cars from Lone Star Corvette club who had driven all the way from DFW.
Saturday morning we left Spearfish and drove to Murdo, SD to yet ANOTHER great museum with LOTS of cars! To avoid road work we drove further east to stop in Norfolk, NE for the night. There were lots of storms all around that night, but nothing serious in Norfolk. I just lost a lot of sleep worrying about the Nomad in the parking lot. We'd planned to make more stops on the way home, but once we headed south we just wanted to get home. We got back to Flower Mound, TX about 7:30 Sunday evening!!!
We really enjoy going on these trips with our old cars. We meet lots of interesting people, make some long-lasting friendships, get lots of tips from other car owners and Bill gets to buy old car parts. He got a "new" rear lift gate and window at the swap meet. This trip we even had enough room in the big roomy Nomad to bring it home WITH us! We had a smooth trip with no car problems. The new air conditioner was SUPER cold and the weather was VERY good… not perfect, but good. That's all you can hope for.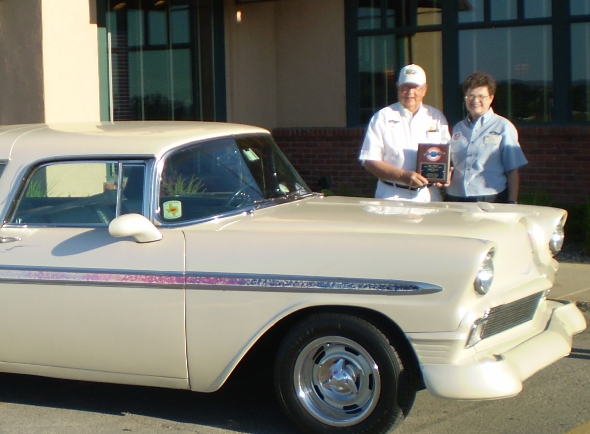 PHOTOS FROM RAPID CITY, SOUTH DAKOTA
AND THE 2010 NATIONAL NOMAD CONVENTION

---
Home | About Us | Membership | Feature Car | Calendar
Pictures | Merchandise | Multimedia | Chat Room |