SPECIAL
FEATURES




SPECIAL REPORT
2016 DACC 40th Anniv
'55-'57 Chevy Show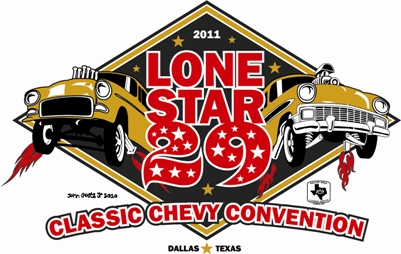 SPECIAL REPORT
2011 Lone Star
Classic Chevy Convention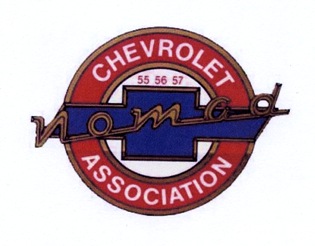 SPECIAL REPORT
2010 Nomad Convention



SPECIAL REPORT
2009 SEMA SHOW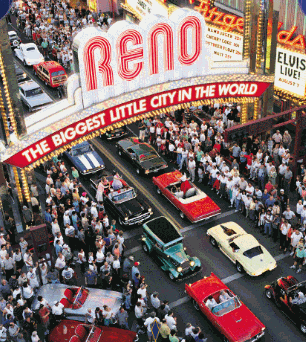 SPECIAL REPORT
2008 Hot August Nights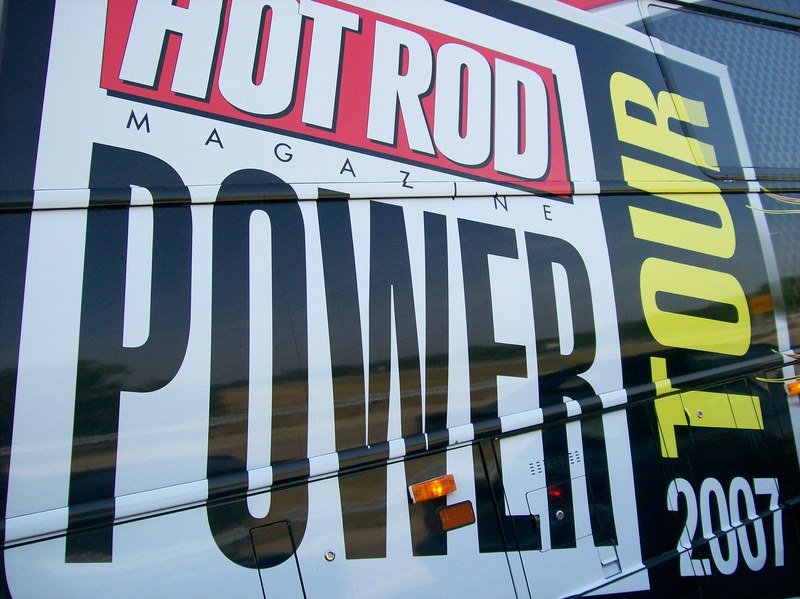 SPECIAL REPORT
2007 Power Tour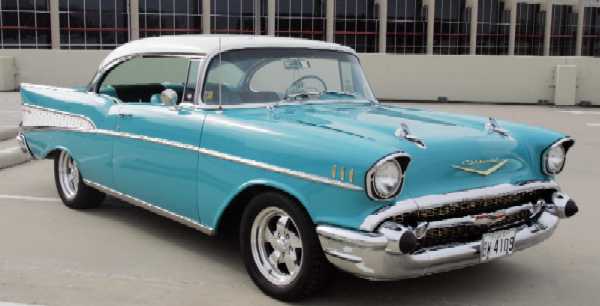 2007 Dallas Morning News
50th Anniversary Review of the 1957 Chevy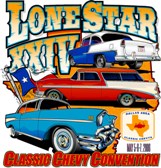 Photos/Results from 2006
Lone Star Classic Chevy
Convention - Dallas
email us at
DallasClassicChevy@gmail.com

Copyright 2021
Dallas Area Classic Chevys
---
The 2007 Hot Rod Magazine
Power Tour
Cleveland, Ohio to Little Rock, Arkansas
in a blown '57 Chevy
by Larry Rollow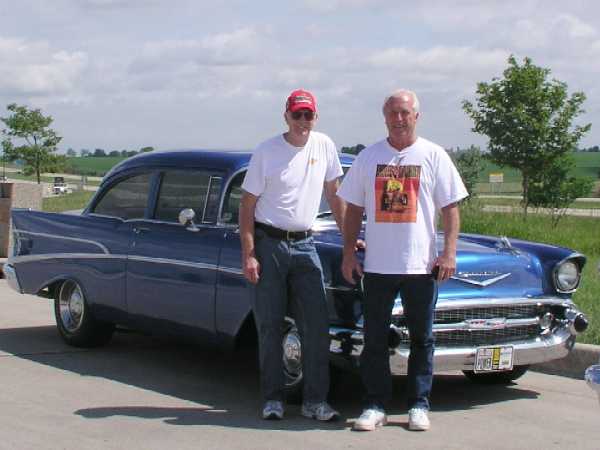 The following is a diary of DACC member Larry Rollow's summer of '07 adventure known as the 'Hot Rod Magazine Power Tour'. This event annually consists of taking hot rods, collector cars, street rods, rat rods, modern muscle cars – pretty much ANYTHING automotive and driving it on a tour of about a week across a pre-determined area of the United States. The event has grown to where thousands of vehicles participate (Think of Route 66 on steroids). Larry and his '57 is a veteran of the Power Tour having made the '04 Tour. This summer Larry and his good friend Rich made the tour and what follows are photos and his experiences from 'Larry's Excellent Summer Vacation'
Travel day one, Wednesday May 30th – Dallas, Texas to West Memphis, Arkansas: My friend Rich (we grew up together in Southern California) and I left Dallas at 11 AM in a driving rainstorm. Traffic moved well until we got to the Interstate 30 bridge that crosses Lake Ray Hubbard. There, traffic slowed to nearly a standstill due to an accident. Shortly after traffic eased, we had our first mechanical problem. We heard what sounded like small metal objects falling off the car and hitting the road. We stopped, checked under the car, then under the hood. All looked OK, but just as I was getting ready to close the hood, I noticed that the fuse that controls the auxiliary cooling fan was literally burned up. All we could do at that time was disconnect the wire and see about it later. Since it is an auxiliary fan, we could live without it for now. The rain finally let up as we approached Texarkana. We made it to West Memphis, Arkansas for the night.
Travel day two, Thursday May 31st – West Memphis, Arkansas to Walton, Kentucky: We left West Memphis around 9 AM. The weather was good, which was a pleasant change from the previous day. The car seemed to be running fine and we were making good time. Sometimes that is a bad omen. Sure enough, as we were rolling along through northern Tennessee, the windshield cracked from top to bottom right where it makes the turn towards the rear of the car on the drivers side. We looked it over at the next stop but could not see any evidence of a rock chip or other damage. I finally concluded it was due to stress on the glass. This was further evidenced by the fact that the outer glass started to separate from the inner glass. As it was doing this it became clear (pun intended) that it could get to the point where the drivers vision would be impaired. We figured that it would be OK until we got to Cleveland, where we would have more time to deal with it. We stopped at the Corvette museum in Bowling Green, Kentucky. This is a place worth seeing. Lots of Corvettes, of course, but also lots of history about the car, how it is built and many rare and developmental Vettes were there to see. My '57 caused a stir when we parked it in front for some photos. Several people came over and wanted to get pictures of my car with them next to it. Of course I said yes, isn't that one reason we go to all the effort to fix up our cars?
Travel day three, Friday June 1st – Walton, Kentucky to Cleveland, Ohio: We left at 9 AM for the final leg to Cleveland. Again, the car seemed to be running well. Too well. A new problem asserted itself, namely, the car would miss during a long pull up a hill. If we eased of the gas pedal it seemed to catch and begin to run smoothly again. I racked my brain to think of possible scenarios for this malady. My first thought was that some trash was in the float bowl and was clogging one of the jets; yet another thing to check out when we reached Cleveland. We arrived at the hotel at 2 PM. The folks at the Hampton Inn could not have been nicer to us. They gave us a suite and told to park in the handicap spaces behind the hotel, away from the potential door dingers. In talking to some other Power Tour participants there, we found out that we could go over to the venue and get our packet now rather than waiting until Saturday. So we headed over to the IX center and got in the very short line and got our credentials for the tour. This proved to be fortuitous.
Tour day one, Saturday June 2nd – Cleveland, Ohio: Check in day at the IX Center dawned beautiful, albeit humid, but still nice. We set about to try to fix the various problems that had beset us on the way up to Cleveland. We headed to the nearest auto parts store to get a new fuse for the cooling fan and asked about glass shops. They had the fuse, but the glass shops were booked up and closed early on Saturday. Back at the hotel parking lot, I tested the circuits for the fan, found no shorts, installed the fuse and we were back in business. Then I pulled off the float bowl to check for dirt. Very little was found, but I cleaned it out anyway, as well as checking the filter in the fuel inlet port. All seemed OK. We also had purchased some Super Glue, having the idea that we could dab some glue along the crack in the windshield, apply some clear tape over it and perhaps slow or stop the glass from separating anymore. Rich ran over to the nearby Kmart to get some tape. Our plan worked, the separating stopped. With that job done, we decided to head over to the venue to see what was happening and get the free lunch offered that day. The lines for check in were very long, so were glad we went the day before to get that done. Shortly after we finished eating, I received a call from Dean Schmidt who was also doing the Power Tour. His power steering pump was leaking and he could use some help. Dean and his wife Audrey were staying with his brother in a suburb of Cleveland. After a ride of about 25 minutes, we arrived to see what we could do. When we got there, he had started to remove the pump. I had some fitting wrenches he needed, so we soon had the pump off. Dean had located a pump and asked his brother to take Audrey to get the pump. While we were waiting for Audrey to return, we realized that the Power Tour registration was closing in a short time, and there was no way to get it done the next day. We jumped in my '57 to go back to the venue to get them checked in. When we returned, we set to installing the new pump that Audrey had picked up. It started to rain, so we pushed the car into his brother's garage and continued our work. Unfortunately, the pump was the wrong one, having a different size mounting bolt on it that would not work with the brackets Dean had on his car. Dean had also purchased a pump rebuild kit from a local Corvette shop. But after taking his old pump apart, we discovered that the main shaft was galled too badly to be used. So we were dead in the water or in this case the rain for now. Dean had also ordered a pump from a local parts store as a backup in case he couldn't get one on Saturday. It was to be delivered to the parts house early the next day from their warehouse. We headed back to our hotel after some good Pizza for dinner.
Tour day two, Sunday June 3rd – Cleveland, Ohio to Kalamazoo, Michigan - 244 miles. We left the hotel after getting a call from Dean that he had the pump in hand and was sure it was the correct one. We had originally planned to go the morning drivers meeting, something the Power Tour has at each venue to start the day's travel. But we did not want to leave Dean and Audrey in a lurch, so we headed out to the 'burbs to get the new pump in. Oh, I forgot to mention, it was raining—pretty hard. To make a long story a little shorter, we got the new pump in, unfortunately with a slight leak from the high pressure fitting. Dean said he wanted to leave anyway and would check the fluid level as the day wore on. The Power Tour route usually includes some driving on rural or secondary roads. But since we were getting a late start, we decided to take the interstate to try to catch up. There was a lunch stop, sponsored by Dynomax, at Sterling State Park, right on Lake Erie. The rain had let up by the time we got to there. However, shortly after we got in line for our free hot dogs, the rain started again. We got our food, retreated to a covered pavilion to enjoy our gourmet meal. On the drive up to Cleveland, I purchased some RainX rain repellant at a truck stop. Stock '57 wipers aren't the best, but to improve them I had installed a Newport Engineering wiper motor before this trip. Dean has a Rain Gear system in his car. But the new wiper arms that came with his system stripped out on the serrated nub that sticks through the cowl, shortly after we left Cleveland. Even though I still had operating wipers, we both became quite dependent on the RainX that I had purchased. Let me tell those of you not familiar with RainX, this stuff really works! The rain had stopped by the time we arrived at the Kalamazoo County fairgrounds that afternoon. We were tired, wet and ready to go to the hotel, but Long Haulers must get their cards stamped at each venue to prove on the last day that you made whole tour. Also, since I am a magnet freak, I had to go to the MSD booth. MSD gives out a small magnet at each stop. On the last stop, you get the last magnet as well as a "frame" to put them in. I have the whole set from the 2004 Power Tour, and wanted the set from this one as well. Perhaps, I should digress here and mention to those who have not done the Power Tour, at each stop there is a giant car show at the designated venue. Local folks can come out and bring their cars to show. And there are vendors, many vendors giving out stuff such as T-shirts, can cozys, sign up cards for drawings and etc. Dynomax brings a rolling chassis dyno for those who want to see how much rear wheel horsepower their cars generate. All the vendors pack up after the end of the car show, head out to the next venue and are ready to go when we get there. It is pretty amazing. Also each evening at around 6 PM on the portable stage, each venue sponsor will give away some nice things, and there will be some speakers, various contests, such as seeing who can make the most realistic sound of a car with a radical camshaft in it. You get the idea. We didn't stay too long here and headed to the hotel. I also discovered that the aux cooling fan had quit again. That will have to wait until we got home to be repaired.
Tour day three, Monday June 4th – Kalamazoo, Michigan to Racine, Wisconsin - 219 miles. When Dean and I did the '04 Power Tour, several of his car buddies from the Plano area went along. This time two of them went on the tour; Chuck who has a very nice '34 Ford three window coupe and Mark who drove his new generation "Eleanor" Mustang clone instead of his Street Rod. Chuck and Mark had left the hotel before us so Rich and I lined up behind Dean and headed for the road, deciding not to go to the drivers meeting. Oftentimes these meetings turn into a really big traffic jam trying to get out of the venue. This day, Lane Automotive sponsored a brunch about 40 miles into the tour. These guys really had their act together. Parking was easy, the food was good and the employees of Lane could not have been nicer. So after getting our fill of pancakes, grabbing a few catalogs and checking out their showroom we were back on the road. Then the rain started again. The tour route to Racine had us going through Chicago. At a gas stop just south of Chicago, we started chatting with a man who lived in the area. He said not to take the Skyway through downtown Chicago, the prescribed route, but to take the road that goes around downtown to the west. He said even though it was longer, it would be faster. That worked out fine, since Dean and Audrey were planning to visit relatives just off that route. It turned out that he was correct, when we met up with Chuck and Mark, they complained about the route through downtown Chicago, echoing what our Good Samaritan had told us. Since our hotel for that night was right along the route to the lake front area of Racine, we stopped to check in. Then off to the venue. Oh, did I mention it was still raining. It was approximately 18 miles from our hotel to the venue. Because of the weather and the sheer number of cars on the tour, it took us an hour and a half to get into the venue. Part of the problem, was that the local cars were using the same entrance as the Long Haulers. Usually they enter at a different place and have a parking area adjacent to the official Long Hauler parking. So it took a long time to get in. Rich's wife was visiting her grandchildren not too far away, and was coming over to look around. Luckily, just as they arrived, the rain let up. On the walk back to the car to return to the hotel and have dinner, I saw a large crowd around a Power Tour car, parallel parked along the street. The car was a '56 Chevy I had photographed earlier. Next to it was a flat bed truck with a crane-like apparatus that had four large nylon straps hanging from it. The straps were such that each one could be attached to a wheel of the car. I watched as the crane apparatus lifted the car from the parking space, (there were cars in front and in back of it) and placed it on the flatbed truck. I had never seen anything like that before. We heard later that the car had some serious engine problem so we presumed it was headed to a repair shop. I should mention our problem with the car cutting out on long hills, was still with us, but I had discovered that turning on my auxiliary electric fuel pump seemed to cure the problem. After a dinner of German sausage and beer, and, we washed the car in hopes that the rain had gone away for good.
Tour day four, Tuesday June 6th – Racine, Wisconsin to Springfield, Illinois - 287 miles. The day dawned dry and we were hopeful that it would stay that way. Dean, Mark and the two of us left the hotel, (Chuck had left earlier), to join the route. Today was the longest mileage day of this Power Tour. A fair amount of this days driving was on the interstate, so they could make it a bit longer than usual. Not long after we entered Illinois, on a rural road and enjoying the pretty scenery and dry conditions, we entered the town of Spring Valley. There were lots of folks out lining the streets and bringing out their classic cars and Hot Rods to show off. We had heard from Chuck who had preceded us through Spring Valley that the local bank, Citizen's Bank, was serving Brats and sodas to the long haulers. So we parked on a side street and headed for the bank. Sure enough, there they were, just as we had been told and it was free! One of the residents of this town had their very nice 1957 DeSoto parked on the corner. Parked in front of the bank, was a period correct '32 Ford low boy complete with a flathead and steel wheels. Nice folks and a nice town. Of course, we got more rain, but it had stopped by the time we arrived at the Illinois State Fairgrounds. This was probably the best day in terms of people being out to cheer us on during the drive. It really makes it fun.
Tour day five, Wednesday June 6th, Springfield, Illinois to Evansville, Indiana - 235 miles. Today's drive started out in pretty good weather. We were all cruising together, with Chuck setting a brisk pace. We noted that there was a P.O.I., or point of interest listed on the driving instructions. It was a two story outhouse! It was just a couple of blocks off the route, so we just had to check it out. When we pulled up, there it was, standing all by itself, with no way to get to the upper stall. My first thought was I don't want to be in the downstairs stall! Then I took a look and, of course it was not what I was thinking. There was a glass covered sign that had photos of it when it was in use, back in the olden days. There once was a two story house attached to it, ah, now I see how one accessed the upper stall. I have to say I have never seen a two story outhouse before! The route to Evansville featured a lunch stop at Mid America Motorworks. Mid America is a supplier primarily to Corvette, Porsche and VW owners. They had their act together like Lane Automotive; we got right in, got a really great parking spot where lots of people were walking by. The lunch was good and they had opened up their showroom and sales area for all to see. They also had a vintage gas station you could drive through and get a photo or two. From Mid America Motorworks to Roberts Stadium in Evansville, was 125 miles. Most of it on either a U. S. highway or the Interstate. The carburetor was still acting up occasionally, but we were getting by.
Tour day six, Thursday June 7th – Evansville, Indiana to Memphis, Tennessee - 267 miles. Ah, no rain! Rich and I were on our own today as we had stayed at a different hotel than the rest of the guys. We were greeted with a large traffic jam shortly after joining the route. The bridge across the Ohio River was under some type of repair and narrowed from three lanes to one. We inquired from local drivers if there was an alternate route, but were told it would take longer than waiting it out on the bridge. Once we cleared the tie up, we went through some pretty country but only a few spectators were out. The route took us across the Kentucky Dam which was quite large and picturesque. We were rolling along, but a bit hungry and in need of gasoline. So we pulled off the route in Fulton, Tennessee. There was a McDonalds and a gas station, what else did we need? As I pulled into the parking space and applied the brakes, the front of the car jerked and made a strange noise. We went in to Mickey D's, ate and then headed back to the car to see what was wrong. I looked under the front at the suspension, but all looked good. Then I opened the hood to check there. I finally observed that the all the shims that are used to adjust the camber and caster were missing from the right front attach point of the cross shaft for the upper A arm. Furthermore, the nut had only about half of the threads still holding it on. Not good, but I did not leave those nuts loose. The last guy to touch them was the guy who aligned the car. I concluded that on the first day when we heard the jingling noise, my attention must have been distracted by the burned up fuse, because I am certain that noise was caused by the shims falling out then and I did not see that they were missing. I gingerly drove the car across the street to get gas and ask them where I might find an alignment shop hoping I could get some shims there. It so happened that next to the gas station was an Advance Auto Parts store. I parked in the lot, went in to see what they had that might help us. The parts man told us that there was no alignment shop in Fulton, the closest being in Union City, some 12 to 14 miles away. Then I asked if they had any alignment shims. They did not, but called a local mechanic to see if he had any; he didn't, but suggested using body shims. They had some, so I bought two packets of them. I should have thought of using body shims, and maybe I would have eventually, but I'm glad the mechanic did. In any case, they fit. I had to estimate how many I needed based on the remaining shim packs. Total time lost was about 35 minutes. Yes, we were very lucky. This venue was at the Memphis Motorsports Park. It is quite large, having drag racing, a roundy-round track and even drifting. We had to park out in the boonies, but headed in to get our cards stamped and, of course, get our MSD magnets. They were having fun runs for the Power Tour cars on the drag strip, so we decided to watch. We saw an eleven second Camaro, a 13 second Dodge diesel truck, several reasonably fast street rods, and two '57 Chevys among the racers. One '57 was running in the high fourteens and the other was in the sixteen second bracket. A 1951 or 1952 Plymouth two door wagon pulled up to the line. In my day we would call it a beater, but now it is a Traditional Rod or Rat Rod. He ripped off a 13 second ET, so I had to take a look at the car. It had a late model supercharged Ford drive train in it, nicely done, and very subtle. Then there was the early 50's four door Kaiser, also a beater, blazing his way to a best E.T. of 22.5 seconds. Rich swore he saw him eating crackers during his runs and I thought I saw him tuning the radio, but in any case he was having fun. We watched a few more drag races and we headed to the hotel, planning to return for the morning meeting. But we found out that our hotel was actually in West Memphis, AR not Memphis, TN, some distance away, so we gave up on that idea. We ran into Chuck at the hotel parking lot, and he told us about his friend, Jerry Dixey, who writes for Street Rodder Magazine. Jerry knows a man who lives nearby that had a collection of cars and other memorabilia. We were invited to scope it out along with Chuck and rest of our group in the morning.
Tour day seven, Friday June 8th, Memphis, Tennessee to Little Rock, Arkansas - 177 miles. We got up, ate, packed and checked out in anticipation of the tour of the collection. We met up with Chuck and he said he only wanted to wait until 9 AM and then leave if Jerry was not there by then. After several phone calls and the visit being off, then back on again, we left to meet up with the Jerry. We expected a modest collection and a quick visit, then back on the road. Boy were we wrong. It turned out to be the collection of the owner of a major Street Rod parts producer, among other things. He lives on a 55 acre estate not far from the interstate. He has a complete early sixties Texaco gas station transplanted to his property. It is complete in every detail, including working gas pumps delivering gas at 35.9 cents a gallon. Jerry filled up his car, total cost $2.05! I worked at a Texaco station during my college days at around the same era this gas station was in use, so I can attest to its accuracy and completeness. Totally amazing, and everything works! Next to it was a building that houses part of his neon sign collection. Again, totally amazing. Most of them work and many have been restored to new condition. We were invited in to tour his beautiful home; saw some if his cars, including two magnificently restored '57 Chevys, as well as several equally beautiful '39 Chevy Street Rods. More neon signs in yet another building as well as more cars. After all that, it seemed mundane to get back on the road to Little Rock. We joined the route, with Jerry joining us in a very nice '32 Ford highboy powered by a blown flatty. The rain had stopped upon arrival in Little Rock in mid-afternoon. After parking, we set out to get our final stamps and magnets and check out the cars and vendors. They were offering a free lunch to the long haulers, so we took advantage of that and retired to the best shade we could find. My friend Rich lives in California and is not used to this type of humidity. I have to say, even though I have lived in Texas for over 30 years, I don't tolerate it much better than he does. So late in the afternoon, we went to the hotel and air conditioning.
Tour day eight, Saturday June 9th, Little Rock, Arkansas to Dallas, Texas, 325 miles. On the day after the last car show, the Power Tour has a ceremony for the long haulers. We got over to the venue a bit early, only to find a big line of cars waiting to get in to the fairgrounds. After some messing around, the ceremony finally got under way. There were some giveaways, and then we all gathered for the long haulers photo, which will be published in Hot Rod Magazine sometime this fall. There were more giveaways, including a couple of engines and a new truck, actually some really nice stuff. Next was the long hauler commemorative gift. The gift we all earned for going the distance was a collapsible cooler with the Power Tour logo, the year and "Long Hauler" embossed on it. Also included was a gift card for some BP gasoline and, last but not least, the official Long Hauler certificate. During the course of the giveaways DACC member Neal Bellamy, who did the tour in his late model Corvette, told me I had won an Eaton Positraction unit the night before during the giveaways but--you had to be there and I wasn't. Oh well, such is life!
We all made it back to Dallas in one piece, in spite of our mechanical glitches. Overall, it was lots of fun, lots of cars and lots of rain. We were lucky in that our problems were fixable and we were able to continue and finish the tour. The rain did get old, and some days were a grind because of the distance traveled. I think they need to make the days a little shorter, and less interstate, so we can see more of the country. This also allows more of the locals to come out to photograph, watch and wave. This is a big part of the fun for us as we go by. Some people did make it out, even stationing themselves on overpasses to see the cars as they went by. That is cool, but I feel that there were more people out watching on the '04 tour. So now I will search out a new windshield, try to find our why the car cut out occasionally and get my auxiliary cooling fan to work again. Gotta get ready for the next Power Tour!
Just a sample of the cars on the 2007 Power Tour !
---
Home | About Us | Membership | Feature Car | Calendar
Pictures | Merchandise | Multimedia | Chat Room |