FEATURED TRI FIVE

Irv Engelbrecht's
1955 Chevy Pickup
with a modern twist!
Lufkin, Texas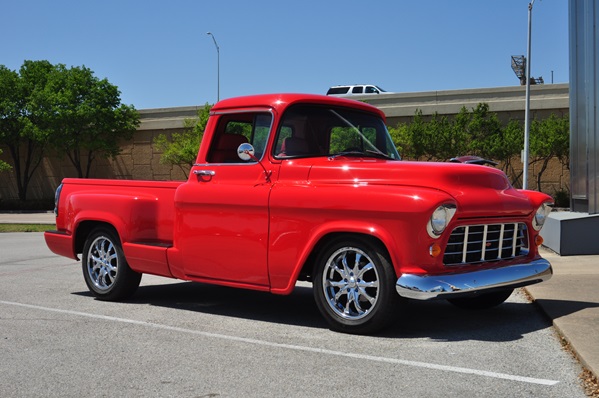 Hi folks! My name is Old Squeaky. At least that is what my new owner, Irv Engelbrecht of Lufkin, TX, calls me. He gave me that name after several attempts to stop my little annoying squeaks. When he gets one fixed, another one starts up in a different place. Oh well, since I donít have a radio, it keeps him entertained!
Irv found me listed for sale over in Mississippi on one of those internet sites last year. He liked the pictures and description. When he came over to see me and saw me setting on the carpet in Fredís garage, it was love at first sight. Fredís health was not good and I was the last of his collection. I was excited to get up on Irvís trailer, but sad to leave Fred.
I have Torch Red paint on my '55 Chevy pickup cab and '88 Sportside bed. My engine is a 350 with turbo 350 transmission. Front clip from what seems to be a Camaro and a .273 rear end and 18 inch custom wheels. This lets me cruise at 60-65 turning over about 2000rpm. I have power steering, power brakes and air conditioning for your Texas heat. What sold me to Irv was the way the builders designed the cab corners to flow with the '88 bed. Most people love the way they did it and lots of pictures have been taken at every show, gas stop or even going down the road.
I was built about 6 years ago by an old farmer and his son up in Oklahoma during the winter. When Irv bought me I had a VERY uncomfortable hard bench seat I think must have been a third seat from a Ford SUV. Irv decided it had to go and found a 60/40 setup and had those done very nice and comfy. When he and Peggy pulled the old seat out, she asked ďWhat is this?Ē Underneath the driverís seat was a board! If Irv had noticed it before he spent a LOT of money on the new seats, he would have been just fine sitting on the old seat, because it looked very nice!
I get to share a nice metal shop with Irvís other '55. He has had it for 21 years and I know he likes it best. It is the black 150 done in the American Graffiti theme that you may have seen at other DACC shows (Feature Story HERE). Oh well, Iíve been getting some awards at some shows in East Texas and even though I may squeak a little, I have fun doing it! See you down the road!
MORE PHOTOS
HERE