September 2008 DACC Feature Car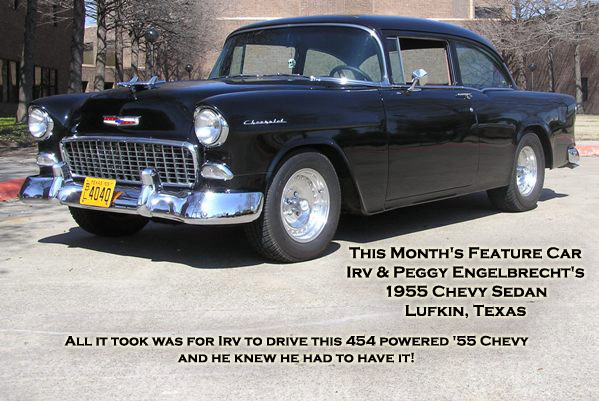 Hi, I'm Irv Engelbrechtís black 55 150 2 dr utility sedan. Irv is a new member to DACC, but a LONG time member of Ecklerís Chevy Classics (#9859) and has been thru several 55's & 57's thru the years. He and his high school sweetheart, Peggy, live in Lufkin, TX, about 180 miles from Dallas. His other hobby is singing in a barbershop quartet and chorus. Plans are for Irv to retire from the railroad at the end of this year and be able to do more singing barbershop and playing with me. Peggy is an accomplished artist and works with stained glass, fusing glass, watercolor and all kinds of other mediums.
But enough about them, this story is about ME. Of course being a gentleman, I can't tell you much about my past because a gentleman doesnít tell such secrets, so Iíll only go one owner back. He's a cool guy by the name of Jamie Deason who loves speed and is a heck of a good paint and body man. He lives in El Dorado, AR and found me abandoned in a field in 1981 and decided to bring me back from certain death at the crusher. My old rear end was replaced with a í67 Camaro 12 bolt 3:55 posi and my firewall was modified so he could put a 454 in and have a little room to work. He also cut out my rear fender wells and molded in the lips of a front fender and made it look like a Nomad. He put in some AC components, front disc brakes, electric front windows, 77 Camaro steering column and other parts from various cars before all these fancy kits came along. He also added some 210 stainless window and windshield trim because he liked the look. He built me for himself and didnít care if I am a 150 Businessmenís coupe and even added a back seat. At least he left my rear windows alone and they are still sealed. I donít remember how long it took him to do all this, but I remember he painted me with black Imron back in 1986 and I still look pretty good. Jamie used and abused me as we terrorized the streets of El Dorado and the local drag strip. Then other interests came along and I began to collect dust and overspray in the back of his body shop.
Fast forward to 2000Ö.Jamie decided he needed to raise some cash for expansion of this body shop, so he put me on eBay and see what kind of interest I would bring. My good buddy Irv just happened to come across my listing and liked what he saw. He made a bid, but was soon outbid. Before bidding any more he came to see me for himself and looked beyond the layers of overspray and liked what he saw. Then Jamie took him for a ride and that did it, Irv was in love with me! They stopped the auction right then and there and Iíve been Irvís ever since. He has replaced the 454 with another one, Sanderson headers, changed transmissions to a beefed up 700r4, new springs, front end kit, bumpers re-chromed, B&M shifter and pulled that back seat out. He is still rubbing on that overspray and if he ever has me repainted, those stainless pieces will be removed, too. When we go to a car show Irv has a lot of American Graffiti items that he likes to display with me because I look a little like the cool í55 that Harrison Ford drove in the movie. Ahhh, it is great to be loved, I think I found my HOME!