Dallas Area Classic Chevys
FEATURE CAR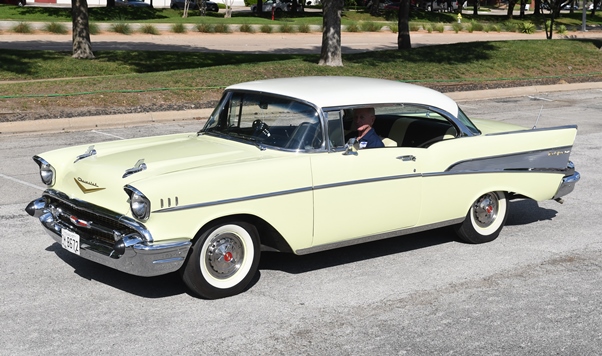 At the 2023 Lone Star Classic Chevy Convention, the last one after a 40-year run across the state of Texas, the Dallas Area Classic Chevys continued the tradition for the last time that we started many years ago of presenting a 'Club Pick' award from the club members attending the convention. In San Marcos, that 'Club Pick' award went to Jim and Lynda Rankin from Austin and their beautiful 1957 Bel Air Hardtop. Here is the story about their '57 called 'Sunshine'.
The Story of Sunshine
Jim and Lynda Rankin – Austin, Texas
In 1980 my wife bought me my first 1957 Chevy for my 40th birthday. It wasn't in very good condition but it was what I wanted; one that was restorable. Well, after diving into it I discovered that it had more problems than I wanted to tackle. I decided to start looking for a better restoration candidate.
One morning while looking through the Austin American classifieds, I spotted one that read: "From my Aunt's estate in Fredericksburg, 1957 Chevrolet Bel Air." That was all the information it gave except the price and address. It was in my part of town so I grabbed my checkbook and ran out the door, telling my wife that the guy must have left out a zero in the price given in the ad. She rode along with me to see for herself.
When we pulled up at the address, this nice looking India Ivory over Colonial Cream 1957 Bel Air 2 door hardtop was parked in the driveway.

I knew then that the quoted price was missing a zero. The owner came out and asked me if I was interested in the car. I told him I had only three questions: Q1; does it run? A: I drove it here from Fredericksburg. Q2: Do you have a clean title? A: Right here in my pocket already signed. Q3: Is the price in the newspaper correct? A: Yes, it is. So, I took out my checkbook and began to write the check before he changed his mind. He said, "Don't you want to drive it first?" I said, "No, I just want the title." He gave it to me and I gave him a check for $2,600, no missing zeros, and drove the car home.
When I bought the car, it had 106,000 miles on the odometer. That comes to just over 4,000 miles per year. Here's why. There was a man in Fredericksburg who bought a new Chevrolet every year. When the '58's came out he traded in the '57. A local woman bought it and, according to her nephew, seldom took it out of town. Grocery store, church, etc. When she passed away in 1983, the nephew got it in the will. As it turned out, he didn't want it and advertised it in the newspaper. I got there first and it's been my pride and joy ever since.
Over the years I've owned five '57 Chevys including three two door hardtops, a four door hardtop and a Cameo Carrier pickup. The others have long since been sold, some to my later regret, but this one has become a part of the family. My wife named her 'Sunshine' and the name stuck. The grandkids have grown up riding in her in parades and taking her to area car shows. On nice sunny days Lynda and I take her out for a drive around town just to see how many thumbs up we get from other drivers and pedestrians. Of course, she has been to many Lone Star Classic Chevy Conventions, missing only a few. We were honored this year to receive the Lone Star 40 Club Choice award from the Dallas Area Classic Chevys. It was a surprise and much appreciated.
After I'm gone, our son, Scott, will get Sunshine. He is a master mechanic on old GM cars, has rebuilt her engine and does all the maintenance. She couldn't be in better hands.
After Scott, she will go to our grandson, Chris. So, Sunshine will be a part of the Rankin family for a long, long time to come.
MORE PHOTOS
HERE