September's
FEATURE CAR

Tom Hopkins
1957 Corvette
Dallas, Texas

Tom's Corvette has provided him a lifetime of enjoyment.
Read all about this unique Corvette and where it's been!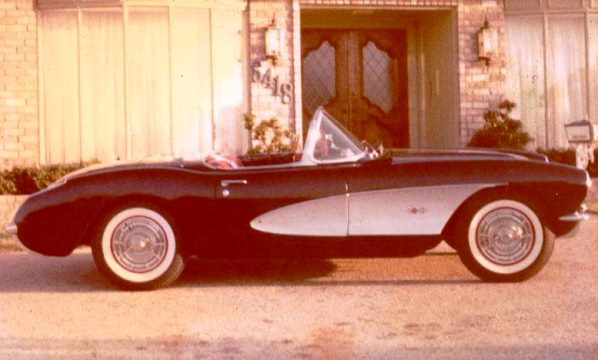 Tom Hopkins has had this 1957 Corvette in his life for 52 of his 68 years. Him and this Vette have enjoyed a fantastic time together, taking each other places they never dreamed of.

It was 1967 when Tom and his father placed an ad in the Dallas paper searching for a Corvette. From that effort this 10 year old Corvette caught Tomís eye and for $550 Tom began a love affair that has now lasted 52 years. Tom drove his Vette through high school and college while attending SMU (he attended Woodrow Wilson High School in Dallas where his Dad also graduated with none other than Carroll Shelby in 1940!). The í57 Vette was Tomís primary transportation for years.

In the late 70ís, Tom decided to see what kind of fun he could have with his Vette on the race track. He took it out to Green Valley Raceway on the drag strip a few times, and spent even more time running road races at the fabled old race track that closed in the early 80ís that was located near N Richland Hills. It was in 1984 that Tom really took a leap and after getting certified and making some upgrades to the old Vette, he shipped the car to the Bahamas for the first Grand Bahama Vintage Speed Week. The Vette was loaded on a ship along with many other vintage racers and big rigs in Miami and shipped to the Bahamas. More than 125 vintage racers took part in the revival of the old Bahamas Speed Week that took place from 1954 to 1966 when winning racers included Stirling Moss, Dan Gurney, AJ Foyt, Roger Penske, Mark Donohue among others. This first revival event in 1984 had the likes of George Follmer, Augie Pabst, cars like a í57 Scarab, Ferraris, Porsches, Grand Sport Corvettes and Jaguars. And a guy from Dallas with a í57 Vette named Tom Hopkins. It was an adventure of a lifetime and while Tom didnít win in his class (Group 3), it was worth every bit it took to prepare the car and get it and himself there to compete. One interesting note about this event, Tomís starter went out after getting to the Bahamas, so with a trip down to the local NAPA store he found in stock a rebuilt starter for his Vette that came from the NAPA distribution center in Mesquite!

If that was not enough, the same year (1984) the Dallas Grand Prix took place featuring the Formula 1 circuit as the headliner at Fair Park. Tom entered his trusty Vette in the vintage class at this event and competed on the same course as some of the most skilled drivers in racing. Tom would race several more times in Dallas Grand Prix events, and in 1988 the Dallas Times Herald did a write up about Tom and the actor/racer Paul Newman comparing the big buck guy and the low buck guy! Newman (the high buck guy) arrived with rigs, crew and the finest racing equipment, while Tom drove his racer from his house in Pleasant Grove over to Fair Park each day to compete!
Since those fun and fast days, Tom's Vette got put back in it's 'Street Trim', putting the original wheels and tires on, yanking out the roll bar among other things. Tom has worked on and restored many cars for customers in the past. Old Cadillacs, Porsches, vintage T Birds, Studebakers to name a few (he even has a '51 Studebaker Convertible sitting waiting for him to build!). It was just in the past few years that Tom went back to the Vette to 'bring it back'. He doesn't drive it a lot but when he does he still gets that thrill like he had in the past. With a 283 bored to a 301, 11.5 pistons, 4 speed and a 4:56 rear end, he can get to where he needs to go quickly, but nowadays he takes it at a slower pace.

Tom learned about the club by accident as club member Rodney Nevils who worked as patrol for the Dallas Police Department close to Tom's home came upon him one day. Rodney, also the owner of a '56 Corvette told Tom about the club and eventually Tom made it out to a club event and joined. We hope to see more of Tom and his first love at upcoming events!
MORE PHOTOS
HERE