June
FEATURE CAR
Dennis Fletcher's
1957 Bel Air Hardtop
'SURVIVOR'
McKinney, Texas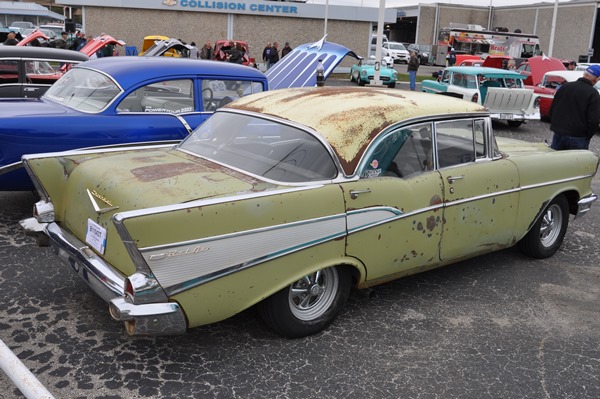 I own two Tri Five Chevy survivors. You may have seen one or the other of them, maybe even both as they were both at the Lone Star Convention that we put on last year. My 1955 original 6 cylinder 2dr Sedan was featured in the past, so this story is about my other car, my 1957 Bel Air Sport Sedan.

I acquired it not too long after buying the Ď55. I bought it in 1975 while still in college and it was all original except for two things - the seats and door panels had been recovered and the original 283/powerglide had been replaced with a 235 and a 3 speed manual with a floor shifter.
How I acquired it is a bit of a story. In the mid Ď70s, both my father and I had Ď55ís. My í55 Sedan as I mentioned and his Ď55 Bel Air 4dr sedan with a 265/powerglide (wish I had it now, it was perfect). We lived in a small town in Arkansas and of course everybody knew this. My father worked at the local gas station and he spent a lot of time there. One day I was home from college with my Dad and we noticed that a Ď57 Chevy was coming down the driveway, followed by another car. Dad and I met the gentlemen out in the driveway to see why they were visiting. Turns out they had heard about our two cars and was wondering if we wanted another one, the Ď57 in other words. We looked it over, it looked ok and obviously was running and driving. They wanted $50 for it. Needless to say, I pulled out what little money I had (very poor college student) and handed to them!
I took it back to school and kept it with me until I graduated a couple years later. It still has the Sigma Pi fraternity sticker I put in the back window at that time on it. After that it spent some time at Dad's house. He drove it work quite a bit and I would drive it whenever I was home.
Around 1980, not sure when exactly, I decided to start working on it a bit. I bought a set of Cragar SSís for it with new tires and put those on it. That greatly improved its look. It had some rust spots here and there on it, so I bought a can of green spray paint and covered them up in an attempt to slow down the rustís progress (it didnít work that well I can tell you now).
We also had a 1967 4 door Impala at the time in the family. It was in ok shape but nothing special. It had a 283 in it (the last year for that motor I believe) and I decided my Ď57 needed that motor more than the Ď67 did. So we pulled the motor, rebuilt it and swapped it into the Ď57. We reused the 3 speed trans, by just exchanging the flywheel, clutch and bell housing with ones from a V8 (found in a local wrecking yard). We put a hi performance Crane cam in it as well as added some headers. In hindsight we should have kept that í67 Impala or I should have at least used the power glide it had in it.
The upside regardless though was that the Ď57 was now like a different car. Compared to when it had that 235 it now felt like the rocket it looks like. It got driven even more and needless to say a lot faster at times than it should have been.
I had moved to Chicago by now and so drove it up there and kept it there for awhile. When I moved to California in the mid 80ís it went back to my Dad's house in Arkansas. He drove it some and I drove it too when home up until 1995. It got parked in Dad's shed for an extended period at that point.
In 2012 we moved to McKinney and I now had a 3 car garage to work with. On the Fourth of July weekend of that year I took a truck and trailer to Dadís place and picked up the í55 (by now it was there too). At Christmas of 2012 I did that again, this time picking up the Ď57. I worked on the Ď55 first and got it running and driving, fixing all the various issues it had. I have left it as is mostly, only putting carpet in and having the seats recovered with material matching the original.
In the spring of 2016 I turned my attention to the Ď57. I got it running, it had a number of issues. I had to rebuild the Q-Jet carburetor and gave it a complete tune up. I replaced the gas tank, did the brakes, got a new radiator core and other miscellaneous work.
Since getting it running I have worked on cleaning it up. Since the paint is original, whatís left of it that is, I plan to leave it as is mostly. I sanded off most of the green paint I had sprayed on it so long ago, revealing more original paint and that improved itís look a lot. I have polished and waxed it too partly to shine it up but also to help stop any new surface rust. As soon as the budget allows I will have it shot with clear. I also intend to restore the interior, carpet, seats, door panels, rubber seals, etc.
I also worked on the Cragar wheels after deciding finally to keep them instead of replacing them. I decided they matched the car as both have patina. After all this time they were a bit rusty too (ok a lot rusty). I wire brushed the rust off the steel part and polished the chromed aluminum part as much as possible. I sprayed all the steel with rust inhibiting primer and then sprayed the outside with silver wheel paint. New tires went on too of course. They look pretty good now considering and a few people have commented they get it and like the look.
I havenít been able due to conflicting time demands to attend very many club events lately (for example I couldnít go to the recent Good Guys meetup) but I plan to come to as many as I can going forward. So, you guys will get a chance to see my survivors sometime soon Iím sure!
MORE PHOTOS
HERE