APRIL FEATURE CAR
Robin Collord's
1957 Nomad
Valley View, Texas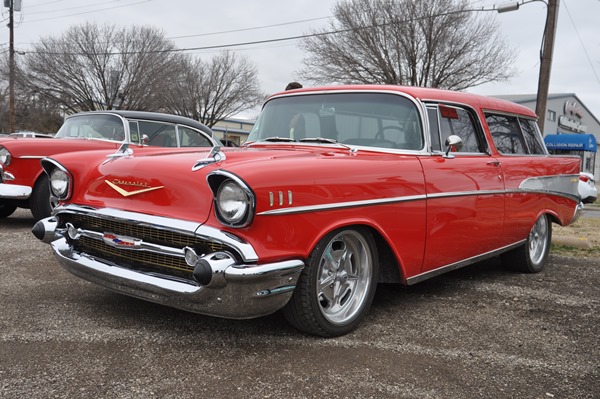 We begin with the decision to chase down a 1957 Nomad. I always wanted one and now was the time. I guess I saw this one on EBAY.... I cant really remember, but I eventually chased the owner down and called him. It was located in Aurora, Colorado and had spent is life, death and resurrection there. It was rescued from a junk yard and then years spent on rebuilding by a retired United Airlines Captain. It was finished and road ready when he passed away .... I hate those stories. The current owner got it from the Estate and got it on the road where he did use it for local cruises. The money demands from a Corvette and a super deal he found on a '57 Bel Air helped make the decision to sell to me. I went to Colorado and trailered it home.

What I had was a cosmetically redone '57 Nomad with a 265, 3 speed with overdrive and it ran and stopped. That was all I needed. But I am never satisfied, apparently. I found a 350 cubic inch motor with serpentine and tri power ... supposedly low miles. A four speed Muncie was a memory from my past, so that was obtained too. Then the 'Trail of Tears' began. I pulled the old 265 and tranny and sold it to a Rat Rod builder South of Dallas. I gave him a great deal I thought. When he went to register his Rod, the old Nomad motor was determined to be unregistrable because the original builder had marked out the block numbers when he registered the Nomad with an assigned VIN. Well, I took the new 350 motor to a shop where it was cleaned up and the heads were pulled and rebuilt by a great shop in Denton. I got it all back and even installed a new Vintage Air system. The replaced motor lasted about 300 feet when it cratered. And I mean CRATERED, it sucked a new valve, which took the head, it went to the piston and took it too. That took the block and the debris took the cam and crank. The shop owner felt bad for me but said not to worry, he had a fresh rebuilt 350 short block from a builder in Gainesville he would give to me. I bought new Edelbrock aluminum heads and put it all together at the same shop. We got it started and put about 125 miles on it when knocking started and it got real bad. An inspection found the pan was full of metal. OK, this time I took it all to Wayne Calvert in Denton and said DO THE MOTOR right. Disgusted as I was, I decided to go big and get a special built 383 small block for the Nomad and use the 350 at Wayne's in my 55 Chevy truck. I did just that and after a few months wait I got the new 475 HP motor installed in the Nomad. As long as I was this far into it, I opted for a new Tremec 5 speed to replace the Muncie. I followed the strict install and break in instructions to the letter. I got about 500 miles on it, plus or minus when I decided to take advantage of an open time slot in a great paint/ body/restoration shop. I wanted this Nomad to be VERY NICE so I put it in the shop where we did the frame off rebuild etc. While the Nomad was in the shop the time expired on the warranty...


I pulled the body and motor and had the frame sandblasted in Sherman along with the fenders and hood. He was trustworthy enough to do that work without warping the metal. The body was all stripped and only two small quarter panel spots of repairs had to be fixed. Two braces on the body were replaced too...just to make it perfect. It was all coated with a bed liner and the interior all
covered with Dyna Mat. All new fuel lines and hydraulic lines to the front discs and hydraulic rear brakes were installed. I had power brakes and power steering installed. An American Autowire kit was used for wiring and Dakota Gauges at the same time. I made a call to Gina Ciadella to discuss the interior I wanted, to replace the Ciadella interior installed in Colorado. This time it was all black leather to replace the original Bel Air design. Auto City Glass got me all new dark tint glass, and I did the Mad Mike lift gate trip at the same time. The paint selected was a PPG RED. I was going to go with the old white roof, but decided on the all red look.
The wheels and tires, like always were a thought provoking choice. I ended up with American Racing 18 inchers. I just don't like the spoke look where the brakes stare out at you, the American Racing wheels cover the brakes pretty well. All the stainless was done by me in the barn shop, not show quality but I did it.

OK, back to the high dollar motor. We installed the motor and got the front end back on. The start up was perfect and the final assembly made. Now to put some miles on it all. I do keep a log so I have a real good history here. At 700 miles I changed the oil and filter. The oil pressure was running high, around 70 psi. The water temperature around 200. No odd sounds and it was a strong motor. Then after every small trip I logged the oil pressure dropping and finally as it hit 35 to 40 area and I was hearing a noise in the motor - it was time to check. A filter check found a black non metallic blockage. I replaced that and pulled the oil pan. A heavy thick black wad was in the bottom. I got it all cleaned and checked more. This time a Tri Five friend came over and we found a lifter, number 3, flopping around
and the push rod well short of normal. I pulled the lifter and it was, NO KIDDING, about 3/4 inch shorter than it should have been. It worn away at the cam and the cam was wiped. Oh yes, did I mention that the warranty was expired. A new roller cam and rockers were installed after flushing and inspection. Now I have over 1500 miles on the motor and with fingers crossed I am putting miles on the Nomad!!
Robin Collord


MORE PHOTOS
HERE