March FEATURE CAR
John & Beke Gibson's
1956 Nomad
Denton, Texas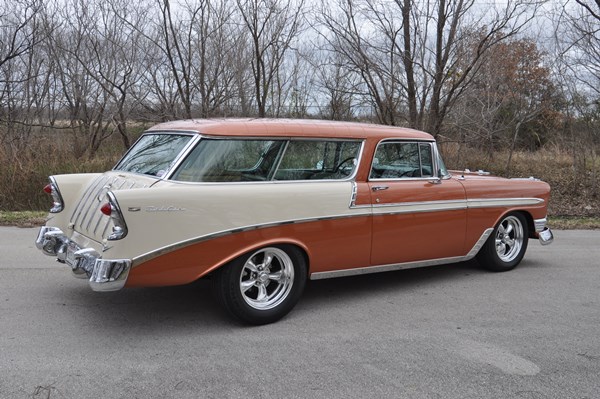 My Nomad is apparently the car I was always wanting but I really didn't know that, until I saw it. You see my first "bought with my own money" car was a 1956 Bel Air hardtop that I found in a salvage yard. It had a good body, but it had no engine or tranny. The owner of the yard was a friend of my Dad and together they helped me find the car. He put a used 283 V8 and a 3 speed in it for me, and I was able to drive it home for a total of $250. Obviously, that was a few years ago. Try to do that now.
The cars original color scheme was a two-tone with Sierra Gold and Adobe Beige paint, but at that moment I didn't care what the colors were. I was able to pay for it and now IT WAS MINE! After I had it for a while, I grew to really like the color combo and everyone in high school knew it was my car when we were out cruising on Friday and Saturday nights.
Now, let's go ahead in time a "few" years to 2017 and compare notes on the current value of Tri Fives, at that time. A bit of a change and for those of us who have one, if you're like me, we all want to know if we have a car that is holding its value or hopefully growing greater than what we have invested.
So one day sitting at my computer, I punched in 1956 Chevrolet for sale just to check on current values of my '56 2 door Sedan Bel Air. It looked like I had probably bought it right and I was patting myself on the back until all of a sudden, out of nowhere, I saw a '56 Nomad and it was Sierra Gold and Adobe Beige and it was for sale. What else should I do but read more about it and see if it was worth what they were asking. You see, I'm an expert in Tri Five values and especially on those models that I never even thought about buying. In other words, I had no idea what I was looking at except that I did like what I saw! I always wanted a Nomad, I just never dreamed I could possibly own one. And it was the same colors that my high school car was! Cool!
I called the owner and we talked, and we made a deal and now, IT WAS MINE. What?
Let me tell you about it. His health had failed, and he was no longer able to drive the car, but he had recently painted the car and added an original new replacement interior. So it looked like an original stock Nomad, but it needed a better engine and transmission. Perfect for turning into a Rest-mod, Right? And it was the same colors as my high school car, Right? And definitely "Old School". The perfect new project.
As soon as I got it, I took it to Robinson Restoration Services in Denton, and they started converting the car to the Nomad I always wanted. We put in a 350ci, 350 HP small block and a 700R4 overdrive transmission. Of course, since we were doing all of that, it needed to be fuel injected and with an electronic ignition. We also added a new complete suspension system with rack and pinion power steering and 4-wheel disc brakes all from CPP. Inside there is Vintage Air, new Classic Instruments electronic dash, tilt wheel with the new smaller original look steering wheel. Also, of course, new wheels and tires.
Inside it's all new but outside it's a '56 Nomad with a new 2 tone paint job that's Sierra Gold and Adobe Beige. Just like I always wanted, Old School but a new Resto-Mod Nomad.
By the way, that original '56 that I had in high school, the first one that I always wanted. I traded it to a guy for a '57 Bel Air Hardtop. I gave him my '56 and $100.
John & Beke Gibson
Denton, Texas


MORE PHOTOS
HERE