January
Feature Truck!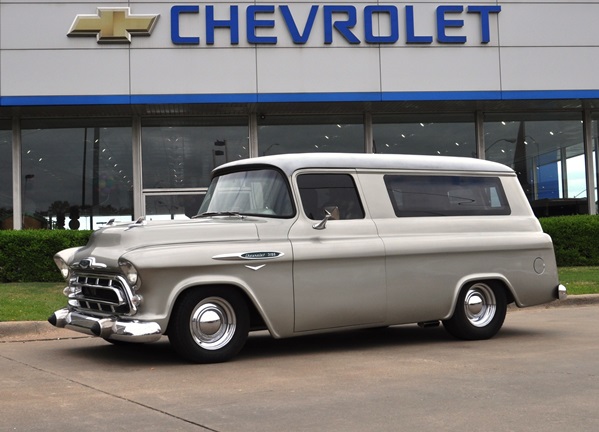 Steven & Ginger Mensik's
1957 Custom Panel Truck
Bristol, Texas
by Ginger Mensik

"Hey, Ging! Look what I found!"

It was 1992. I don't remember the date, the day or the weather, but I do remember being angry. Seriously angry. Another rusty, old project vehicle was just not something I thought we needed. Steve was so excited. He was telling me all about finding this giant piece of junk yard filler in Hutchins, just right there by the highway, that all the stuff crammed in the back was "good stuff" and, after all, it's a panel. Someone had stripped the paint and never done anything to protect the metal so the whole thing looked like a pile of rust on the trailer. It had plenty of holes and dings and nasty – but my husband had a huge smile and, well, yeah – panel. A 1957 Chevy panel, at that.
We had plenty of project vehicles around. Steve has always had a phobia of running out of something to work on. By the time this panel came to live with us, he had completed a few trucks and gained a lot of skill, but a panel is a huge project, especially for a guy whose shop is dirt floored space shared with his wife's horses. I didn't think we needed another project, but I was wrong.
It didn't take me long to see his vision and even start adding a few ideas of my own. The trucks he had built to that point had been intended to sell. This vehicle we planned to build for us and to keep. Steve encouraged my input – not that he actually acted on much of it! He said this could be my daily driver someday. He said it would take a long time before we got to drive this truck, and I knew it would, but I don't think either of us expected it to take most of 20 years to get it on the road.
Steve doesn't "restore" vehicles. He "rebuilds" them. He had a vision for The Panel from the start and it included a LOT of fabrication – because that's what he likes to do – but he also planned a comfortable vehicle we would enjoy driving. The subframe was donated by Steve's sister Kathy's "retired" '78 Nova, contributing the power steering. He installed an 8.8 Ford rear axle from a Lincoln. A 305 small block Chevy motor and 700R4 overdrive transmission provide the go, power disc brakes all the way around provide the whoa and a custom 29 gallon fuel tank provides plenty of range to roam.
The list of body modifications Steve did to The Panel is impressive and (admitting to a huge amount of prejudice) the workmanship in their application is even more impressive. The entire floor was replaced, along with a lot more sheet metal, and there were months of hard work invested before he got to even start on the things you can see. The fire wall is completely smooth. The roof was replaced with a ribbed roof from a Dodge Caravan. He chopped 3 inches from above the drip rail and cut in custom side windows. He set in a retractable sun roof from a Cadillac and '89 Cadillac tail lights. He smoothed the cowl vent, reshaped the lower rocker panel, reshaped the doors, and – one of my favorite details – set '57 Chevy car rockets in the hood. He flush fit the rear door hinges and shaved the door handles - because, of course, Steve planned on a keyless remote entry system from the beginning. He fit '57 station wagon bumperettes to the rear bumper, cut in a flip down license plate to access the hidden hitch, and added 57 car dagmars to the front bumper. The fuse box is located under the step on the driver's side and the battery is on the passenger side in the same location. The dash is from a '57 car using Classic Instruments gauges and the interior is totally custom, including the console that Steve fabricated from scratch because he couldn't find one he liked that would fit.
I lost the battle to have him reshape the drip rail. He did it on another vehicle and I really liked it – but The Panel does have a LOT of drip rail. I did win the sun roof, which actually surprised me. It took a lot of head-and-butt-scratching for him to figure out how to set it in, but getting it wired and working was a real challenge. Steve imported his friend John Givens from Oklahoma and they had a fun weekend getting that done.
The attention to detail and pursuit of perfection is visible in every detail. Seams are smooth and even. The doors and hood fit and close perfectly. There are hours and hours of work, sweat, energy and love poured into every square inch of this vehicle.
And of course, if a vehicle is going to be comfortable and fun to drive, it must have power windows and a remote control Kenwood stereo system. The steering wheel is a 15 incher from a '57 Chevy car on a tilt column and the Vintage Air AC is housed in the custom console Steve fabricated.
Steve would work on The Panel for months and then push it aside and do something else. During this time, we finally got a concrete floor in the barn and then added on a real shop to create the building we lovingly call The Sharn. And yes, Steve did the majority of that work, along with a few great friends. He built a '56 Chevy pickup for our daughter Alaina's 16th birthday, a total frame-off rebuild that resulted in a purple (Plum Crazy!) truck known as Grimace (for McDonald's purple monster) that our daughter drove for years, serves us now as a "truck of all trades," and our grandson plans to drive himself a few years in the future. Other vehicles he built and sold include a 1950 Studebaker truck (a masterpiece itself with widened fenders, a totally smooth body, and lowered stance), 2 1955 Chevy trucks (one built from a Lincoln Continental donor car that was simply incredible – but that's another story!), a '59 Chevy truck that belongs to Steve's cousin Danny, and even two Ford Mustangs. All of this between spurts of working on The Panel.
Each of these projects had a name. Alaina's truck Grimace, the Lincoln truck we called Abraham, the white w/cherry pearl truck that turned out a bit pink was Mary Kay. When The Panel first came to live here, we called him Moby because we planned to paint him white. Long before anything was ready for paint, Steve had come up with the silver/green color scheme – which I wholeheartedly supported – so that name was discarded. I suggested we call him Puck, but Steve didn't really like that and it never stuck so this poor nameless beauty is simply known as The Panel.
Not long after Steve started driving him, he learned the sun roof wasn't happy in its new home, resulting in cracks in the roof paint. That problem has long been solved, but the roof is still in primer. Matching a custom paint color is a huge challenge. Which we proved when I backed my truck into The Panel's door.
Yes, I did. The day before Christmas Eve, 2011. I was hurrying to go pick up our grandson from day care and backed right into it - the hitch on my Chevy Silverado 4X4 centered right in the passenger door. I don't think anything I've ever done has devastated me as much as that careless move. And it is absolute proof my husband loves me that I am sitting here writing this instead of rotted in the tank out behind The Sharn. I am so grateful I hit the door and not the side under the under the inset windows, but I still felt like a horrible person and seriously bad wife. All those hours of work, and now more hours to fix that door and a not completely successful attempt to match the paint. The silver lining there is now we're discussing repainting the entire thing slightly differently. I'm sure there will be more additions and subtle changes as time goes on and Steve tweaks his ideas.
Even with the primer roof and off-color passenger door, The Panel is a head turning machine. Steve has won several awards with it, but the ultimate – so far – was the Best Truck at the Menards Chevy show in May of '17. Steve was interviewed for their TV show and The Panel was featured in the opening credits of the show for that season – from the front and not showing the roof, of course.
The Panel is driven often and always enjoyed. We get waves, honks, and thumbs up everywhere we go. I love watching people's faces as they walk around it and see the fabrications Steve did. "But it looks like it belongs that way" is a common reaction. Isn't that how it's supposed to be?
Steve will just grin and tell you "Every bit of it is a vision I had that became reality."
I say Steven Mensik is an artist and this 1957 Chevrolet Panel is a work of art. Maybe someday he'll even let me drive it.
Editor's Note – Several months before this feature was published, Steven was approached about doing a "Feature" on his fabulous '57 Panel. "No problem" he said, just as he had done a year or so earlier when asked the same about his '57 Bel Air Convertible. "I'll get Ginger on it right away" he said. You see his wife of 36 years, Ginger is the wordsmith of the family and she can write a story! So not long after the feature was slotted in for January's Feature for the club as you see it here. Little did we know, that at the young age of 61, Ginger would suffer an aortic aneurysm on December 8th and we would sadly and unexpectedly lose her just a few days later on December 18th. She left us with this fantastic story in her own words about their beautiful 1957 Chevy Panel truck built with Steve's own hands with lots of love and input from Ginger. She will be missed…..