DECEMBER'S Feature Truck!
1955 2nd Series Pickup
Clint Davis
Frisco, Texas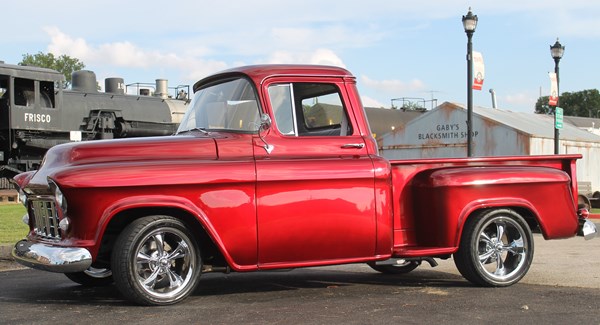 The Story Behind My 1955 2nd Series Truck


I have loved hot rods, muscle cars and classics since I was a kid. My dad would take me and my older brother to the Autorama in Dallas every year and we would walk around for hours looking at all of the different cars and trucks in the show. Then every summer my parents would drop me and my brother off for a week in Belton, TX to stay with my grandparents. It just so happened that my grandfather had an old farm truck with a camper on the back that he had bought back in 1956. He used the truck daily to get to work at the power plant. Some days he would take us riding in the truck so we could go fishing at the dam right beside the power plant. I always remember my grandpa going from a dead stop to 45 mph in what seemed like 3 seconds with that straight six and 3 on the tree.

My brother and I would always talk to my dad about how cool it would be to one day get grandpa's truck and make it look like the ones in the Autorama shows. My dad was all in since he loved cars and trucks as much as we did and he said he would talk to his dad and see if we could inherit it one day. Unfortunately my dad passed away in '90 before my grandpa passed away in '95. When my grandfather passed away my grandmother knew how much we liked the truck so she asked if my brother and I would be interested in having the truck. We said yes faster than my grandpa got to 45 mph.

After having the truck in storage and his home garage for a few years my brother said he didn't have the time or money (like most of us) to restore it so he wanted to sell it. I said absolutely not and I took possession of the truck in '98. After having the truck for several years and doing more harm than good trying to do things myself I stopped working on it and kept it in my garage or under a cover. In 2013 my wife finally gave me the green light to get serious and enlist people who actually knew what they were doing.

The first thing I struggled with was to keep it original or make it a hot rod. A friend who had restored many Corvettes over the years asked me one question; what kind of vehicle would you enjoy driving more, a hot rod or an original? He said whatever you like to drive is what you should make yours or else you won't enjoy it. He also said to take whatever my budget was and double it because that's how this all works. How right he was.

Let the hot rod restoration begin.

The two biggest things I had to have were the right color and the right engine. My dad's favorite color was always Candy Brandywine so that is what I wanted. However, everyone told me to stay away from Candy due to several factors so this is the closest I could get to that color without being a true Candy. And I always wanted a 383 Stroker so that is what I had to have. I decided if we were going to do all of this we were going to do it right and we went with a full frame off restoration. The sandblasted frame was fitted with a mid '70's Camaro front clip and rear end to give it a little better ride and handling. Dave England then took care of all the body work, paint, engine install and wiring. For the interior I wanted to keep it simple so I went with chevy gray and kept the original seat which we had wrapped in Ultraleather by Morris Custom Upholstery in Mesquite. We added AutoMeter gauges, a Budnik Steering wheel and most importantly Vintage Air so my family would want to ride with me. The final touch on the truck was the bed wood. My uncle (my dad's brother) is a carpenter by trade and loves to work with cedar. We talked about doing something different with the bed to make it stand out so I got rid of the fender bolts and we did away with the bed strips. He worked his magic with the Aromatic Cedar and I now have a unique bed that is bed strip free.

I started out wanting a nice truck to drive around and maybe even put into a few shows here and there but ended up with much more than I could have ever hoped for. it was a long process but I know my dad and grandpa would approve and hopefully I can even put it in the Autorama like we always talked about.


Color:
Razzle Berry by Dupont CFX

Engine:
383 Stroker by Smeding Motors

Front End:
'75 Camaro Front Clip

Rear End:
3.73 gears

Transmission:
TH350

Mufflers:
Spintech 6000 Pro Street

Wheels/Tires:
Ridler 695 wrapped in Nitto 555

Interior:
The original bench seat covered in Ultra Leather
AutoMeter gauges
Budnik Stiletto Steering Wheel
RetroSound Radio

A/C: Vintage Air

MORE PHOTOS
HERE