September 2018
Feature Car
David & Marlene Graves
1956 Corvette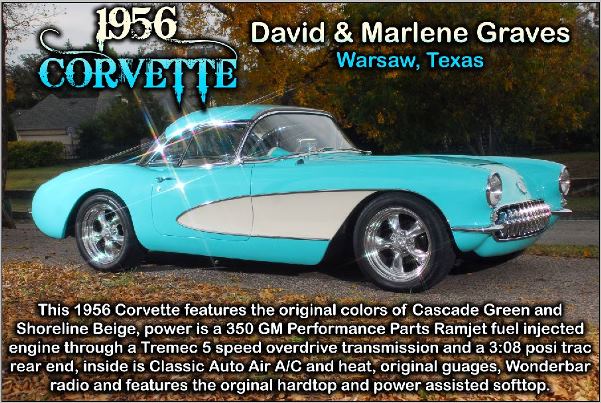 I was destined to be a Tri Five Chevy enthusiast. At birth, I was brought home from the hospital in a '55 Chevy. As I grew up, I always loved to look through the hot rod magazines and those Tri Five Chevys always got my attention.
I joined the Dallas Area Classic Chevys in 1976 not long after purchasing my first Tri Five Chevy, a '55 Bel Air that I still own today. Greg Easley from Sherman had his '55 Chevy at the '76 Autorama and was taking names of folks who might want to form a local '55-'57 Chevy club and I left my name. About 20 of us met at the Northpark Mall parking lot in Dallas sometime that spring and from that the DACC began. It was not long after, the Classic Chevy Club was looking for 'State Reps' to help organize and grow the '55-57 Chevy hobby. I signed on as Texas State Rep for Classic Chevy sometime after the DACC was formed and I helped organize and promote other Tri Five Chevy clubs and events in the state during those early years. My proudest event is the annual Lone Star Classic Chevy Convention. In 1983 I wanted to have an event each year so that Texas '55-'57 Chevy enthusiasts had an event within driving distance to attend and not have to drive across the country to get their 'Tri Five Only' fix! The Austin club stepped up and hosted the first one and unbelievably the event has continued to take place each year, with DACC hosting the recent 36th annual event last May! I have held a number of roles for the DACC over the years, from Treasurer, Newsletter Editor, VP and President. As State Rep, I organized a couple of national events for the Tri Five hobby, hosted by DACC, one in 1979 and another in 1985. It was in 1991 that the DACC held the 'big one' the International Convention for the Classic Chevy Club, which in those days was huge. The club President then Mike Russell and myself poured ourselves into that event along with many club members and it was a fantastic show! I became fairly inactive with the club during the late 90's and early 2000's. The club was on a decline, and in late 2003 the current leadership pretty much threw in the towel and the club was about to fold. I hated to see the DACC go away as I had great memories and formed many friendships related to the club over the years. I stepped back into becoming involved with the club with the goal to save it and before I knew it I was President again. I agreed to a 2 year term and then turn it over to someone else. That was 2004, almost 15 years ago and I am still President. How it happened and continues I have no clue.
During those early years, I had (and still have) a '55 Bel Air Hardtop. That car I purchased when I was in college and drove it every day as my daily transportation. After college, life began and responsibilities started piling up and while I continued to enjoy my car hobby, I like others, managed to find room to buy another one every now and then. I still have that first '55 and someday it's going to be a race car. But one of the cars I bought years ago and never let go of was my '56 Corvette that I acquired in 1989.
I was looking for an early T Bird actually that my now ex wife wanted. But I stumbled upon a classified ad in the Dallas Morning News that a fellow had placed to sell his '56 and '63 split window Vettes. I called him up and discussed the '56 as the '63 was already gone. Seemed he was getting married and the cars had to go. He lived in an apartment complex in North Dallas not far from me so I went to check out the '56, thinking there is no way I can get a '56 Vette. There it was sitting in the parking lot of these apartments, not looking it's finest but rather rode hard and it barely ran. But it was a 1956 Corvette! Nothing was original except the chassis and body, as the original engine was long gone and it was painted beige with what seemed like many coats and it now was cracked and peeling. The chrome pitted, the mag wheels on it looked like junk, the interior was way past it's prime with tears in the seats and rotted carpet. These old Corvettes were not the tightest cars when new and this one pretty much allowed most of the water to collect in the floor when it rained. After some negotiating with the seller and my now ex wife (who wanted that early T Bird), I brought the Vette home with nothing but a dream to bring this car back to life in the future.
I had no money for such a project, but proceeded to at least make the car drivable. I replaced the engine that would foul the #5 plug every 100 miles with a cheap junkyard engine that wasn't much better. I started on the appearance aspect by pulling the stainless trim and chrome off and had the body blasted with pecan shell media to get the layer after layer of paint off. I then painted it primer gray which remained for years. (It was a 'rat rod' before rat rods were cool!) Inside, the dash had a paint treatment that gave the appearance of wood and I chemically removed all that paint. I shot the dash a with silver paint because at that time I envisioned painting the Vette silver inside and out. I even had the front seats rebuilt and reupholstered in silver. The carpet was pulled out the first day I had it and never replaced because when it rained the car filled up with water due to all the leaks (I had to keep it in my driveway because I had a full garage). I drove the car for years like this, waiting for the opportunity to finish the build should I win the lottery.
That wife that wanted the T Bird, well we went our separate ways, and luckily, in spite of her efforts I kept the Vette. The years went by and I was fortunate to start a side business that turned into a very worthy effort. I now had some cash built up and found myself at a crossroad because I wanted to finish one of my two Chevys, either my '55 Bel Air or my '56 Vette. I chose the Vette.
I found myself becoming a 'test' car for Keisler Transmission, a Tremec 5 Speed conversion company who was engineering a kit for early Corvettes. The kit would be sold to me at cost and the labor to install it would be free, I just had to get the car to Knoxville, TN where the company was located. I ended up shipping the Vette to Knoxville, arranged to not only have the 5 speed put in, but had the same folks pull the body, restore the frame and drop a fresh V8 under the hood to drive that new transmission. I selected the 350 cubic inch GM Performance Parts 'Ramjet' fuel injected motor and had it shipped to Knoxville. They blasted the frame, painted it and underneath the body, got all the new parts installed and eventually I rented a trailer and went and got it. Once the car was back in Texas, I installed AC, had disc brakes installed on all four corners, put drop spindles on the front, pulled the 4:11 rear gears out and replaced them with a 3:08 posi trac. The pretty stuff I addressed with the new paint job I had waited so long for. But instead of the silver color that I had planned on, club member Marvin Johnson persuaded me to go with the original '56 Vette colors of Cascade Green with Shoreline Beige coves. That meant redoing the interior paint from the silver that I had applied and redoing the seats to the original beige and pattern used in '56. I found original gauges and had them restored and put those in along with an original Wonderbar radio. I went with 17 inch American Racing Torq Thrust wheels and Pirelli tires. I sent the hardtop to Glassworks in Pennsylvania and had them restore the top and paint it. I had the convertible top frame and top restored. The early Vettes had an optional 'power top' option, and when I bought the car that came with it but it was all in a box - a box full of limit switches, hoses, cylinders and more. With the help of my close pal Mike Cook, we got the power top option installed and functional. I finally had the car of my dreams!
I didn't build the car to take to car shows, but rather to drive and enjoy. It can win an award occasionally when I do attend a car show but my satisfaction is driving my '56 Corvette – perhaps an occasional trip to the drag strip, or I may take my wife Marlene on a weekend night to the burger joint in the city or my favorite – just driving the rural country roads of Texas with the top down!

My patience paid off!

MORE PHOTOS
HERE