August 2018
Feature Car
Ken Horton's
1957 Bel Air Hardtop
Frisco, Texas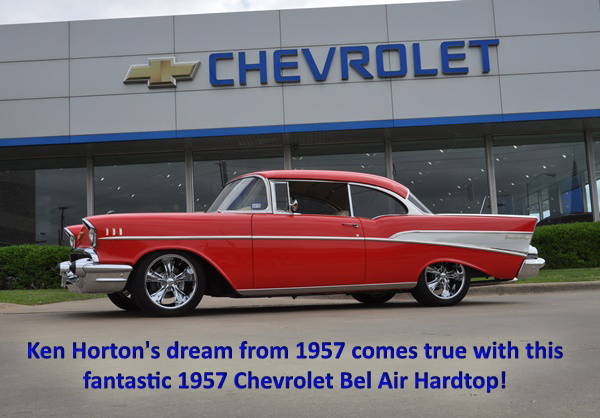 In 1957 I came out of a movie theater in Ennis, Texas and saw my first 1957 Bel Air Chevrolet. It was about 10 PM and the car just beamed under a streetlight. It was love at first sight, but in reality a pure fantasy as the means to own one was not possible for a high school junior without sufficient funds ($2500).
That image and fantasy has stayed with me since that day. Along the way came college, marriage, kids, and a career that took precedent over any dream. Then along came a 1973 Dodge Challenger (now known after the restoration as "The Banana") that became my substitute first dream car. That car has won numerous awards. Then my mind began to drift back to Ennis, Texas and 1957 and my teen fantasy. So, after retirement, in March of 2014, I decided to pursue my now second dream and build a custom (Resto Mod) 1957 Chevrolet Bel Air.
It all started with the purchase of an old rusted '57 Chevy located in a field near Denison, Texas. The car was finished in November of 2017, although there were times when I wondered if I had been too ambitious. But thanks to the talent of Bob Romig, Bill Blakeley, and Ray Sinor we finished the car. I hope you enjoy the car. I assure the task was not only long, frustrating at times, and expensive, but now I am glad it is over (for now), relieved and happy I can enjoy a long held dream. I think I will continue to update and modify this one for years to come. In reality this dream will likely continue into the future. But then what is life without hopes and dreams??
Best wishes with your dreams!
Ken Horton
Frisco, Texas
1957 CHEVROLET BEL AIR SPECS
RESTORED and HIGHLY MODIFIED OVER 3 YEARS & 9 MONTHS
· Body by Fisher was a pasture find and required 2 years to repair and restore the body
o 2 coats primer, sealer, 3 coats of Torch Red, 2 coats Clear Coat inside and outside
· Chassis is an Art Morrison Custom TRI 5 racing chassis for performance handling
o 4 link & Independent 4 wheel coil over shocks
o Lots of chrome plating and powder coated frame
o 4 wheel disc brakes, Foose rims, Michelin Z rated 255 X 55 Pilot Sport tires
· Power Train by Corvette LS 3 engine & 4L70E Tranny with computers
· Interior is 100% Custom
o 4 each 6 way power bucket seats from wrecked Cadillacs, stripped to metal, cut to fit available space with new padding, seat heaters, & high end leather
o Mercedes carpeting and custom side door & side panels with accent stripes
o Console from wrecked Jaguar modified to fit space & accommodate lots of electronics including Kenwood DN991 Satellite receiver with Navigation and back up camera
o High end speakers—Focal front and back with JL sub and JL Amplifiers
o Power electric windows
o A/C ducts in rear area of console for rear seats
o Multiple cup holders
o Lokar Shifter
o Dakota Digital Gauges
o LED floor lights under dash & back seats
· Engine Bay
o New firewall, Custom fabricated fuel rail covers with custom lettering
o Prepped and painted just like exterior
o Chrome Power booster and master cylinder
o Chrome pulleys, Alternator & Compressor
o Dual electric cooling fans
· Trunk
o Carpeted and spare tire cover & Battery Cover
o False back that hides subwoofer, amplifier, master fuse panel and Security CPU

MORE PHOTOS
HERE