July 2018
Feature Car
Matt & Sandy Heit
1956 Bel Air Sedan
Midlothian, Texas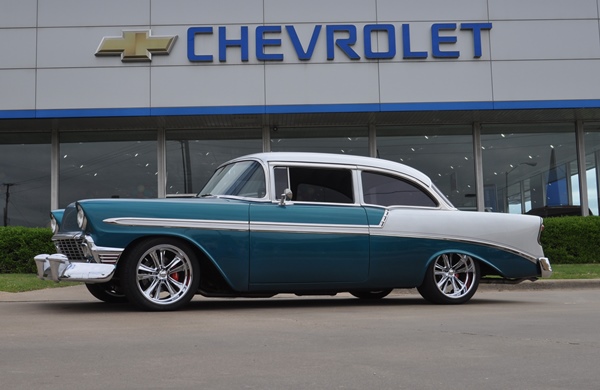 A Tri Five Chevy Family Affair
As a new DACC member I have been asked to write an article about my car for the feature car section of the monthly newsletter. I procrastinated for quite some time before sitting down to write this letter, I even tried to get my aspiring-writer granddaughter to write it for me. When I asked her, she said ďI donít know anything about your carĒ. My hopes fell through the floor, and then I procrastinated some more.
This 1956 Chevy 2 door Post Bel Air trim was purchased by my brother back in 2008. When he decided to sell it in 2012, I got to thinking, I sure hate to see a car that nice leave the Heit family. After a little bit of negotiation, (and a lot of brotherly love), I ended up taking the car home with me. I have owned it for seven years now, and each year I continue adding my own touches.
The first thing I had to do was replace the gas tank. After the first couple times I drove the car and filled up the tank, I would park it in the garage and you could smell gas. It took quite some time, but I finally found the leak on the top side of the tank. During the restoration of the trunk carpet and finish out, a screw had gone through the top of tank. Iím not sure how many owners there were before 2005, when the car went through the complete restoration, but I canít believe seven years went by and no one smelled the gas.
The second thing I wanted to do was put a complete set of Wilwood brakes on all four shoes, so I purchased the brake kits and was prepping to get them installed. Thatís when I noticed a scratch on the firewall and got sidetracked for 12 months. I made the decision to clean up the fire wall and re-paint everything under the hood before the brakes got installed.
What I wanted to do was remove the motor and front end, repaint the firewall, and repaint the inner fenders for a cleaner look. Boy was that a project! I got the front clip removed and pulled the motor and transmission, removed the brakes and started plugging holes in the fire wall. All along the way I was removing rust and repairing the frame to paint it as well. During this process in 2016, it was determined I needed to have heart surgery (6 bypasses). The car had to sit a little longer during my recovery in order to get it back together. I told my car buddies, ďIf I donít make it through the surgery, be sure the car gets put back together so someone could enjoy it.Ē Thankfully I made it through the long recovery with flying colors, thanks to the help from my amazing family and excellent team of doctors.
If you have ever painted before, you know itís not as easy as it looks. Iím a DIY guy, so I decided to dive in with both feet. I learned a lot during the process, and I have a great sense of pride in the hours and sweat equity I put into it, we all know that these cars and modifications donít come cheap. I painted the fenders and fire wall, painted the motor the same color as the car, cleaned the transmission and clear coated both, painted the frame black and cleared coated it, and replaced every bolt, nut, washer and bushing along the way, and finally was able to slide the motor back in.
When I reinstalled the hood, I replaced the front clip, and decided to put billet hinges on. Finally, the second project was complete, and I could now finish what I set out to do in the first place, installing the Wilwood brakes. Of course, I had to put new shoes and wheels on it to make the Wilwood brakes look good.
The next project was a new March kit, after it was installed I was ready to charge the AC, this is where the DACC group came in and helped. I wanted to install a trinary switch and charge system, so I reached out for help on the DACC web site Wrenches, and received help form Don Andre, Bill Preston, and Ed Giolma. These guys really know what theyíre doing and were a great help. I love the Wrenches program, and I plan on putting my name on the list to help out and learn from this great group.
The next project I want to tackle is installing an aftermarket 15íí steering wheel and paint it the same color as the car. Yes, itís still in the box has been for several months, but thatís just seems to be my style.
My dream is to own all three Tri- Fives someday, and Iím happy to say that last year I purchased a 1957 2 door post as a project car. This car has been in my family for the last 20 years just sitting in my parentsí barn. In this barn is a 1955 two door Post, and a 1957 two door Post that belongs to my older brother Henry. He purchased these two cars 20 years ago with the hope of getting them back on the road. Last year, after several years of convincing, I finally talked him into selling me the Ď57. I wanted the í57, because that was the year I was born, and my first car was a 57í 2-door Post. I was 14 years old when I purchased it for $700.00, back then we could drive to work and school at age 14 with a farmerís permit.
My younger brother Dale finally uncovered his 1964 Malibu from the garage. In June of 2015, I went to Augusta, Kansas for a week to visit family, and in that one week we got Daleís car running. My three brothers and I worked together on the small body work, and we hired a friend in Kansas that owns a body shop to do the finial paint job. Henry has also started working on his Ď55. With the help of our brother Neal, he has replaced the underbody bracing, some of the side panels, and has it primed. They have a long way to go, but after 20 years in the barn, itís finally starting to come to life. Itís not every day that you see four brothers between the ages of 56 and 63 working together on the family cars.
There is a WFO Car Show in Augusta, Kansas that I enjoy attending with my brothers, and we plan on attending that show together for many years to come. The first year I attended, I won the award for coolest color! There is a lot of Tri-five history in my family as you can see, and I hope that tradition will continue. When I was twelve, our oldest brother Perry, was killed driving a 1956 Chevy. I only have one photo of him and his car, but I have many memories in my head of watching him work on it. I wouldnít blame anyone for never wanting to look at the car their brother died in, but for us it had the opposite effect. In my opinion, there is no better masterpiece than a Tri-5 beauty.

MORE PHOTOS
HERE