June 2018
Feature Car
Kevin Sears
1955 Bel Air Sedan
DeSoto, Texas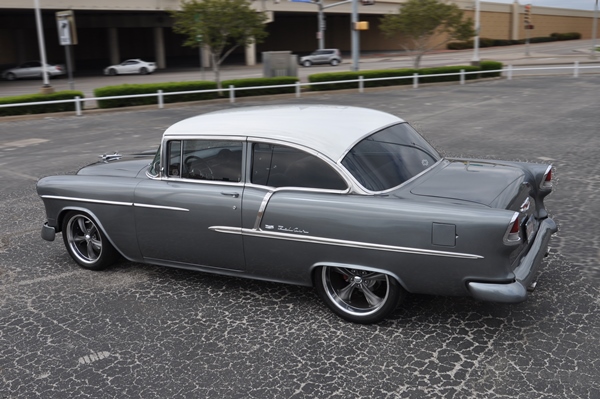 As a kid, I fell in love with hot rods, because on the corner of the street where I grew up on there was a repair shop and there were always hot rods there. The shop owner had an orange '56 Chevy 210 and back then it was bad. It has a 327, two carbs ,four speed, slicks and believe it or not our street was his test spot. Saturday afternoon it was always a possibility for us to get a glimpse of him after tuning on it. Wheels up right on our street. That was 1968.
Early in 1969 , an older friend of mine bought a lavender and white 1957 Bel Air, with a 283, 3 speed on the column and it was super clean. The fun part was he was in high school and I was in the second grade. On days when he saw me walking home from school he would give me a ride home and the ride home became a joy ride. So my love for Tri Five Chevys goes deep. All of my life I wanted one but they eluded me - until 2007.
At 45 years old and tired of drag racing I told a good friend of mine that I was going to sell my drag car and find me a '55. After a strange gaze from him he ask me was I serious. He told me that a friend of his was trying to sell a '55 but it was in bad shape. I figured it was worth a look so the following morning he took me to it, and rough it was! The body was off the chassis and he had clipped the front and rear with a 1987 Corvette. My imagination took over, and the vision through all the work was so tantalizing that I had to have it.
With a plan in mine I set out to build the '55 of my dreams. And so many things fell in place for me to accomplish my goal that it would be sacrilegious for me not to share it. First, I set out to find all the original trim that was missing. That led me on a phone search from coast to coast. After finding it all, now it was time to have the trim restored. That did not go well, prices were so high to restore the trim that I consider leaving it off. Then the same guy that took me to the '55 from the start took the time to restore the trim for me and only charged me a fraction of what everyone else wanted. And it turned out fabulous. Then I found a LT1 and 6 speed on Craigslist. I called the guy and he told me to come and get it right then for half price and I did. But after getting it in the car, I found out it smoked really bad. Here comes another friend who tells me to come pick up a 1997 small block Chevy that had fallen off a truck and broke the balancer off. After going through the short block and replacing the crank, I ported the heads, added a mild hydraulic roller and it went in my '55.
Now on to the interior, I had no front or rear seats. So now the search began for original seats, only to find out they were out of my ball park. So buckets it was. While perusing the web, I found a very cheap pair of mid 60's Impala seats, I thought. They turned out to be Corvair buckets, but what the heck I got them for $125 and all the padding was great. They just needed to be covered. Now to find a back seat. What do you know another very good friend heard that I needed one and told me he had one that he was trying to sell at the swap meet. I get a call to come get it for my Christmas present. I took them to Long Star trim and I got the seats done as a Christmas present to myself. Now with seats done I thought let's try my hand at some painting.
With my color in mind I took on the task of painting everything in the interior. The window trim, dash and door jams. Most people don't believe that either. I also built and covered my own console. After five years of work, in my two car garage it was in primer and I was ready to go riding in my '55 on my 50th birthday. I started the search for a body and paint pro, and one my friends told me about his neighbor who worked out of a shop in his back yard with a paint booth and all. We came to a deal on my paint. After 6 months, I brought it home and the paint was just what I wanted, but the wheels didn't look right now.
After I put all the trim back on and it was ready to drive again I could not leave the garage with the wheels that were on it. I settled on new wheels from Boss in grey, and luck was on my side as the wheels match the paint almost perfect.
My first ride to the Arlington Cruise In and no one believes it's mine! Unless you have taken the time to build a dream car to your specific taste and have your car buddies in shock because they didn't know you could do it, you won't know the feeling I get when I ride in 'Greycie'. It's the first time every time!
Thanks to all my good motor head buddies who donated parts and pushed me through some of the tough times.

MORE PHOTOS
HERE