May 2018
Feature Car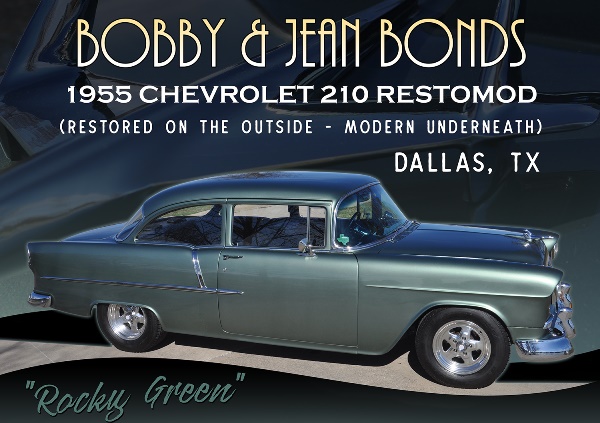 Ever since I was in high school in the late 60's and early 70's – I had friends who had Tri-Five hot rods. And I had always wanted one. My first dip into the classic car owner world was 1953 Chevrolet pickup which I had for about 12 years – but that never seemed to satisfy me as I really still wanted a Tri-Five. I sold the '53 truck a couple of years ago and I wanted a car but not a project. Late last year -I began to look on eBay and found a black '55 that was reasonably priced – but when I went to see it and test drive it – I found there were a number of things that I didn't like and it would have been more of a project car than I wanted. My friend who had gone with me to look at the black '55 ended up spotting a beautiful green '55 in the same showroom – and he lured me over to take a look. I knew immediately that this beautiful green '55 seemed to have it all and fit the bill! This car had everything I wanted in a restomod. Then I had to go on bended knee to my lovely wife to convince her that this perfect car was worth the extra money! As you can see – I got the car (and my wife got a new dress).
I got the car home and stored it at my parent's house because they have a more spacious garage (and cleaner) than I have. My wife has a habit of naming cars for the salesperson who sold us the car – our '55 was christened as "Rocky Green" which seems to fit her well. On day 2 – I went to start Rocky Green – and as luck would have it – it just wouldn't fire up – no matter what we tried – nothing seemed to work. I had to have it towed on a flat bed trailer on the second day of ownership - this was not part of my plan)! It ended up being a problem with the gear on the bottom of the distributor had come loose – once that was fixed – it fired up with the turn of the key! Finally, got her back home and while backing up in the garage – I realized the front tires were locking up. Day 3 – I came back to work on it and the brakes had cooled off and loosened up – so I was able to drive it back to the shop and it needed just a minor adjustment to the brake booster.
As you can tell – I'm not mechanically knowledgeable about the 55's – but I'm learning and I'm enjoying the adventure! I'm looking forward to meeting lots of Tri-Five friends and seeing your cars and hearing more of your stories.
Rocky Green is a complete body off frame rotisserie restoration of a 1955 Chevrolet 210 Sedan. The frame and body totally stripped, primed and painted. The stare inducing Porsche metallic green exterior is no ordinary paint job, but rather the result of three applications of clearcoat over the metallic green base coat. The freshly polished chrome and new looking glass make it sparkle. The signature rocket shaped emblem on the hood actually appears to radiate and even the badging in front and back looks more colorful than normal! When you take a closer look, you also notice that all of the light bezels look particularly sharp and polished with the new lights installed.
Inside has an outstanding interior matching the same high standards you see on the outside. The black leather bench seats in both front and back reflect the obvious high quality and handiwork of renowned craftsmen along with the headliner and carpet. Just beyond the custom steering wheel sitting on top of a polished aluminum IDIDIT tilt column is a dash area that is a very impressive blend of black steel and chrome trim. The stock, fan shaped instrument cluster housing the speedometer, temperature gauge and fuel level is crystal clear along with the tachometer, volts and oil pressure that monitors the other motoring functions. An AM/FM radio sporting a very era appropriate look sits front and center amidst an expanse of chrome and just below is a vintage air climate control system that is ready to keep you nice and comfortable.
In back of the spacious trunk area that is nice and clean, it has a full sized spare tire and rim sitting squarely and securely on the carpet lined floor.
The configuring of the drivetrain was built for dependability and high-performance driving. Under the hood you will see a modern Chevrolet icon powering this restored Chevrolet coupe. It has a 350-cubic inch LS1 engine bored .30 over with CROWER roller rockers, cam and lifters, MANLEY pistons, EAGLE crank and features tuned port injection as its foundation, offering both abundant power and reliable performance. It is mated to 700r4 automatic overdrive transmission with an 1800 stall and a 1964 Chevrolet center section posi-traction rear end with 3.36 gears for effortless low RPM highway cruising. This classic sits with a very fitting low and slightly inclined stance on a set of 15-inch steel rims outfitted with a set of radial tires. This 1955 Chevrolet 210 Post is well equipped for driving in the real world with BAER power front disc brakes as well as power steering making navigation and stopping a low effort endeavor.

Bobby & Jean Bonds

MORE PHOTOS
HERE