April 2018
Feature Car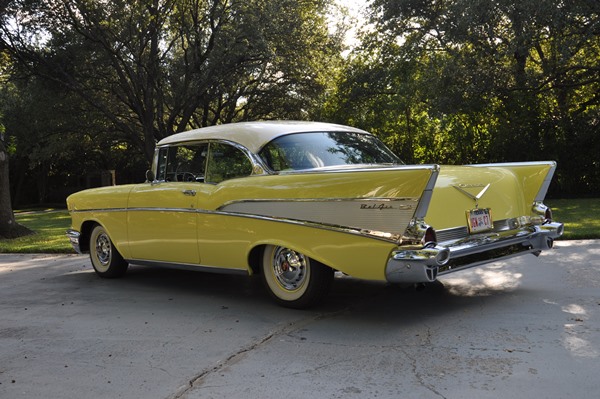 "The Bumble Bee"
Duffy Oyster's
1957 Bel Air Hardtop
After driving Tri-Five Chevy convertibles for many years, I decided I needed a '57 2 door hardtop to drive in the winter and on hot summer days. I started my search and looked at several cars but just couldn't find the right one. I wanted a rust free, restored, ready to drive car with air conditioning and excellent mechanics.
Finally, an auction came along with a beautiful '57 that had been fully restored and had everything I wanted. It came from the Michael Coleman collection and was painted a strikingly beautiful yellow with a white top and silver/black interior. My grandson Jake was with me at the auction and he said it looked like a giant Bumble Bee, which is what I referred to it as it's official name.
The auction was fast and furious and I was not sure I would be able to buy it as prices realized were really high. As it came across the block I bid up to my maximum price. It was me and one other guy left and he had the bid. I was determined not to go over my maximum bid until my 10 yr old grandson said "Bop that Bumble Bee is the prettiest car I have ever seen". I cratered , bid again and bought the car.
We drove it home and my grandson was so proud he manipulated me into buying the car. I spent the next 5 years driving and enjoying the car without any problems! It looked great, the air was cold and it always started right up.
Then one day a few months ago, I drove in my driveway and was followed in by a neighbor who is a developer that is restoring the old Statler Hilton in downtown Dallas. He said he loved the car and that he wanted to put it on display in front of the hotel and use it to take guests to restaurants in the evening. I explained it wasn't for sale until he made me an offer I couldn't refuse - cratered again! The car now stands proudly in front of the historic hotel alongside a '66 Corvette, a '41 Lincoln and a '53 Cadillac that are all used for guests at the hotel. The new owner told me that the "Bumble Bee" is the most photographed car of all the other cars and always has a crowd reminiscing around it. I miss it but fortunately I still have my convertible!

Duffy Oyster
Dallas, Texas


MORE PHOTOS
HERE