March 2018 Feature Car
Steve & Ginger Mensik's
'Search For Marilyn'
(and a new home for Aqualung)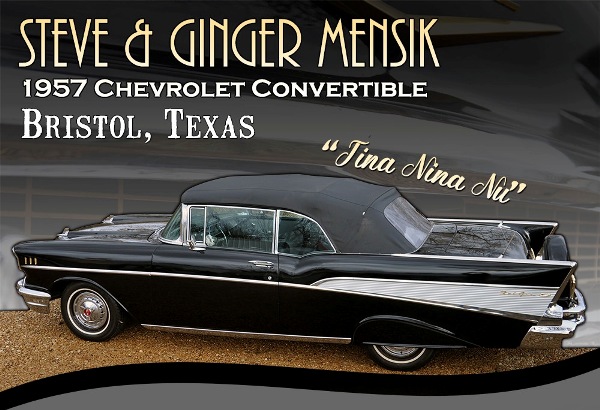 Steve Mensik saw a 1957 Chevy convertible in an Ennis, Tx, junk yard in 1970 and spent two years convincing the owner to sell. He was finally successful in August of 1972, days before his 18th birthday. Steve got the car running, named her Marilyn, and then managed to blow the engine just before he left for Navy bootcamp in October of 1973. A local mechanic replaced the engine and had Marilyn ready to go to work when Steve got home from Rota, Spain. He was then stationed in Gulf Port, MS, and Steve drove Marilyn through the end of his tour and all the way into his first marriage. Due to circumstances beyond his control, Steve was forced to sell Marilyn – and ended up divorced anyway.
In 1982, Steve and Ginger met and married. From the beginning, one of their shared interests has been Classic Chevys. Ginger drove a '55 pick-up in high school, and it wasn't too far into their marriage that Steve's first project truck arrived on the scene. Since then, a steady parade of classic automobiles has passed through Steve's hands; they arrive on trailers in pieces, rusted and incomplete, and leave under their own power, completely renewed and beautiful again.
For all these years, through all these vehicles, Steve wanted, dreamed of, and searched for another 1957 Chevrolet convertible. In 2016, the search intensified. Steve scoured on line ads, magazines and even searched for Marilyn, hoping to track his old car via the vin number. While he found '57 convertibles, he found none that fit his requirements and budget.
In the spring of '17, Steve attended the Leake Auto Auction and there she was: a beauty with Onyx Black paint, black top, and black & silver upholstery – and he wanted her. While Steve had gone to the auction prepared to buy, it didn't take long for the bidding on this convertible to exceed the depths of his pockets. But the reserve wasn't met, the car went home with her consignor, and Steve made sure he had the contact information. (side note: An episode of "Fast and Loud" was filmed at the Leake Auction and in one of Richard's rants, this car is in the background.)
In August of '17, Steve contacted the black '57's owner and arranged to see the car again. In looking over the papers, he realized the car's vin number ends in the number "13," which – because 13 is Steve and Ginger's anniversary, their daughter's birthday, and their overall "lucky number" – proved that this is, in fact, the car he was supposed to have. But the price was still a bit more than Steve could comfortably spend. While Ginger was out of town on family business, Steve took his mother out to lunch and told her about the car he wanted. The next day, his mom invited him to her home, where she told him she had given both of Steve's sisters a sum of money when their father died the year before. She said she had felt she should hang on to Steve's share, she felt like he would "need it later." And then she handed him a check for the sum he needed to purchase the car – written on check number 1313. Before Ginger got back home, the convertible had moved to Bristol.
Steve has greatly enjoyed his "new" car, naming her Tina Nina Nu for a Stevie Ray Vaughn song. His monkey Aqualung, who originally hung from the rear view mirror in Marilyn and has graced the mirror of every vehicle Steve has driven since, now hangs from Tina's mirror. Steve drives and enjoys his long awaited prize, but she is definitely pampered and spoiled to the point Ginger laughingly refers to the car as her "co-wife." Steve has taken Tina to only one show so far and received the Best in Show award. Look for this pair at many functions in the future, or doing what a car like Tina Nina Nu is really for – cruising top down on some Texas back country road.
MORE PHOTOS
HERE