January 2018
DACC FEATURE CAR
Duffy Oyster
Dallas, TX
1957 Chevy Bel Air Convertible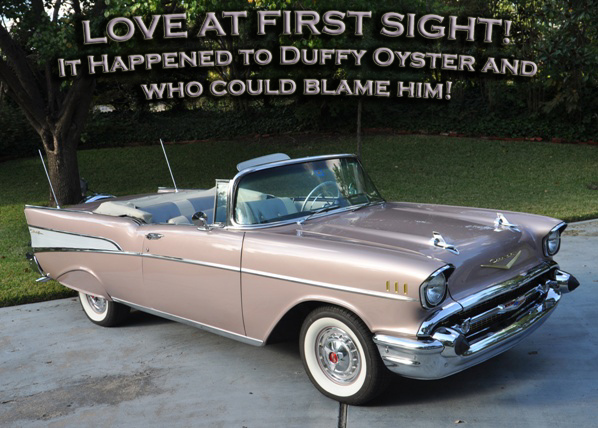 50 years ago I saw a beautiful woman at a place where I worked and it was love at first sight - I knew at that moment I needed to have her for the rest of my life - so I married her! But that was the second time I experienced "Love at first sight".

The first time I fell in love was 60 years ago when I was 10 years old and the man who lived next door bought a new 1957 Chevrolet convertible. It looked like a spaceship from the future! Big silver fins, a giant chrome grill that looked like a big smile, and bullets on the hood that looked like they could shoot down an armored tank. He let me be his passenger several times and I can remember the rumbling sound of the dual exhaust which he refitted with "Smitty's glass pack" mufflers.

Being a car guy for all my life I have since owned over 10 1957 chevys. I always regretted selling the cars but always loved buying them.

Four years ago I was at a car auction in Dallas just browsing when I saw a beautiful 57 convertible in the line up for sale. It was love at first sight! The car was a rare lavender color called "Dusky Rose". It was equipped with a continental kit, fender skirts, dual antennas, power steering, seats and windows. A silver and black interior and white convertible top made this car look spectacular. The power was the original 283 power pack and a powerglide transmission. I knew I had to buy this car.

Now - is this destiny or what?! Sitting in the audience waiting for the car to come up for sale, I struck up a conversation with the elderly woman next to me and told her I was interested in the 57 coming up for sale. She then told me that she and her husband owned the car and that they spent 8 years restoring the car and were selling it due to health reasons and because they rarely drove the car anymore. I was shocked by the coincidence but more determined now to purchase the car.

I now drive the car every week and show it periodically. It usually wins its class and is a car photographed often by old car lovers. This car style is loved by everyone at every age and is truly the "All American Car" and the "Heartbeat of America".

MORE PHOTOS
HERE