DACC FEATURE CAR
OCTOBER 2017
Dale Maddox's
1956 Chevy Nomad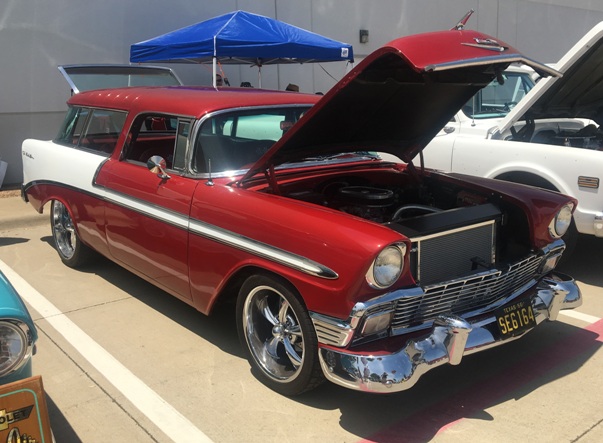 Dale Maddox likes 1956 Nomads. He bought the first one about four years ago. He found it on EBay and bought that one for his wife. She loved it, because it was Turquoise and White.
At that time, he had owned his 1957 Bel Air Convertible for about 13 years. He was contacted by a gentleman from San Antonio, who wanted to purchase his convertible. He told the gentleman that he was only interested in trading for another Nomad. It just so happened that this guy had a friend with a Nomad, that he could buy, and the trading was on.
Both cars were in similar drivable condition. Both cars had 350 engines, with 700R4 transmissions. Both had power steering and power brakes (front disc and rear drum). Both cars had air conditioning. Dale was able to work out the details and he traded for the car. It was brought from San Antonio in a trailer to Dale in Sachse.
Dale favors the Nomads because there were just over 8,000 Nomads made in 1956 compared to over 40,000 1957 Chevy convertibles made. Nomads are much harder to find and more rare. Also, the convertible was much less comfortable to take to car shows with the top down in the Texas heat. The air conditioning in the Nomad is much more comfortable.
Since Dale got the car, he has totally redone the interior. He put in an Ididit Tilt Wheel. He changed to a Lokar floor shift and it is equipped with Dakota Digital gauges. Upholstery was done by Tops Trim Shop in Garland. The front bench seat and the back seat were replaced with four Chrysler 300 bucket seats and a console with cup holders. Air conditioner vents are routed through the console to cool the back seats. All the upholstery is Maroon Ultra Leather. There are rolled and pleated sections in the seats and the console. Embroidered checkered flags are on the seat headrests, "56 Nomad" script on the door panels, and "Heartbeat of America" slogan on the back of the back seats. It has a DVD/SirusXM/FM/CD and four Sony speakers, with an amp and a sub-woofer, and eight LED interior lights.
The engine only had 7,700 miles producing about 400 hp. It has Riddler wheels with 18's on the front and 20's on the back with Nitto tires.
So, Dale and his wife Teena now have "His and Hers" 56 Nomad Wagons. Dale's is Maroon and White and Teena's is Turquoise and White. Look for them at the shows!
MORE PHOTOS
HERE