April 2017
DACC Feature Car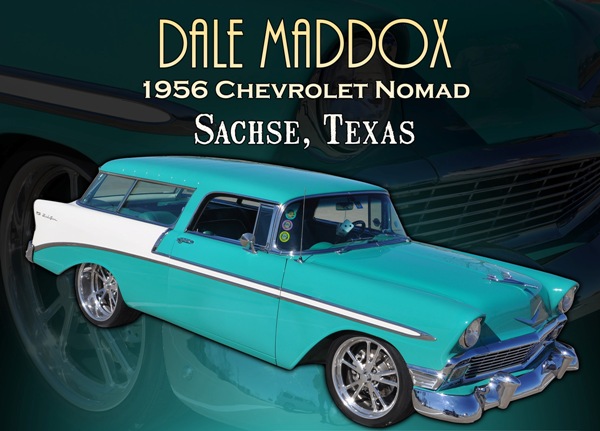 Dale & Teena Maddox
1956 Chevy Nomad
Sachse, Texas
The story of Maddox's 1956 Nomad began one Saturday morning in May of 2014, when Dale woke up early and was "window" shopping on EBAY, looking at 1956 Nomads. The styling of the '56 is his favorite because of the design of the side paint and stainless trim, plus he was born in 1956. That morning he found this Turquoise and White Nomad that looked great. There were 101 pictures of every imaginable part of the car. It had a reserve way higher than he would ever consider, but he still looked at every one of the pictures - over and over.
When his new bride, Teena, got up later that morning, he figured she would nix the idea of having this car. But when he told her it was Turquoise, she was excited, because it is her favorite color! Then they had to look at all the pictures again together for half the day.
Dale talked to the company that owned the car and eventually put in a bid that was lower than the reserve, but still a lot higher than he really wanted to go. He ended up being the high bidder, but the owner didn't budge. A few weeks later it was listed again on EBAY and he bid just a little bit higher, and again was the high bidder. It took two months of negotiation for them to agree on a sale price. The seller did not budge on his price but agreed to pay the $600 shipping cost. Then it was theirs and it was shipped to Texas!
Dale and Teena have had a great time taking trips in the Nomad, going to car shows and events. Their first trip was to Cruisin' the Coast in Biloxi, Mississippi in October 2014. They hadn't had a honeymoon, when they were married in March 2014, so they made a honeymoon out of their ten day trip to Biloxi. They had such a great time going to all the events there, that they're going back for the fourth straight year in 2017.
The Nomad was named Best of Show two years ago in at a show in Edgewood, Texas, which earned it a place on the next year's T-Shirt. They've been to the Outlaw Nationals in Jefferson, TX; Hot Rods & Hatters in Lockhart, TX; the Old Town Show in Spring, TX, and many more. They drive the car to all the shows and events. It now has over 15,000 miles on the odometer. It was one of eight Nomads featured in the DACC club display at the 2017 Dallas Autorama. They are thinking about driving to the Nomad Convention in Roanoke, Virginia this summer and anyplace else that sounds like a fun time with cars. Dale's collecting T-Shirts from all the shows, so Teena can make him a T-Shirt quilt.
Dale says that everything about this car was done well. The cost to build it was $170,000. He's talked to the builder several times and has really been impressed with the quality of the work. It has everything that Dale would have wanted on it.
When Dale bought it, the Nomad had only 1,100 miles on it, since it was built. It even had two year's warranty left on the LS6 crate motor. Street and Performance has done some modifications to the engine and the 4L60E electronic overdrive transmission. It has power steering, turbo hydro boost braking system and four-wheel disc brakes. The frame is boxed and is the same color as the car which makes it look as great from the bottom as from the top. There's lots a beautiful chrome in the engine compartment. It has tubular A Arms, a 5-link rear suspension, and coil over shocks. The Ron Davis Aluminum Radiator easily stands up to the Texas heat in the summer. The wheels are Intro 20" on the front and 22" on the back with Nitto low profile tires. It drives like a dream.
The interior is done in turquoise leather. It has a center console and four Lexus bucket seats with "LS6" embroidered on them. It has gray sculptured carpet, power windows, power door locks, air conditioning, Dakota Digital gauges, a Viper security system and even a power glove box. One of the few changes Dale has made is to add LED headlights!
It has everything anyone could want in a sound system: Kenwood DVD, CD, XM radio, two JL Audio Amps, two W6 Subwoofers in the back, and two Rockford Fosgate speakers in the doors and behind the front seats.
Dale also has another 1956 Nomad that he traded for his 1957 Chevy Bel Air convertible. So, he and Teena both have a Nomad. He's building a 1957 Chevy Pickup and has a great 1967 Camaro.
MORE PHOTOS
HERE