October 2016
Feature Car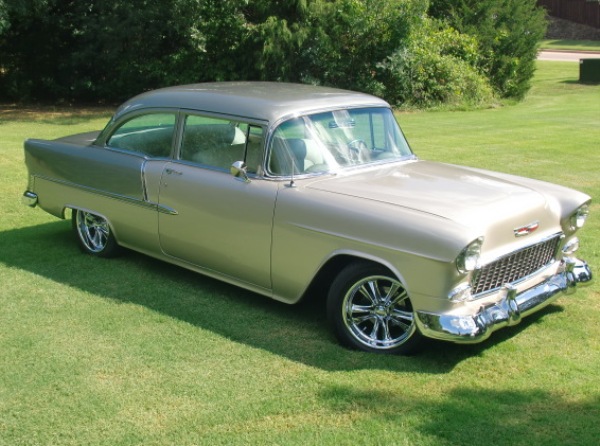 John & Karla Yoby
1955 Chevrolet 210
Highland Village, Texas
I began my love of the '55's in late 1963 while in the Air Force stationed in Burns Flat, Oklahoma. One of the guys had a '55 150 Chevy stripped of all side stainless and painted maroon with black interior. It was a 283 bored to a 301, two fours, cam and a four-speed Muncie. He was getting transferred and it was up for sale, but $1750 was out of my range so I settled for a '55 with a six cylinder, a three speed column shift painted Shoreline Beige and Neptune Green.
My girlfriend Karla (now my wife) had a new 1963 Chevy Impala bought for her by her mom (my mother in law) to coax her away from me but that didn't work. In the end I got both, what a grand slam!!!!!
We finally married, moved into our first un-air conditioned apartment and ended up selling the '55 for $200 and a swamp cooler (old time a/c for the younger members). That was a heart break for me but as they say "Happy wife, happy life".
For the next twenty-five years I was car-less to play around with, until I started working on a '51 Chevy pickup. I know, when do we hear about my '55, it's coming.
The pickup was my project for nineteen years, when I finally completed it. And now the '55 comes into the picture.
My neighbor, Roy, decided to retire and sell his business in Dallas. He had a detached garage at his home across the street from me and that's where the stripped and totally disassembled '55 was stored. He never mentioned to me he had the Chevy, but had decided to put it up for sale in order to help buy land in Bowie, TX. The car was stripped to bare metal, the frame was leaning against the wall and parts we're everywhere, including in the attic. The firewall was modified and it was tubed, but the rest of the body was left stock. He had the intention to build a drag car and had all the parts to get there. The block was 30 over built by Wayne Calvert Performance Engines in Denton. It had flat top pistons, Brodix aluminum heads and too much more to even remember.
He quoted me a price and after some consideration, I headed home for the down payment check and the deal was officially done. My next job was to tell my loving wife what I had done and to sell a '51 Chevy pickup fast.
I called a neighbor, Dave and Meris Garrett, who had just bought "Texas Classic Cars of Dallas" and had them put it up for sale for me. During the second week of December 2008 I received a call from them saying that the deal was completed and the '51 was off to Germany. Now with a hand full of cash I was ready to buy parts.
From that time on I have been busy and with the help of the DACC WRENCHES group led by Bill Preston, Don Andre and a number of DACC members who shared their time helping with the project. The engine is a 350 thirty over, mild cam, roller rockers, Keith Black flat top pistons and a 600 cfm Edelbrock carb.
The interior was done by Neil Cloud of Lewisville in light cream with mint green inserts and with light cocoa carpet. The paint from the side trim up is metallic moss green. Below the trim and forward it is metallic sandstone beige painted by American Body Works also of Lewisville. The dash sports a Dakota Digital VHX system, tilt wheel, power steering and brakes with rack and pinion steering, new front and rear suspension dropped two inches front and rear. It has a Vintage Air system installed by the DACC club "WRENCHES" with the air vents installed in the dash giving it a more factory appearance and finally a set of 235x55x17's wrapped around the Foose 7 inch front and 8 inch rear Knuckle wheels.
With the check list nearly complete I was able to make it to the 40th DACC anniversary gathering on April 10, 2016 at Reliable Chevrolet. But the biggest part of the help came from my wife Karla, who stood by me with encouragement during so may disappointments and a very large box of band-aids!

MORE PHOTOS
HERE