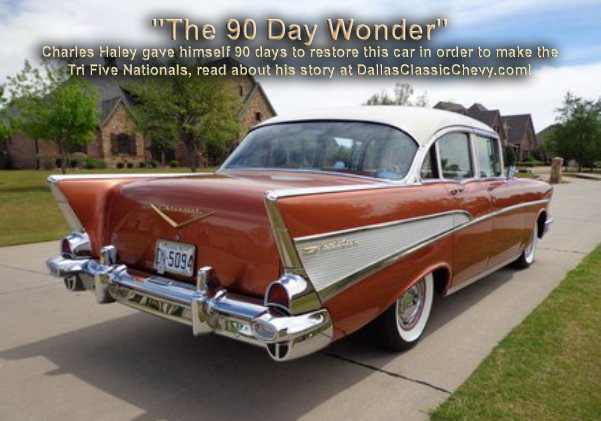 Charles & Dianne Haley
Prosper, Texas
1957 Bel Air 4dr Sedan
I was a college Freshman in December 1967 without a car when I saw a Black 1957 Bel Air 2 Door hardtop sitting on the street with a 'For Sale' sign on it. It was always my favorite car and one I always wanted so I spoke to my Father about it. He told me to let him see it, so the owner allowed me to drive it the 45 miles to my hometown for my Father to check out. He agreed that it was OK and gave me $200 toward it with me financing the rest of the $650 price at the local bank to be paid back with my summer earnings. It was a factory 3 speed car with PS and had a 300hp 327 in it with a Duntov solid lifter cam and a 3.70 diff ratio. I had fun with that car.
I went into the Army in 1968 and when I came home in 1970 I bought a 1967 Olds 442 (another one of my dream cars) and subsequently sold the '57. I regretted selling the '57 after about a month but the buyer had driven the car to New Jersey where he had moved.
Fast forward to getting married, raising 3 daughters and getting them through college. Now was the time for me to find another '57 Bel Air. I started looking for a 2 door hardtop, but I wanted an original car that I could restore. I only found already restored cars, resto mods, or cars in pieces. I then looked for a 4 door hardtop but couldn't find one that was a candidate for me. One day on Ebay in 2006 I found this car. I was intrigued by it as I saw that it had factory AC. Although it is a four door sedan, I decided that it would do for me. At that time, I had only seen about 4 other 57's with factory AC in my lifetime. The price was right, so I bought it and had it shipped to me.
After receiving the car, I tuned it up, points and plugs, rebuilt the carburetor and started it up on a can of gas to the fuel pump. The engine ran fine so I rebuilt the brakes and power steering to be able to drive it. When I took it for a test drive it had no high gear, probably why the last owner parked it. When I got it, it still had a 1972 license plate on it. I assumed that it had been parked for 34 years from 1972 until 2006 when I bought it due to the transmission failure. I rebuilt the transmission and drove it to the Spring DACC Show in about 2009 in its unrestored condition. Some members there told me to not restore it, but drive it like it was.
I let it sit while I restored some other cars. When I found out there was going to be the Tri Five Nationals in 2015, I decided that I was going to take it to Bowling Green in whatever condition it was in. I was number 118 registered for the Nationals. After speaking to my body shop and arranging for them to do the paint and body work for me on an accelerated schedule, I started the restoration on May 14, 2015. I disassembled the car for a frame on restoration. I worked like crazy for 90 days (I called it the 90-day wonder restoration) to get the car ready to trailer to Bowling Green, getting all of the vendors (stainless, bumpers, engine, transmission, upholstery, etc) to get their part done in a timely fashion. I had the body and paint finished, most of the stainless installed, the rear bumper installed, the interior done to the point of the seats sitting in the car on the laid in carpet, engine and transmission finished, ready to load up for a work in progress. I wasn't able to start the engine until 9pm on Tuesday August 11th. I got it started, adjusted the timing and carburetor, got the lifters pumped up and now I was ready to load up in the morning! I was going to leave on Wednesday, August 12th to go to Bowling Green for the first Tri Five Nationals! That morning as I was ready to load it, I stepped in a puddle of oil. I checked it out and found that the engine builder had installed the cup plug in the oil gallery above the oil filter incorrectly and I had a huge pressure leak! My grandson Austin had helped me work on the car all summer and was going to go with me to Bowling Green. So we closed up the garage, loaded up in my truck and went to Bowling Green without the car. There were 1858 cars registered for the 2015 event with one, register #118, not being able to make it… We had a great time there and also visited the Corvette Museum and the Corvette Assembly Plant.
I have since finished the car and have thoroughly enjoyed driving and showing the car in several shows. I was awarded a First Place in the Restored class at the Dallas Autorama this year and was featured in the Good Guys Magazine after the Spring Dallas Good Guys show. I learned a lot about 57's doing this car! Yes, it is a four door sedan, but it sure is quiet driving down the road.

MORE PHOTOS
HERE