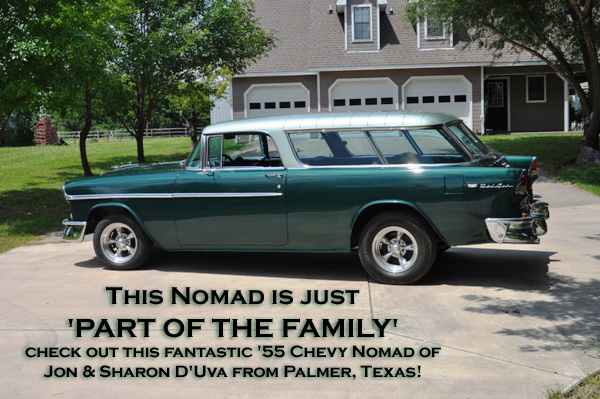 Over the years I have owned many cars, starting with my first one when I was 14 years old. I talked my family into buying me a non-running Ford coupe for $35. I never did get it running, but the old gal taught me a lot of things about what I could and could not do. All through high school I seemed to own only old Fords. Some that ran and some that did not.
After high school and my first enlistment in the Navy, I returned to Venice, California and got married. Our first car together was a 1955 Chevrolet 150, two-door sedan, 265, automatic and my love affair with Chevrolets began. As time passed, I owned and had the joy to drive a number of '55, '56 and '57 Chevrolets along with many other GM and Ford cars. As I think back, I believe I have owned about 200 cars.
In 1975 the Navy transferred me to Amarillo, Texas which forced me to sell all my '55, '56 and '57 Chevrolets along with my '54 Corvette. I was able to take in two different trips my 1930 and 1938 Buicks. Shortly after the move to Amarillo, I found a 1957, 210 two door sedan with a locked down engine. I was able to get that 235 six running. The car was first powered with the little six and Powerglide. The little six cylinder had a strong heart and was running years later, when I pulled her out and replaced it with a beefed up 327 engine and TH 350 tranny. I painted the '57 dark blue and called her "Ole Blue" after the TV commercial where a man called his old "bomber" that name.
After retiring from the Navy, I was looking at the cars for sale in the Amarillo paper. Under station wagons was an ad that read, "Selling my ex-husband's '55 Chevy wagon. Cheap". The weather was raining with heavy down pours at times, I still called and made an appointment to be there within the hour. The woman was glad to see me and went to open the garage. There, covered in dust and junk stacked around it, was a complete 1955 Chevrolet Nomad. My wife could tell by my expression, which she had seen many times over the years, this car would go home with us. We made a deal and the Nomad was mine.
Over the years since 1986, when I acquired the Nomad a lot of cars have come and gone, but the Nomad remains. Two years after buying the Nomad I was driving into town for a car event, when a woman who had printed on her driver's license the words "legally blind" hit me and forced me into a telephone pole which destroyed the front end and bent the frame. My first thoughts were the poor little car was done. I had her towed to a friend's body shop and reported the accident to my insurance company. I started making phone calls. There were very few companies selling Tri-five parts at that time. The largest was a company out of Florida called Classic Chevy International. I called them and asked about frames. The people at that business told me I would need a Nomad frame. I did more checking and found out they were almost right. It turned out that most all '55, '56 and '57 Chevys used the same frame, just some have extra body mounting perches. That information was a major relief, because I found a man who had a rusted out, stripped down '55 Nomad frame. He had heard through the old car grapevine I needed a frame and more than doubled his price.
Armed with my new information, I placed adds in local newspapers and was flooded with calls. I found a nice frame and an original, never been repainted in perfect condition a 150 complete front end at an unbelievable inexpensive price. I took the front end apart and took it to a furniture dipping business, where they would dip my parts, because there was no undercoating or grease. The parts came out looking like NOS parts. Both my body man and I were elated over the results.
I began work disassembling, sandblasting and replacing all the front end parts on the frame. When the frame was completed, we used a lift to remove the body from the old bent frame, and rolled the new one under it using new body mounts and shims. A short while later with her new frame, sheet metal, chrome parts and paint job she was on the road again.
As I was remembering this story, my wife reminded me of the time I found our 1963 Corvette. Even with a shop full of cars, I told my wife I needed that Vette. I even went as far as to tell her I would sell the Nomad. She said to get the Corvette and worry about selling the Nomad later. To this day I still feel guilty for leading her astray as both of those cars sit side by side in my shop.

Jon & Sharon D'Uva

MORE PHOTOS
HERE