November 2015 Feature Car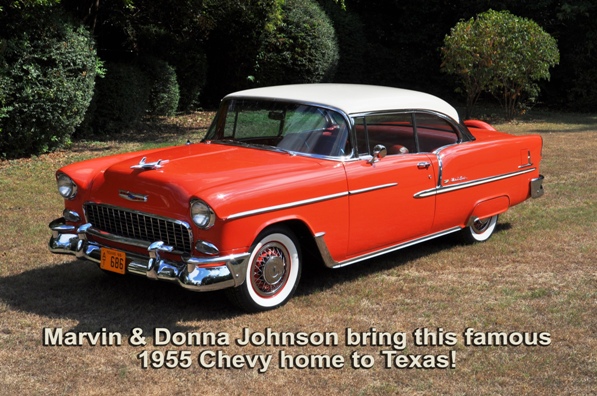 1955 Bel Air formerly owned by Harold Louisiana
I saw a 1955 Bel Air on-line at Auto Collections.com, located in Las Vegas at the Linq Hotel and Casino.
Over the next 6 months I talked to owner of the Classic Car Collection multiple times. My wife and I decided to drive to Las Vegas to seriously take a look at the car in April of 2015.
The car was owned by Harold Louisiana of Minnesota. In his famed restoration company, "Welcome/Louisiana", he restored the 78,000 mile, rust free car back to original without repairing any parts. He said it must have spent its whole life inside a garage. The car features a continental kit, NOS wire hubcaps, NOS fender skirts and stainless, a 265 power pack with powerglide, and original plastic seat covers, which Chevrolet sold back in 1955 for their cars. The car was the subject of a 'How To' book on restoring '55 Chevys.
In the early 90's, he drove the car 3,300 miles roundtrip from Minneapolis to the Classic Chevy Club Orlando International Convention. The eye-catching, rare color combination is unusual because of the placement of the paint. Gypsy Red covers the entire body, including the trunk, while Shoreline Beige appears only on the top.
Harold won a Gold Certificate, winning Best Original Interior, Best Original Paint, Best Original Engine, and First Place in his class, scoring 980 points.
We decided to buy the car, now showing 39,510 miles since restoration, and hired Reliable Transportation to deliver to our home. Since then we entered the car this year in the Chevy Classics International Convention in Norman, Ok., winning 3rd place in our class, with 983 points.
Marvin & Donna Johnson


SEE MORE PHOTOS
HERE