September 2014
DACC FEATURE CAR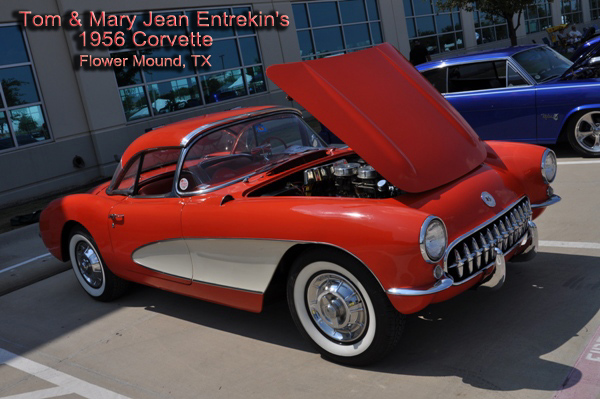 BOUGHT IN 1960 AND STILL HAVING FUN WITH IT!
In May of 1960, when I was 18, I asked my father if I could use some of my college money to buy a Corvette. Our search took us to a Chevy dealer in San Diego, where we were living. We found a 1956 with two tops, power windows, two 4-barrel carbs, a 3-speed transmission, and new enamel red paint. So, for $1,830 I had a Vette.
After driving it for a few weeks, I had some problems. The wipers did not work and it died sometimes, when I came to a traffic light. Since my father was an aircraft mechanic, I asked him to trade cars with me for a while to see if he could tell what
the problems were. Thatís when I got my first lesson in carb rebuilding. After he got done driving it, I found the drivability was better.
One thing I noticed was other Vette drivers were waving at me. I wondered why they were waving... now I know.
I told my father I would like to paint the car maroon and white. Only problem was I had no compressor. My father and I made one using a motor and an aircraft accumulator. That was my first lesson in painting. Since then Iíve painted the Ď56 five more times--each time a different color combo.
Iíve learned a lot of things about having an old Corvette. I found out leaving the car unattended with the hood up wasnít a good idea, as the sun reflected off of the air cleaners and onto the hood, burning a one inch track in the fiberglass.
After joining the Air Force my first base was east of Sacramento, the car sat out all the time. After a heavy rain storm one day I found over an inch of rain in the floor boards. I had had the car for over two years before I knew it leaked so much. Water also collected in the bottom of the rear fenders. It was so deep I could hear it sloshing around while driving. The solution was to drill holes to let the water drain out. Bill Preston told me Chevy did the same thing in 1957 to the floor boards to cure the problem.
After the Cuban Missile Crisis the base was closed down, because we were a high value target. I waited for over six months for orders. During that time I took the car on many trips to San Diego, about 1100 miles, San Francisco, Reno, etc. With time and no duties on my hands, I went into town one day and bought a pair of Corvette valve covers and polished them by hand before putting them on my Vette.
When I finally received my orders for Tacoma, Washington, I knew I wasnít willing to spend two years there in rainy weather driving the Ď56. So, I called my father in Kansas City, Missouri and told him I was driving the Corvette there and I would be looking for a car to take to Washington. There were a lot of volunteers to help me drive east. One of my roommates was from Denver, so he got the nod. We drove straight through to Denver. It was 90 degrees in Denver, so I decided to spend the night and next day before driving to Kansas City at night. Driving through northern Kansas on Highway 36 (no interstates then) I had a police escort. Every 50 miles a pair of headlights would disappear behind me and another pair would appear within a few
seconds for over 300 miles.
After a few days in Kansas City I found a 1956 Chevy Belair 2-door post. I made the right decision to leave the Vette in KC, because of the rainy weather in Washington. My brother wanted to put a larger engine in the Vette, a 327 cubic inch. I said fine, but he would have to pay for it. With 100+ octane fuel, it had about 400 hp. A 4-speed and limited-slip differential were added.
In 1967 I ordered a Ď67 Vette with a L71 engine (435hp). I let my brother take the Ď56 to Savannah, Georgia. About a year later he called and said he wanted to buy a cycle and was bringing the Vette back. On the way back he got a ticket for going over 100 mph in Tennessee. He said he was caught by an aircraft.
One night on the way home from KC Airport, where my brother and I both worked at the time, it was snowing hard with thunder. I knew I couldnít drive 30 miles to my home, so I drove toward my fatherís home which was much closer. On the way up the hill I got stuck in the 6Ē of snow. I woke my father up and told him Iíd shovel, if he would drive the last 200 feet. My brother showed up with my Ď56 Chevy and we both cleared a path to his driveway.
Iíve bought several Vettes since Iíve had the Ď56, but they were stolen while living in KC and working at the airport. They were both very nice custom 1967 Vettes and were stripped, so I never
got them back.
In 1983 I moved to San Diego again to work for TWA and took the Ď56 Corvette with me. Over the 18 years I lived there, I worked on the Vette from top to bottom. When I got the car back from my brother, it was such a mess. He had kept it in a barn where mice built nests and destroyed the seats and all. I worked long and hard on it. I painted it Venetian red and redid the interior as well. It is the same color now. I moved to Dallas in 1999. I wonder if itís time to repaint again, maybe a different color?
A couple of years ago Bill Preston and I added a Steeroids power rack and pinion steering system. It was advertised to fit a 53-62 Corvette, but we found that it actually was engineered to fit a 58-61 which has the generator on the passenger side. So we had to make a bracket for the power steering pump to fit under the generator on the driverís side and make new hoses to fit the new location.
At that same time we also put on 4-wheel disc brakes. The kit included 70ís GM front brake discs and calipers and later model Cadillac discs and calipers for the rear. The kit used the Cadillac in the rear to facilitate using the existing emergency brake cable. We had to fabricate the new brake lines. We tried using a 1965 Corvette master cylinder for the 4-wheel disc set up. I was never able to adjust the rear brakes properly, so we switched back to the original drum brakes on the back. Having thrown away the old brake lines, we had to fabricate new brake lines again. We installed a dual cylinder master with a proportioning valve for disc and drum combination.
Bill and I painted my hard top last fall so Mary Jean and I could use it when going on weekend trips in the Ď56. I hadnít run a top on it for many years. The soft top needs rebuilding and is in storage.
Having this car as long as I have, means I have LOTS of stories and experiences with it. Even though we have a 2006 red Corvette coupe, I enjoy taking the 1956 out on short excursions and talking to everyone about it.
CLICK EACH PHOTO TO ENLARGE