August 2014
DACC FEATURE TRUCK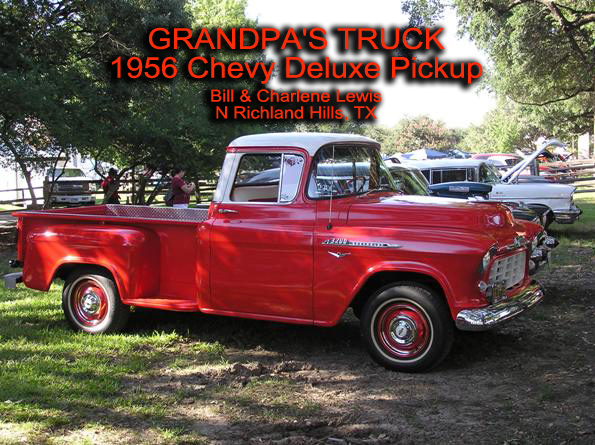 Grandpa's Truck
My grandparents raised three boys on a farm in the "Missouri Ozark's". Back in those days in this small farming community, it was very common for families to share their resources, so my grandpa not owning his own pickup truck wasn't out of the ordinary. Sometime in 1957 a family friend told my grandpa that he had a friend who owned a car lot and had a really fine deal on a pickup. My grandpa asked my dad to go with him to check it out, and as always, I tagged along. When we pulled up at the lot, there it was—a bright, shiny, red and white '56 Chevy Deluxe. Sure enough it was a great deal, and he bought it. As a young boy I loved riding in that truck with my grandpa. About the time I turned thirteen my grandpa taught me how to drive in that very truck out in the pasture. Three speed on the column was a challenge, but my grandpa was patient as always.
My grandpa used that truck on his farm until his death in 1984. During that time my dad or I also used it any time we needed to haul anything. After his death my grandmother kept the truck 'til Ralph McDaniel, a neighbor and my uncle's best friend, talked her into selling it to him in 1986. He used it as a farm truck for several years then passed it on to his son who used it to haul his motorcycles to motocross races. Sometime in the early nineties my dad was visiting Ralph and came home telling me about the two trucks he was working on. One was a '53 Chevy that he drag raced and the other was grandpa's truck that he had started restoring. I hadn't even thought about grandpa's truck for a long time since I moved to Texas many years before and simply lost track of it. A couple of years later we were back visiting family in Missouri and swung by to see how Ralph was coming on the truck. He hadn't done much, as he had been too involved drag racing with his '53. But there it was! Not much to it, just a bare cab sitting on the frame and an engine. Sure looked nice though! Brought back old memories and made me wish it were mine. I asked Ralph that if he ever decided to sell it, please let me know. He replied that as soon as he finished restoring it, he would sell it to me for just what he had in it. I couldn't have been more excited, plus it was a great deal to boot. Didn't figure it would be too soon as Ralph was over eighty years old and still focusing most of his attention on his drag truck.
I couldn't have been more excited when nearly two years later, I got a call from Ralph. Good news and bad news. He had finished the truck but just couldn't bring himself to get rid of it after all that work. I told him no problem, that I understood but if he did decide to sell it, please let me be his first call. This plan was okay by him. To say I was disappointed was an understatement, but with a truck like that one, I really did understand.
About another year later I got word through the family grapevine that Ralph might consider selling the truck. Didn't take me long to give him call and make a deal (a sweet one too, I might add). He knew I had a sentimental interest in that truck. We traveled up to Missouri a couple months later for our annual 4th of July family reunion as well as to pick up my truck and drive it back to Texas. When we got to Ralph's, he told me that the old 265 V8 was leaking oil out the rear main seal. That particular engine had a rope packing for a seal which was prone to leaking. Ralph told me that he was having a 350 built to put in its place but it wouldn't be ready for a couple more weeks. Again, no problem! That gave me a little time to work on selling my Harleys so I could make room for the truck in my garage. In the meantime, I made arrangements for a transportation company to bring my new, old truck down to me.
When the engine was done, I sent the transporter to pick it up and deliver it to me in Texas. Two days later, I was in the driver's seat. It seemed so natural for me to be there. I was taking my Dad for a ride, and he was surprised that driving that truck came so naturally for me. No surprise to me, as my original driving instincts just came right back. Since then it has been so much fun for me to drive. There are a lot of old memories, and we're making new ones now in that '56 Chevy Deluxe. By the way, it is still "Grandpas Truck" to my grandkids.
Bill & Charlene Lewis