July 2014
DACC FEATURE CAR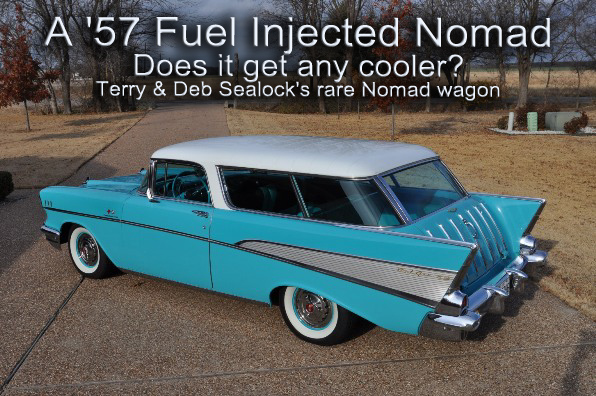 ONE HORSEPOWER PER CUBIC INCH IN 1957
Everyone has a dream car, this is mine. Where I grew up as a kid in Kansas there weren't any Nomads. So the dream continued some 50 years later until I started scouting Craigslist & Ebay, finding one in California that I was sure had my name on the title. I changed my mind however when I found another one advertised in Houston an original 283 cubic inch-283 horsepower, 3 speed, 4:ll rear-end, with Indian Ivory/Tropical turquoise paint. Even if this wasn't exactly what I wanted I knew it was a rare find so I drove to Houston to check out it for myself. Not often do you find an original 283 horsepower, Fuel Injection, with only 45,000 miles. Upon my inspection I found the car was equipped with these additional options: power steering, Wonder Bar Radio, Autronic Eye headlight control, electric wipers, and deluxe heater. Unfortunately the seller & I couldn't agree on a price so I left without the car and the seller stated he was putting it back into storage till the market improved.
While my search continued I stumbled across an article written in the 2009 issue of The Nomad Post by J.D. Schnoor. According to his article there were "ONLY" 109 Bel Air Nomads sold with fuel injection. A month or so passed and as luck would have it I get a call, "if you still want the car come get it". The next day I was on the road back to Houston. After getting the car home, on the lift, & checked out, I was pleased to find not a speck of rust. In fact, it did appear to be original, with a one-time lacquer repaint. It ran good, but I knew nothing about fuel injections! In March of 2013 as I headed home from Ft Worth Goodguy's, cruising down the road, "POOF" the motor blew. A rod broke and that meant the motor had to be pulled and rebuilt. In the process I decided to completely detail/restore everything under the hood, including a new firewall pad, paint, and wiring. The original motor was salvaged and rebuilt. The repair clock was ticking as we'd made plans to take the Nomad on a road tour through Louisiana/Texas with the Contemporary Historical Vehicle Association (CHVA). With my lack of fuel injection knowledge at zero, I put the motor back together with a carburetor system. With no break-in time we were smart to take another car on the CHVA Tour.
The fuel injection unit sat on a storage shelf for another 4 months haunting me to rebuild. Finally one day I moved it to the work bench and grabbed my camera to take detailed pictures of every component, nut, bolt & screw. I have to say my gut feeling was, "it'd never run again". So now I'm looking for parts & people with fuel injection knowledge. Luck would have it I found John DeGregory in Greensburg, PA who had over 50 years of experience rebuilding fuel injection units for passenger cars and Corvettes. My question to him, "John, how does a novice like myself learn anything about working on these units"? His reply, "go buy yourself a 1958 Chevy shop manual because in '57 they knew nothing about fuel injection. By '58 they had figured it out and published it in the manual". John stating he'd help me anyway he could in the restoration process, and of course he had parts for sale. Work progressed and 3 months later with fingers crossed it was installed. I only had to make a few minor adjustments to see it off and running. Our maiden voyage was with the Dallas Area Classic Chevy group to the 2013 Lone Star Classic Chevy convention in San Angelo, TX. It was a fun trip and the Nomad ran like a top.
Hopefully we'll see you all at some car show down the road.
……On to the next dream….
Terry & Deb Sealock
Lucas, Texas
CLICK EACH PHOTO TO ENLARGE
I