FEATURE CAR
June 2014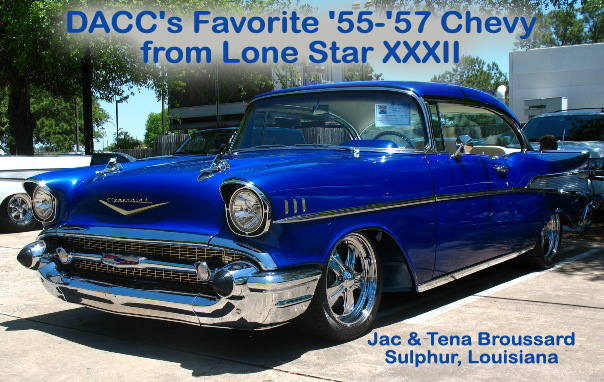 I
2014 DACC Lone Star 32
Favorite '55-'57 Chevy

Each year at the annual Lone Star Classic Chevy Convention, it is tradition that each club selects their 'Favorite' Classic Chevy at the event. This year at the 32nd Annual Lone Star event in Houston, the DACC members selected "Blue Diamond", a beautiful '57 Bel Air 2 door hardtop owned by Jac and Tena Broussard from Sulphur , Louisiana.
They are not members of any club but they do attend the Texas state conventions each year when they can. Jac and Tena read all of the club's websites constantly to keep up with what is going on.
This '57 was originally bought at an auction in Dallas in 2005 for Tena to drive. When the brakes went out, they stored it in a barn for about a year. After that the '57 went on a 3 year restoration process and that got this Chevy to what it is now. There was a lot of rust in the car and most everything was replaced except the trunk lid, hood, and inner body. Today it features a Morrison frame, rebuilt 454 with a turbo 400 transmission, a Ford 9 inch rear end, a custom automatic 800 Edelbrock carb, a March serpentine belt. The outside is dressed up with Boyd Coddington 17" "Stingray wheels, paint by Rick's Rods in Lafayette, Louisiana and the interior was done by Sean Cook in Murphy, Texas.
Jac and Tena drive to shows nearby, but if the distance is great then they trailer it to those shows. They also won the Men and Women's Choice at Lone Star as well as Best Engine.
CLICK EACH PHOTO TO ENLARGE