April 2014 DACC FEATURE CAR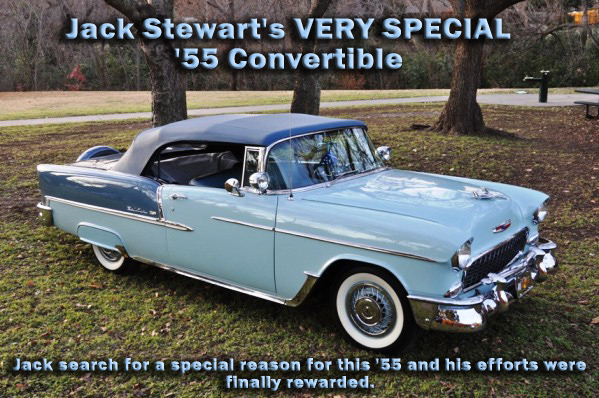 Jack Stewart
Dallas, Texas

Search For A Special 1955 Chevy Convertible
When I was in high school in a small town in New York, my older sister purchased a two tone blue '55 Chevy convertible. It was her most precious possession. I would take care of it for her in order to be allowed to borrow it on rare occasions. One of those occasions was my high school Prom.
A few years later, she got married and started a family. The convertible was no longer practical. She reluctantly sold it. It broke her heart.
We talked about it often. Over the years, I would occasionally find a picture in a book about Chevys and bring it back home to New York at Christmas time. Once about 20 years ago, I spotted an actual car like hers for sale on the Internet. I downloaded the picture and she had it attached to her refrigerator for the next 20 years.
I made a promise to her that I would someday find that color convertible, buy it, and bring it back to New York. For some reason that I have not been able to determine, the color combination is unbelievably rare (#610 -Skyline Blue in the front, and Glacier Blue in the rear). I looked everywhere. I go to Barrett-Jackson every year (as well as the 4 other auctions that are going on). I searched the Internet, went to local shows, swap meets, and auctions. I basically searched everywhere I could think of with no luck.
Over the years I developed a relationship with RM Auctions and I was on their regular mailing list. One day in October of 2013, I got a brochure advertising an auction in Grapevine. RM was handling the sale of a private collection of 150 cars to be held at the Gaylord Hotel. Normally I would give a mailer a brief look and then throw it away. This time I read it thoroughly because it was a local auction and low and behold, there was a small picture of the car I'd been searching for. Unbelievable!
I realized a museum quality car from a private collection was probably going to mean a ridiculously high sales price. I almost didn't go to see the car, however at the last moment I received an invitation to a free preview party (with lots of drinks). I went out the Gaylord, saw the car, took down all of the numbers, drank a lot of wine and went home and did my research. The next day, I went to the actual auction (with a major hangover).
I paid $150.00 to register to bid (ouch). When the car came up for sale, I knew I was in trouble. There were a lot of dealers present plus RM had Internet coverage around the world. It eventually came down to a dealer from Tampa and myself. As the number kept going up (a $1,000 at a time), I realized there was no way to outbid him. I dropped out and he won the sale.
I was depressed. I started roaming around looking at the other cars in the ballroom. I bumped into the dealer who won the car and I told him about my story and search for this particular color car. When I was finished he looked at me and asked, "do you want the car"? He then told me he would flip the winning bid ticket to me for $2,000. I told him I didn't think they wouldn't allow him to do it but he assured me he did a lot of business with RM and could get it approved.
At first I declined and walked away. Suddenly, it hit me. "What was I thinking"? I had been searching for this car for over 30 years. What's a few thousand dollars? I went back but couldn't find him. After an hour I finally tracked him down and made the deal. Luckily I had an old folded up blank check in my wallet. I FINALLY HAD THE CAR!
This story is one of extreme highs and major lows. The low part is that my sister had passed away two months before the auction. As I was standing there that night with "bid ticket", I suddenly realized what day it was. October 19th, it was her birthday. Unreal! She must have orchestrating the sale!
CLICK EACH PHOTO TO ENLARGE