March 2014
DACC FEATURE CAR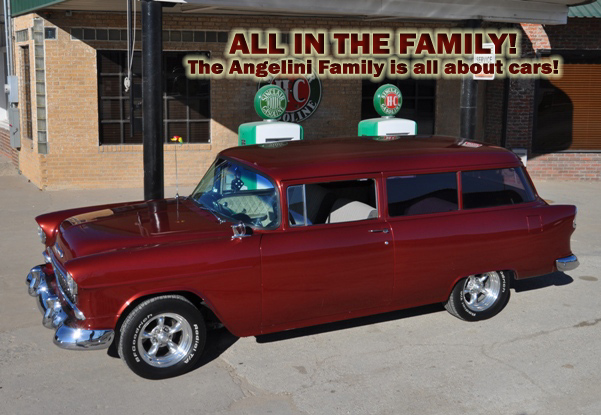 Joe & Shawn Angelini
Justin, Texas
I purchased my 1955 Chevrolet Handyman Wagon in 2003 in Phoenix, Arizona. The guy that I purchased it from had owned it since 1970 and he purchased it from the original owner. The car is a 150 base model wagon, the paint is a custom DuPont color a maroon root beer color. When I purchased the car the paint and body work were done. Most of the drive train came out of a 1969 Camaro. The car has a 350 cubic inch Chevy motor with roller rockers, fuelie heads, and a nice cam. It has a 4 speed transmission, a posi rear end, and disc brakes. I took off most of the chrome, front hood ornament, and have kept the '55 looking simple.
I have done a lot of upgrades to the car, some of which includes the interior with two-tone gray custom 60/40 seats and new carpet and a new stereo system. I put in new wiring throughout with a Painless wiring harness, a new fuel tank and lines, front disc brakes and new 4-speed Saginaw transmission.
My 3 boys were raised around Chevrolets, and most of the dings I have on my 55 are from their tricycles. The '55 gets used a lot, as we try to do car things weekly. We have been very active in Arizona car clubs and have lived in Texas the last 3 years getting back into the swing with car activities.

My other two vehicles are a 1923 Chevrolet, and a 1990 Corvette. My 2 youngest boys, Nick and Tony, love working on old cars and have been begging for a tri-five project car to start working on. My oldest boy Joe is away at college.
My Dad has a blue '55 Chevy 2-door sedan. He is moving here soon so we will be able to have yet another Classic Chevy in the family. Between my Dad and I, we will have a 1923 Chevrolet, 1955 Chevy wagon, 1955 Chevy Bel Air, and a 1990 Corvette under one roof (good start to a little collection). None of the cars are perfect but they look decent and most importantly they all help me make lots of family memories.
CLICK EACH PHOTO TO ENLARGE