February 2014
DACC FEATURE CAR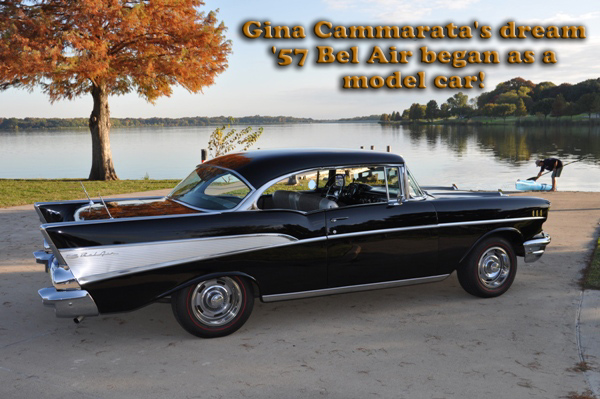 When I was little, I bought a large scale model of a 1957 Bel Air Sport Coupe to put together. My father was a hobbyist for many years and even owned a hobby shop. He loved cars but his real passion was radio controlled planes built from scratch. My dad and I had a special bond and with his interests in assembly and detail I picked those traits up and made a few models.

One day I was drawn to a model car that I really wanted to take on myself. The model was a large scale 1957 Chevy Bel Air Sports Coupe and I painted it Black! I always had an affinity for this particular car. In fact, the model still resides in my home on the refrigerator.

Several years later I was near Springfield, Missouri and I came across a '57 Chevy Bel Air four door sedan for sale. I drove it and that experience put the bug back in me. The four door sedan was ok however it would have been a lengthy project to say the least.

For whatever reason, I happened to look on EBay to look at what they had listed for '57 Chevy Bel Air's and wouldn't you know it – I found a real '57 Black Bel Air just like the model car I made. I didn't plan it this way, yet I ended up with this black '57 Bel Air Sport Coupe from Lake Ozark , 90 miles from where I was in Missouri .

All of the numbers matched and it had just over 89,000 original miles. The guy who owned it previously, for 25 years, put it on the market to purchase a '57 Bel Air convertible. To my delight, I am the fourth owner and it's been a real blast having it in my life!
CLICK EACH PHOTO TO ENLARGE