January 2014 DACC FEATURE CAR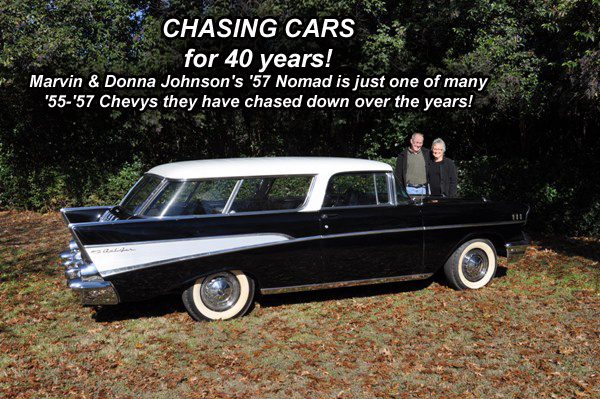 I looked on EBAY, as I do often, and saw a 1957 black and white Nomad, that looked to be original. It was owned by a farmer in Missouri. The car had been purchased by his brother off the showroom floor in 1957. His brother died about 20 years ago and the farmer inherited the car. A restoration had been started in 1988 and finished in 1991. Over the last 20 years the farmer drove the car only 3,000 miles and kept it stored in one of his barns.
My wife, Donna, and I drove to Missouri to see and drive the car before deciding to purchase. It seemed to drive okay, but I knew there was work that needed to be done. I am known for buying these cars and driving them home, but---, we decided to trailer this Nomad home because of the distance.
After tinkering with the car for several weeks, I called Don Andre with "Wrenches", to ask for some help. He invited those who were interested to come to my shop/garage. Don Andre, Bill Preston, and Tom Walker worked most of the day and replaced brake shoes, changed the oil, checked the fuel line, and fine-tuned the carburetor, among other things, with help from Ken Dobbs and Tom Entrekin.
It was determined that the car still had the original tires!! Good thing we did not try to drive the car from Missouri. It has the original 283 engine, and automatic 2-speed Powerglide transmission. It has no power accessories or air conditioning. The interior is stock silver and black upholstery with stock black carpet, except that the rear section is carpeted instead of the stock vinyl flooring.
Since I married my wife 40 years ago we have been chasing cars, and we are still having fun!
CLICK EACH PHOTO TO ENLARGE