November 2013
DACC FEATURE CAR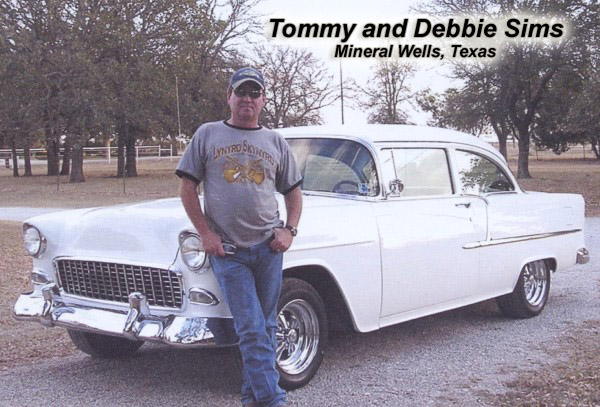 A friend of mine found this '55 210 Chevy sedan one week before the car and I turned the "Big 50". I had been looking on EBay for a year with no luck. They were all too far away or out of my price range. The car was in Stephenville, TX, 35 miles from where I live and in my price range. It was a solid car, good driver and worth the money. I ended up buying it and drove it home. Wow, what a great birthday present, you only turn 50 once! The seller told me the motor was okay but not the greatest.
In 2006 I started working on the car. A year later it sports a new 350 engine along with a 700R tranny, power disc brakes, power steering, new exhaust, new tires and Cragar 15" wheels. It's a good driver and does well at the smaller shows. I have two other old Chevy's, a '70 Chevelle SS and an '82 Monte Carlo. However,
I only get that special feeling (old school) when I'm behind the wheel of my '55, you all know that feeling!! When my wife Debbie and I cruise down Hwy 281 with the '50's music turned up loud we get lost in the '50's for a time, it's GREAT!!
I feel it was meant to be; finding the car when and where I did. We are now members of the club and are not able to go to all of the events since we live so far. We had a great time at the 2012 Lone Star Convention in San Marcos, and we do enjoy the newsletters and hope to make more events in the years to come.
As a side note – My wife and I have been married for 40 years in June and I wore out 3 cars while dating her back in '71 since she lived in another town; a '64 Impala, '65 Mustang and a '70 Chevelle. I realized it was cheaper to marry her, she was 15 and I was 17 and we are still deeply in love!
CLICK EACH PHOTO TO ENLARGE