October 2013
DACC FEATURE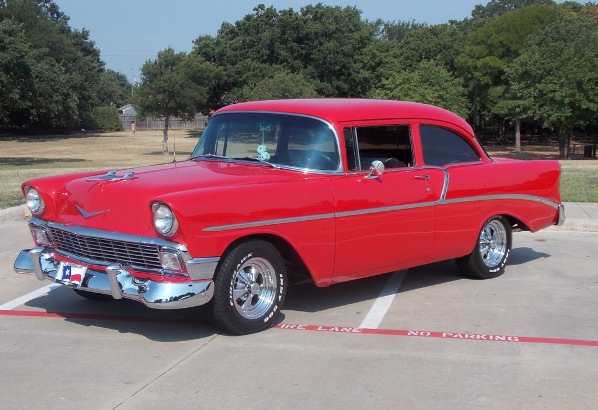 Don & Judy Howard
1956 210 2dr Sedan
Lewisville, Texas
Don Howard bought his 1956 Chevy 2-door sedan about six years ago in Florida from an EBAY ad. The previous owner assured him that everything he would need to finish the car was included... we all already know it wasn't. When the owner delivered the car and he first saw it, Don was wishing he hadn't bought it. Don recognized that the old original wiring harness wasn't any good, so he made the seller buy him a new one. It had black bucket seats and a console out of some ugly car.
When he investigated why the trunk had an "overbite", he found that the entire lower back panel was Bondo mixed with a little rusty metal. Don had to cut out the entire rusted dash, and replace it with one he bought on EBAY. He replaced both doors and door sills. Luckily he found a pair of doors in Argyle and traded in his old rusty doors. All the window parts and crank system had been removed and he had to have help from Corvette Parts in Arlington to figure out how to put them back together.
Don looked around for someone to do the body work and paint. He found Ron Ussery at Carrollton Paint & Body, who doesn't normally do classic cars or hot rods. Don convinced him to take the Chevy and work on it between collision jobs to keep the cost down. He would go to their shop weekly and do whatever he could to work on the car. It took a year and a half, but we all know that's not really very long for getting a car done. Don was very pleased with the work Ron and his crew did and the time it took.
The Chevy, named Maggie, now has a beautiful red exterior and a very attractive interior. The front bench seat is out of a Chevy Nova. The seats are upholstered in a stock style with black velour and gray canvas V inserts displaying an embroidered Chevy Bow Tie. The door panels are done in coordinating black and gray vinyl. Don did the trunk carpeting himself and fabricated a neat drop-down access door with a brushed aluminum Bowtie to hide the tool storage compartment.t.
The car has front disc brakes, Cragar wheels, power steering and power brakes. It has a 1991 350 engine with an Edlebrock 4-barrel carburetor and a 700R4 transmission. His next upgrade will be air conditioning.
CLICK EACH PHOTO TO ENLARGE