September 2013
DACC FEATURE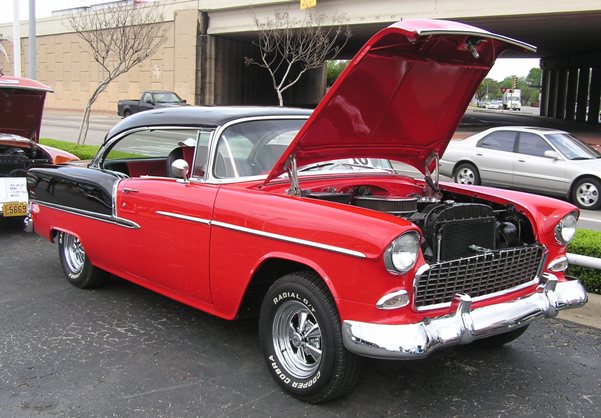 Kenneth & Sue Taylor
Bonham, Texas
Trials of Restoration
A Basket Case to a Beauty
By Sue Taylor
If the whole story were told about the restoration of this 55 Chevy Bel Air Hardtop, it would fill a book. My husband, Ken Taylor, and I started out looking for a 1963 Impala Super Sport because that was the car we had when we married in May, 1966. When one day on his way home from work in Rockwall driving the back roads Ken spotted a 63 Impala but it was in no condition for restoring. But, there sat the 55 Chevy of his dreams. It, too, was a basket case with just the body and frame with four old tires. It was in December, 2002 when he pulled in with this "beauty" loaded on his trailer. Then for about three years it was a yard decoration before restoration finally began. During those three years Ken drug me to car shows all over Texas to pick out a color for the paint, since he is color blind and has trouble seeing the true colors.
Finally, in August of 2005 work began in Flower Mound with Larry Bradford and Monte Willoughby doing a complete off-frame restoration. The work began with sandblasting. Then the frame was readied for the paint which was Par 15, body work was completed with new floor pan and quarter panels, lot of sanding and smoothing for the primer coat. Everything seemed to be moving right along when Larry sold his home and shop in Flower Mound and moved to a small town called Yantis—no shop on his new place. So, another waiting period while he built a new shop which took nearly two years, which meant no work was done during that time. There sat a primered car in our barn for that period of time while we were thinking it was ready for the paint to go on. By this time I had begun to think we had an albatross and would never have a drivable 55 Chevy.
When those two years was up we took the car to Larry's new shop anticipating a completed car soon. That didn't happen—too many things happened to slow the progress down. Larry was in Yantis and now Monte was in Waxahachie and working in Dallas. More time went by with many trips from home to Yantis to check on progress and to take parts. Progress was slow!! Finally, the sanding and prep work was finished and paint went on—paint I thought was going to be white over red which somewhere along the way became black over red. What a surprise when I went by to take pictures on my way home from a meeting in Longview and found it to be painted black. Needless to say, I was pretty upset after being drug everywhere for me to pick out colors. Really, Ken knew he wanted black and red and just let me think white and red... I obviously, had misunderstood. It is now 2008 so getting to this point has only taken three years.
Progress continued to be slow getting it put back together. Waiting for it seemed to take forever. Ken had a goal of driving the car to his 50th class reunion in June, 2010. I wasn't sure we would ever get there. September 2009 was the target date to bring the car home—oops, more trials. But, finally the chrome went on and Ken loaded it on the trailer and brought it home without a windshield or upholstery. Ken took it to a glass shop in Gainesville for the windshield to be installed. Then it went to the upholstery shop in Sherman. We were a little disappointed in the paint because in the sunlight it had "orange peel" and runs, which meant it was going back for buffing and final touches.
It was about this time that we started working on getting a title and registration. All we had was a "bill of sale". Needless to say, that didn't go well either. The tax assessor had told Ken there wouldn't be a problem with the title but the inspector couldn't find a number on the frame, etc. etc. etc. The inspector said if he didn't find one, he would have to have the car taken apart—still don't know if he was joking or not but after several trips out to our place, he finally found a number on the frame and assigned it a VIN number. Finally, we got a title.
Due to time and distance to Yantis, Ken decided to take the car to Evan Ritter's shop just south of Trenton on Highway 121. Evan and Corey took it back down to the primer and painted it again. Ready to bring it home again—with great confidence on a Friday evening we went over to bring it home without hauling it on the trailer. Oops!! Mistake! With Ken finally driving it for the first time on the road, we got about halfway home and it flooded out, when he turned a corner. There it sat without cranking again. Ken knew that I couldn't hook up the trailer, so I stayed with the car and he drove the pick-up home to get the trailer. Here we were… back to moving it around on the trailer.
My doubts that he'd drive it to his 50th reunion were greater than ever. When we got home with it, I called our once-mechanic friend, T Moore, to come out and help Ken figure out what was wrong. T found the problem with the carburetor and also found an oil leak. So, it was a blessing that it had died turning that corner in Leonard, because T said all of the oil would have blown out on the rest of the trip home. Therefore, Ken took the car to its first car show in Bonham in May, 2010 on the trailer. It got lots of attention but didn't win anything. Reunion time is fast approaching in early June. Ken had a mechanic, who is also a classic car enthusiast, who figured out the oil leak and repaired it, so that Ken made it to that 50th reunion pulling up in his 55 Chevy hardtop. It still wasn't running well, so back to the mechanic to have a different cam put in it. Finally, the car was running and would idle. But that wasn't the end of it. Then a gas leak was discovered and then, and then and then---it seemed that all of the little things would never get worked out. But they did.
Ken entered the car in the Wolfe City car show and won a first place trophy in his class. It got a lot of thumbs up whenever we would drive it into town on Tuesday evenings and meet up with other car enthusiasts at the Sonic Drive In. We actually thought nothing else could go wrong and we were home free—not so. We went on our first real road trip to Frosty's in Denton with the DACC, and on the way home the odometer should have rolled over to 1000 miles but it didn't – it broke!! The next road trip was to the Anna Malt Shop with several other car club members, and you guessed it, something happened. The road had been graveled earlier because of ice and snow and a pick up threw rocks all over the front of the car—broke the right headlight, chipped the windshield, and left several paint chips. What else could happen??
The speedometer had to be removed and shipped off to be repaired. Wouldn't you know, it took about two weeks to get there by UPS due to a snowstorm in Tennessee and the Carolinas. In the meantime, another leak was discovered, plus the group of shade tree mechanics and the real mechanic figured out the driveshaft was too long. Back on the trailer for a trip to a shop in McKinney to get the driveshaft shortened. Ken really wanted it to be ready for a trip to the DACC/Reliable Tri-Five Chevy Show on March 12, 2011 but again it went on the trailer. He did not want to drive it with no speedometer and had not driven it much locally with the driveshaft corrected. But he made it to that show after several years. After all these little things were corrected, he finally was able to drive it to the Lone Star Classic Chevy Convention in Irving in May 2011. Of course, we were a little gun shy and I followed him in the Suburban, praying all the way that nothing happened. Lo and behold, finally a trip without a problem.
Now it goes to car shows in the modified class. Some of the modifications were using an engine and transmission from a GMC pickup that had been totaled in an accident. We used bucket seats from another wrecked car and custom roman pleated interior in black and red. Of course, the black and red paint scheme was far from original. Various pieces had to be replaced due to rust, such as a new floor plate and both full quarter panels. As I write this, I don't know a lot about the bits and pieces of the restoration, just the bumps that we had in getting it completed.
Needless to say, the restoration of this 55 Chevy had many trials and required a lot of patience and a lot of help from many friends and other people. I am thinking that restoration of old cars was an experience that I could live without. However, the trials and delays experienced on the 55 didn't stop Ken from finding a 63 Super Sport and taking it over to 121 Restoration for a makeover. That one was a little easier and now we enjoy both cars and the looks and thumbs up we get whenever we drive either one of them anywhere.
Thanks to Larry and Monte for the body work, primer, and getting the car to the point of actually running. Thanks to Cory and Evan Ritter at Highway 121 Restoration for the final body work and paint job. Thanks to Ronnie at Custom Trim Upholstery in Sherman for such a good job on the upholstery. And a huge thank you to Calvin Stanley for endless time spent helping to work out the bugs. And, Ken thanks me, his wonderful wife, that he is still alive after all of this!