August 2013
DACC FEATURE '55-'57 CHEVY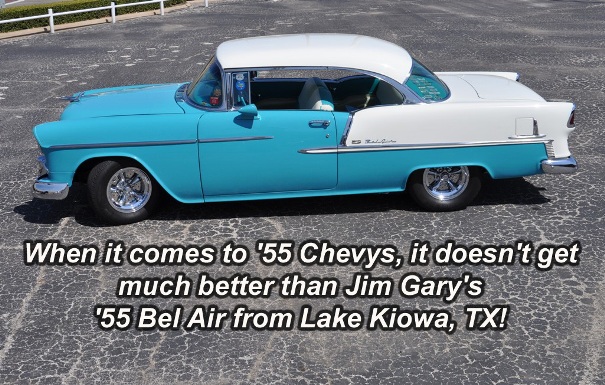 Jim Gary
Lake Kiowa, Texas
My first car was a '48 Ford Coupe while in high school. After graduating in 1957, I enrolled at North Texas State College. Shortly after that I bought a '58 Chevy Impala with a 348, 3-2's, and a 4 speed. I began to hang out at a body shop owned by Back Brown of Denton. He had a '55 Chevy he built for drag racing. I began to do work on this car as well as go to the races with him, and the best part was that he gave me the chance to drive for him! After the '55, he built a Willys Pickup with a 426. Later he put the 426 in in a '41 Willys Coupe. The '55 set an E.T. B/Gas record at Eagle Mountain Strip in 1960. The '41 Coupe lost in the finals in B/Gas at the AHRA Nationals at Green Valley Raceway.
I later sold my '58 and started to build a '40 Chevy Coupe. I put a 409 with 2-4's and 4 speed in the '40 Chevy and it was a blast to drive. I shortly married and as it goes, I had to sell it to start a family. I have followed it through 4 owners and have lost it in Louisiana somewhere. I would like to have it back, so if you know of a '40 Chevy in Louisiana, look me up!
In 1979 I re-married and my wife knew my love for old cars and suggested I get one. At that time I owned a company that manufactured women's sportswear. It was located in Dallas and there on Northwest Highway was a Texaco station. I would stop and buy lottery tickets pretty reguraly and one day there was a Turquoise and White 1955 Bel Air Hardtop sitting behind the station. I left my card in hopes he would sell it and soon the owner called and said he would sell it. When my wife and I went to pick it up the owner waited to tell me about the car. He and his wife went on their honeymoon in a car just like this one and about 15 years ago they decided to reminiscence. They bought the car and had it restored. He said after 40 years of marriage they divorced and it didn't mean anything to him anymore.
I bought the car in 1995 and drove it until 2000. I began a complete redo about that time. I did all the disassemble and assembly work myself and I had my high school friend, Skip Wisdom of Wisdom Body Shop in Mesquite do the paint work. I put a 350 small block in it along with 2-4's, MSD, Tremec 5 speed and 9" Ford rear end. It took me 14 months to reassemble. Since then I have put over 35,000 miles on it!
I go to car shows almost every weekend from April to October. In 2004 - 2006 I competed in ISCA show circuit. In '06 the car won the International Championship for '55 to '59 Conservative Hardtop class with wins in Shreveport, Dallas, Abilene, Wichita Falls, Omaha and a runner up in Waco. In 2005 it won 'Best Car' at the Reno Hilton at Hot August Nights. Also at the 2006 Dallas Lone Star Classic Chevy Convention it scored 969 points in the '55 Custom Driven Class taking a Gold Award.
Scroll through the photos using the arrows, make full screen using the expanding option in the top right