JULY 2013
DACC FEATURE 'TRUCK'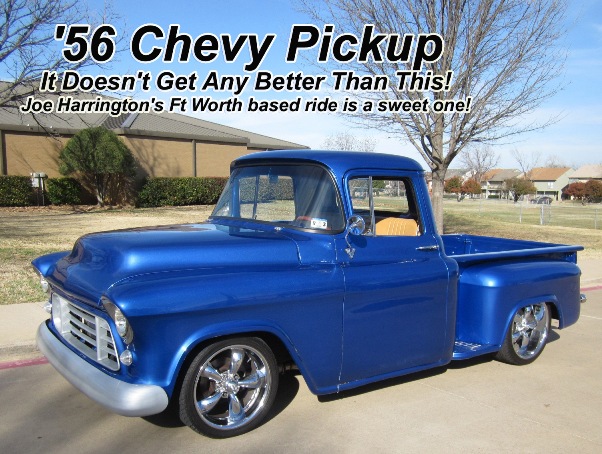 Joe and Marlene Harrington
Ft Worth, Texas
Joe Harrington sold his turquoise and white 1956 Chevy 2-door sedan at the Goodguys show at Texas Motor Speedway last year. That opened up space and time for something new. In November he found this neat 1956 Chevy small-window pickup on Craig's list in Las Vegas. He's gradually going through the whole pickup to make sure everything's sharp looking and done right. He's also tweaking a few things.
The bright metallic blue pickup sits low and immediately catches your eye. The emblems have been removed from the hood and side to give it a sleek look. The normally-chrome bumpers and grill are painted silver. The grill is stock, but has the two center vertical bars removed to give it a unique look. The front bumper is stock but is turned upside down. The rear bumper is also inverted and sectioned, so that it doesn't extend beyond the width of the pickup bed. It has a smooth after-market tailgate and a beautiful light oak bed.
When Joe bought the pickup it had small uniquely-placed LED tail lights in the end of the bed rails. He felt like that wasn't enough light for safety, so he added a standard sized pair of LED tail lights in the stock position. He also added LED rear tag lights.
The low stance of the pickup had been achieved by using a flip kit on the 10-bolt GM rear end and c-notching the frame. It also has low profile tires on Coy wheels, 20" rear and 18" front. Joe thinks the pickup rides TOO low and is thinking about flipping the rear end back up, but his wife Marlene suggested just buying a higher profile tire--it's easier and also will improve the ROUGH ride.
It has a Gen 2 Camaro front clip with 4-wheel power disk brakes. It is powered by a Ram Jet 350 engine with a 700R4 automatic transmission. It has power steering, power windows, Raingear wipers and an Old Air air conditioner. The interior has VDO gauges, IDIDIT steering column gauges plus some add ons and the seat upholstery is a nice "pickup tan" leather with an otherwise stock look.
Joe still plans to work on the engine compartment and get it "looking good" and some other projects on the truck. We're glad to have another Classic Chevy pickup in DACC and look forward to seeing it often.
Scroll through the photos using the arrows, make full screen using the expanding option in the top right