May 2013
DACC FEATURE CAR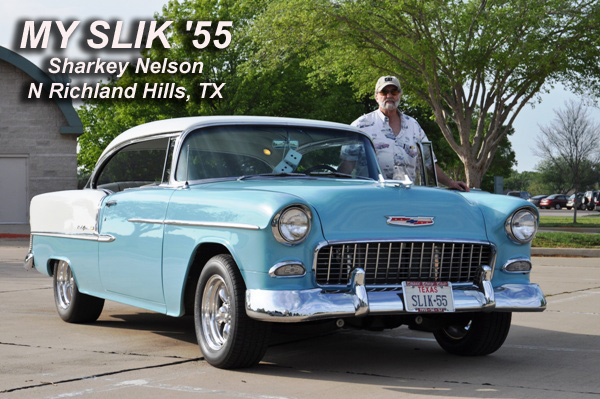 My SLIK 55
What a great country America is!
I am so very thankful that I was born and grew up in what has to have been the best era that has ever been known to us as Americans - the 50's and 60's!
After the end of World War II the economy started thriving. Families were buying homes, taking vacations, televisions were becoming popular, new inventions everywhere, etc, etc. But the best part of the 50's were without a doubt, the CARS!!! My dad was a "car guy" as were most all of my family. I was only 6 years old when '55 Chevys came out, but it was "love at first sight". I didn't get my own until I was 16 and I drove it through high school. Of course, after high school I sold it so I could get a new car ('68 - SS427 Impala). But my love and desire for another '55 never went away. Fast forward to 1979, a friend told me about a '55 2 door Sport Coupe Bel Air, 2 owner car that I wound up buying for $2,000. It had a straight solid body, good interior, a smoking-oil burning 350 cubic inch engine with a 4 speed. Well also in 1979 I was raising 2 small children, just built a new house, and therefore didn't have the extra cash to "fix'er up", so I just drove it "as is" and had some fun with it. Fast forward to 1999 after 20 years of saving and getting the kids grown, I decided "it was time!" She got new paint (original Cashmere Blue and Ivory) by Ken Young/Classis Car Connection, new interior by Ciadella, all new glass by Ken Young, a freshly built '77 Vette 350 with forged crank & pistons, Hydraulic roller cam, Edelbrock aluminum heads and intake with a Speed Demon carb all going through a new rock crusher 4 speed and 9" Ford Positrac with 3:55 gears. She got neglected and sat in the garage for a bit while we rode our Harleys (and still do) but she's out and about again. I've bought and sold many other classics over the years, but I'll never let my '55 go! I'll have to leave her behind someday, but she'll be in good hands with my son Chad.
Sharkey Nelson
Scroll through the photos using the arrows, make full screen using the expanding option in the top right