February 2013
DACC FEATURE CAR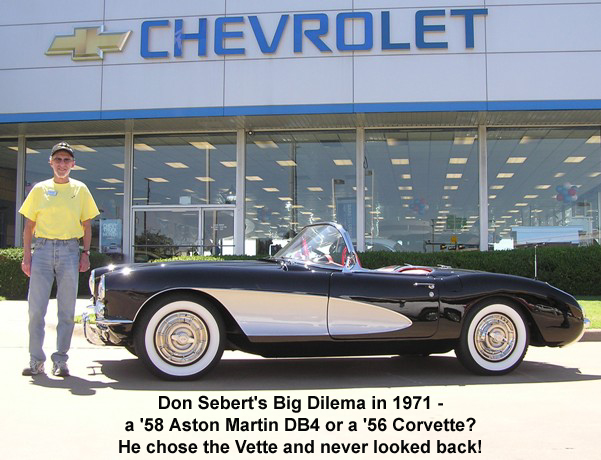 My big dilemma was the choice between a 1958 Aston Martin DB4 and a 1956 Corvette, both approximately the same price. A wise person knows the obvious choice.
The year was 1971 and the search began for a road race/street car with the only criteria, it had to go fast! After a lot of thought about the two options, the choice for me was clear – the Corvette. What could be more fun than having the top down with plenty of power?

Forty-plus years ago, no one thought of either of these cars as being future valuable classics. I have always had an eye for value, but not necessarily monetary value.

Well, after the original Vette purchase, reality quickly set in that many items needed attention (I think we can all relate!). My first task was to pull the original weak engine and 3-speed tranny and replace them with a bored-out 283, and 4-speed syncro tranny. Then fix other necessary items, repaint the exterior and then it was ready for exhilaration.

Fast forward to 1990 and after many years of racing, street driving and just having fun with the Vette, the decision was made to do a body off restoration to original specs. In doing so, I discovered good news and bad news. First the good news... the car was originally black, not red. The bad news... it was originally a powerglide. After thinking long and hard about this dilemma, it was decided since everything else was original including the engine, 2x4 carbs, power top and wonder bar radio; it should be exactly as it came from the factory, including the powerglide.

I was fortunate to find the original owner in town, who brought me photos when the car was new. It was a beautiful black with silver coves. He repainted it red with white coves after owning it a few years and replaced the powerglide with a 3-speed. As he said, "That's what everyone did in those days, if they wanted a cool Vette". He owned the car until 1969 and sold it to a neglectful owner for two years before I rescued it.

Since 1971, I have owned a multitude of Corvettes of almost every era including a 1969 L88. What's interesting is the '56 was my first, and now my only Vette... and perhaps my last.

Now it gets a few outings to local events and some short distant driving. It has been a real delight all these years to be its caretaker.

Who knows, maybe this tale will be ongoing.
Scroll through the photos using the arrows, make full screen using the expanding option in the top right