DACC FEATURE CAR
January 2013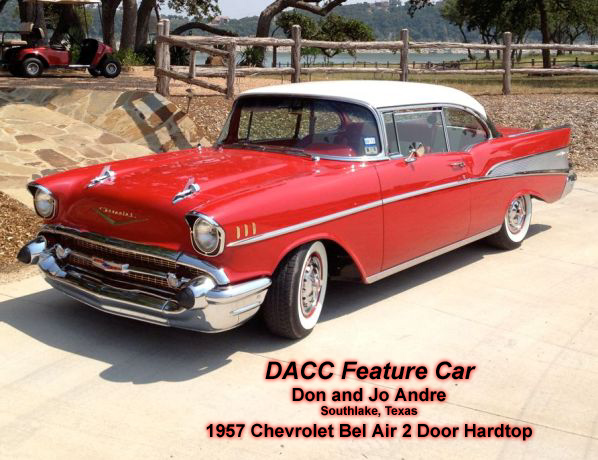 Don Andre bought this 1957 Bel Air two-door hardtop Chevy in 1998. He found it advertised in the paper. It was located out northwest of Fort Worth in Springtown. It looked pretty good from the outside, but didn't have a good engine or transmission. He was originally going to restore it to stock condition, because all it lacked was an original front seat. He even bought an entire 1956 Chevy just to get the original '57 front seat that was in it. When he found out the original block in the '57 was cracked, he just decided to make the whole car really cool and drivable instead of original . . . He's still got the 56 Chevy that he bought to get the 57 front seat (that he didn't use).
Don took the car apart, took it off the frame and got it on the rotisserie by about 2000. He began working on the car more consistently after he retired and joined DACC in 2005. The car had to have new floorboards. Don upgraded the frame with front disc brakes, side motor mounts, rear shock mounts and a 500 power steering box. It has a new GMPP ram-jet crate engine, Sanderson
headers, 700R4 transmission and 3.36 rear end.
At about this point Don slowed down working on the Chevy much because he was at Bill Preston's every day helping build a 1966 Lemans Convertible. When he realized he and Bill could paint the car(s) themselves, Don set out to add a new garage to the side of his house and equip it with filters and exhaust system to be a paint booth. They painted the Lemans there, then Bill's '89 Vette, and FINALLY Don's '57 Chevy! When asked why he built a paint booth for Bill to paint his cars in, he says, "You didn't think I was going to let him do MINE first, did you?"
During this two to three year period the body went back on the frame and there were endless hours of body work, and mechanical work with engine and transmission challenges. Don loves to solve a problem. He hated it that restored hardtops' door window flippers failed to operate properly, so he set out to make sure HIS did! He recognized that the long hinge at the top was straight, while the roof is arched. So he made a shim to make the roof straight like the hinge... his flippers WORK! Actually the real problem is the reproduction rubber seal at the top of the hinge does not have metal shims in it that were present in the originals to compensate for the roof line arch. Due to Don's persistence Soft Seal is considering changing the design of this piece for future production.
THEN it was time for paint! He wanted just the right color red for the car. English Color worked with Bill and Don to get just the color red, he wanted. It started with Viper Red which was too
orange. So they doubled the black in the formulation... still too orange. Then doubled the violet in the mix, which made the perfect red! The top is a special mix of a cream color that matches the Ultra leather that he chose for the interior.
The seats are Chrysler four-door bucket seats that are cut down and altered to flip forward to give access to the back seat of the Chevy. Don originally planned to have the entire interior done in the cream Ultra leather, but by the time he was ready to have it upholstered, Ultra leather had stopped making it in that cream color. Consequently John at Headliner Customs ordered all the cream color that he could get and designed a two-tone interior using red Ultra leather to match the exterior. Don says he likes it better this way, because it's not as hard to keep clean. The carpets are red. As everyone knows, these cars are never finished so Don is planning to do the trunk in the two colors to match the interior.
He has installed a Classic Auto Air unit that heats and cools. To gain space for a full glove box, he used narrower 1956 heater controls, moved the glove box to the left and the ashtray has been deleted. It has Autometer Gauges and he's added two gauge pods (making four) to house tachometer, oil pressure, temperature and gas gauges. Don started out with American Racing wheels but later decided he wanted wide whites so he modified some stock 14x7" Camaro wheels to hold stock '57 Chevy flipper wheel covers. With the help of Bill and a neighbor, Ed, working long days, there was a mad rush to get it presentable by the 2010 Lone Star 29, and it made its first appearance at that convention in Irving.
This is the first full frame-off restoration Don has done, although he restored his 1966 Corvair. He also has a 1941 Dodge two-door coupe that his dad bought new that is waiting patiently in the yard for a full restoration. He hasn't decided what to do with that '56 Chevy yet, but he did sell the '57 front seat.
Scroll through the photos using the arrows, make full screen using the expanding option in the top right