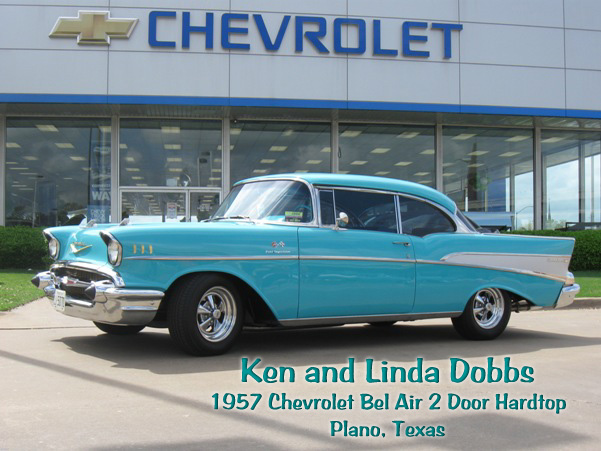 Ken & Linda Dobbs


I have had Chevys nearly all my life. Early on I raced a D/Gas '55 Chevy before moving to a '57 150 Business Coupe that I built and raced for many years at Green Valley Raceway. It was a lot of fun and featured a fuel injected 283 cubic incher with 283 horsepower. I turned my attention then to the first generation Camaro's when I built a '69 Camaro that I raced for seventeen years. It had a aluminum rod 355, 660 lift roller, aluminum heads, tunnel ram with two 660 carbs and a Doug Nash 325 low 5 speed transmission, a narrowed nine inch rear with 600 gears and 14\32 tires. I would leave the line at 8000 and shift at eight and cross the finish line in a 1/4 mile at eight! That car would pick the front wheels in the first three gears and was really a fun ride. It would later be stolen so that ended that fun!

I later bought a '63 corvette and it had a 340 horsepower engine with a 4 speed and I worked on it for ten years and enjoyed it a lot. Then I needed a project and a friend had bought a '57 Bel Air and was doing a frame off so that got be to looking for a 150 model. But before I could find one my friend offered to sell me his Bel Air. So I jumped at it and called it a done deal!

It's a '57 Bel Air two door hardtop. It's been off the frame, new gas tank and fuel lines, '87 Chevy power disc brakes, '57 Chevy power steering mated to '87 sub. pump and reservoir. The engine is a 468 big block with a aluminum intake, 750 holley with a MSD6 box, distributor and coil. Power goes through a Turbo 400 transmission and a 9 inch Ford with 325 gears.

The exterior is turquoise and there is all new tinted glass. The interior is done in stock turquoise with black fabric inserts. Wheels are seven inch by fifteen Cragars. My son and I installed Vintage Air, a Quartz clock, and a new radio with a memory stick so I can have plenty of rock and roll music!

She came from California originally built on April 17, 1957. I call her Kermitt.

So after some coaching from Bill Preston I joined DACC and I hope to do some trips real soon!


Scroll through the photos using the arrows, make full screen using the expanding option in the top right