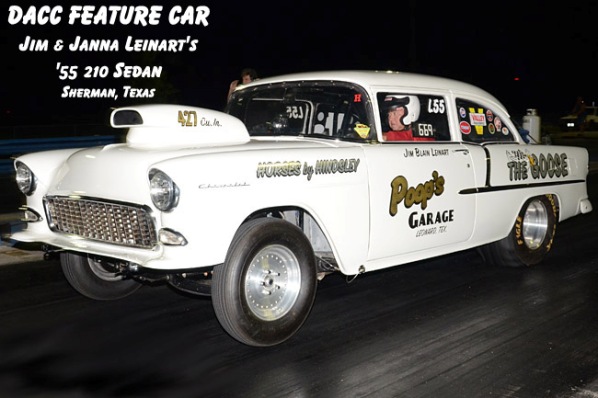 The Goose

This '55 Chevy has a tremendous racing history. It was bought new by Bill Alexander who lived in Sherman. I lived in Leonard so I did not know him, however I saw the car race countless times at area drag strips. If there was a race anywhere Bill was there.

It was born as a Glacier Blue/Skyline Blue '55 Chevy. He started racing it immediately and took it off the streets to make it a full race car in 1956. I understand he bought an older Olds to tow it with. It became the 'Blue Goose' and of course was raced with a 265/283/301/327 and a four speed over the years.

It had various blue paint jobs over the years when it was known as the 'Blue Gooes' most of those paint jobs done by Crump Brothers in Garland. In the 80's Bill had health problems and money problems. Bill's brother Don Alexander took the car and decided to redo the car. It was tubed with in went a big block 427 and a Powerglide. It was painted red and it became the "Goose Gone Red". About that time I met Don but never actually met Bill but had seen him at the races tons of times.

Soon Bill died and the car just sat. I loved the car and ended up buying the engine out of it around 1993.

Then in about 2005 was able to buy the car. It needed a total restoration again so I ask for pictures of it as the Blue Goose but Don told me he had none. I am not sure if that was true or not as he did not want me to restore it as the Blue Goose. So I painted it white and it became just "The Goose."

The restoration was done by myself and Greg Easley who by the way is the founder of DACC. I also had a good friend Terry Hindsley assist and is a great tuner.

The engine is a vintage 427, with L-88 aluminum heads that were done by Valley Head Service in California. It has a Lunati roller cam, Dart intake and Dominator carb. The rear end is a Dana 60 four link and a Powerglide transmission.

Best time for me is a 10.03 at 130MPH. While I have not had a lot of racing success, I did win B/Hot Rod at the Texas Thaw a couple of years ago and the Shoe Box shootout at Super Chevy in 2010. Most of all I have had a lot of fun with the car.

On the door is 'Poops Garage, Leonard TX'. When I was in high school we started a car club called 'Stockers'. Poop was a local mechanic and he agreed to be our club sponsor. We would meet every Monday night at his shop in Leonard and he taught us all about engines and cars. Several of the club members raced at Green Valley Raceway regularly.

I started going to the drag races before I could drive. When I was 17, I got a '55 hardtop with a 265 4 barrel, overdrive, 4:11 rear end, factory air conditioning and power steering. Immediately I took off the air and power steering as it took horsepower away. I bought a $10 097 Duntov cam - and wow it ran! My first trophy was at the Caddo Mills airport drag strip ran by the North Texas Timing Association in the C /Stock class. Of course I was hooked! I raced at the Scorpion in McKinney, a track in Whitesboro, I-20 Raceway in Tyler and Green Valley Raceway in N Richland Hills. This was my daily driver and college car so I had to be careful! Then a buddy of mine raced a '55 150 and then moved to a '57 150. We did a body off restoration at my house on the '57 back in 1968 when that was not real common. We painted the frame with a brush!

Then I got a '67 Camaro, stripped of everything and got a '69 302 from a wrecking yard. I raced that car probably from 1970 to 1973 and had pretty good success. I had a partner, Billy McWhirter (who now has a red/white Bel Air) and we won the IHRA Longhorn Nationals at Dallas International Motor Speedway in Lewisville in 1972 in Stock Optional and set an IHRA record. We raced the car there several times and also at Green Valley with pretty good success winning King of the Valley where all class winners compete against each other. This car was known as Vitamin-Z as it was painted orange.

I sold the car in '73 and started on another Camaro, this time a '68 and built it with a 302. It was called Captain Gumball and lettered by Dirty of Dallas. About that time is when I met Greg Easley and he brainwashed me so I got more into car shows than racing. I showed the Gumball at the Autorama in Market Hall in about 1977. I sold the car $2500, which sounds crazy now. Boy, what a bad mistake.

Then I bought a '65 Corvette and restored it over about a 7 year period. It was also painted by Greg Easley.

Then in about 1995 I wanted a '55 and bought a car that Greg did the paint work on. It's a Black and White '55 made as a Del Ray with original interior. I have taken this on 10 Power Tours. It was the Feature Car for DACC in April 2012.

After that I got the 'Goose', and then later got the '55 Gypsy Red and Beige hardtop that was a DACC Feature Car in October of 2011 that was built as a street gasser and was a total restoration. Yes, I like '55 Chevys!

Scroll through the photos using the arrows, make full screen using the expanding option in the top right