DACC FEATURE TRUCK
August 2012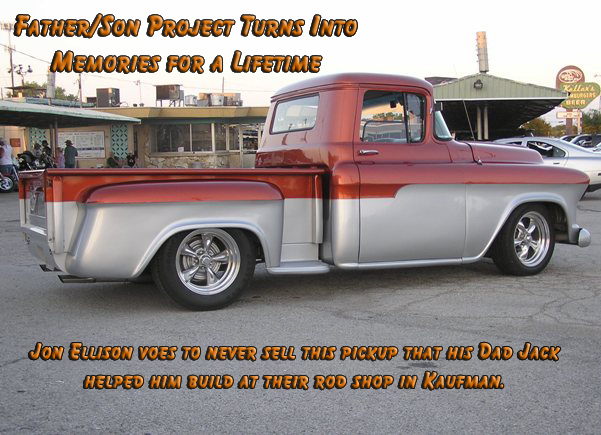 Those of you who know Jack and Jon Ellison, owners of North Texas Rod and Custom, Inc. in Kaufman probably already know the story of Jon's 1957 Chevy pickup. For those of you who don't, well here it goes.

When Jon was only 9 years old, Jack saved two junk 57' Chevy pickups from the wrecking yard (one was only 5 cars away from being crushed!). Jack was planning to turn them into a ground pounding, big block powered, black primer parts getter for the shop. That all changed when Jon , who was helping Dad install a 9 inch rear end said "Dad, I sure love this truck, I hope you don't get rid of it like you have done with some of your other projects". Well that just tugged at Jack's heart so he decided to give Jon the truck right then and there. Of course there were some strings attached. He had to maintain his grades, A's and B's only - NO C's allowed, he had to keep up with his regular chores, no fighting with his sister, and so on. Most importantly though was the condition that Jack was only going to work on the truck with Jon if he was right there with him. So through the next 8 years, football, baseball, paint ball guns, 4-wheelers, and GIRLS... the work progressed slowly but steadily. Jon was right there at every step of the build and learned a good trade along the way. Jon picked the colors and Dad came up with the design. The truck was built totally in house by Jack and Jon with no outside help except for the seat covers. Through this experience, Jon learned the custom auto trade well and is now the Shop Foreman at their rod shop.

Jack and Jon finished the truck the first week of Jon's senior year in high school. It was an instant hit at the local car shows. The first major car show Jon took the truck to was the Goodguys fall show at TMS, it had less the 600 miles on it then. Jon was offered $45,000 for the truck at the show, but turned it down telling the prospective buyer that it was just too new and too sentimental for him to sell.

When Jon got married, he and his bride Becca drove away from the church in the truck. He has now promised Dad that he will never sell it and that he hopes his kids will drive it someday. Jon and Becca were just blessed with their first baby on June 9th 2012, a healthy baby girl they named Jayden.

Specs on the truck are as follows: 1957 Chevy 3100 series pickup, Mustang II IFS, 425 hp 355 ci SBC, turbo 350, 9" Ford rear end with 3.00:1 gears, Autometer gauges, in dash heat and air, tilt column, full custom interior with Ultra-Symphany Leather, PPG Deltron Basecoat/clearcoat paint (the orange is 2001 Chevy P/U Sunburst Orange Metallic and the silver is a custom Platinum Silver Metallic).

The truck rides and handles like a sports car, currently has just over 6000 miles on it, and can be seen driving to car shows all across Texas and the south central US. It has received many awards including several "Best Truck in Show" and "Best In Class", but the most special awards are the "Rising Star Award" from the Dallas Autorama which is for builders under the age of 25, and the "Best Truck in Show" award from the Ft. Worth Rod and Custom show.

Be sure to stop by and introduce yourself to these guys when you see them with the '57 at the next car show, and be sure to check out their web site www.ntrci.com for many more pictures of the truck and the 100's of custom cars and trucks they have built (Jack has been in the custom car business since 1986!).


Scroll through the photos using the arrows, make full screen using the expanding option in the top right