DACC FEATURE CAR
July 2012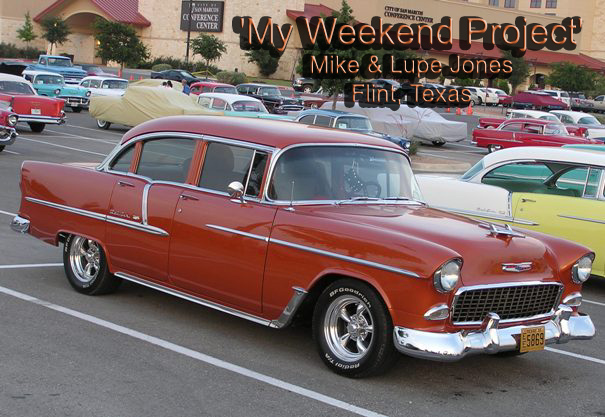 In 1998 I begin to look around for a project to keep me busy on the weekends as I hate to be inactive. So one day my wife Lupe and I were out riding around and spotted a classic car lot south of Tyler. There was a pristine '56 Bel Air for sale sitting there. I thought that the asking price was too high and we left (big mistake). But the idea of restoring an old car was in my head and after a lot of searching I found my '55 4 door Bel Air in some very high weeds behind a local garage. The price was reasonable, money changed hands and I loaded my new project on the trailer. My wife came home and found her parking spot occupied by a unappealing rust bucket -- thank god she just smiled and said have fun.

I started the tear down and quickly discovered that I was in a steep learning curve. As a kid I had worked on old cars but never anything like taking one apart and rebuilding it. So over the next several years I disassembled the car down to the frame and started rebuilding it from the ground up. After getting the body remounted, I found out that I was not a "body man" and that It was going to take some serious cash to get the body work and paint done. So the car sat while I stocked piled funds.

Then in 2005, I retired from GMAC and fiddled with the body until I decided to put the car on the fast track. After looking around, I found a body shop that I liked and crossed my fingers hoping for a good result. Finally the body shop called and said come get it. I was so eager to get it home that I drove it home from the body shop with no glass, brake lights, mufflers and a milk crate for a seat! That night I was like a kid at Christmas time. I sat out in my carport and just stared at what used to be an ugly duckling. The next morning I started putting the trunk weather seal on the truck lid, but I had to give it up as Hurricane Ike was blowing through East Texas. From that point I really began to make progress on the car. Soon we were taking trips and getting lots of thumb ups while going down the road and answering questions about what the color is called. I enjoy answering it is U-Tech color code 308E5.

My wife was and still is very supportive of the long term project, the only thing she told me was that "we" needed air conditioning, to which I said No Problemo darling. People ask me why I built a 4 door instead of a 2 door, I tell them I wanted to have something different from every one else. One of these days we will be "finished" with the rebuild, but I keep tinkering with the car so that day is still a ways off. Until then, we will drive it, show it and have fun with it!

Scroll through the photos using the arrows, make full screen using the expanding option in the top right