DACC FEATURE CAR
May 2012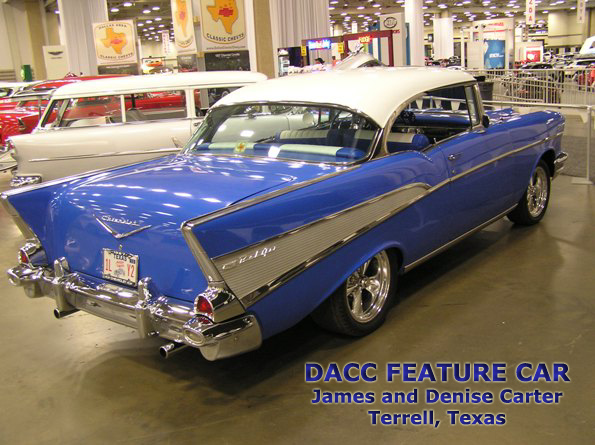 James Carter likes Chevys. And if they are vintage then it makes it even better.
Having restored 25-30 cars, including '68 Camaro's one each for his children, James knows what he is getting into when he starts a project. A red '57 Bel Air hardtop was his first Tri Five project in 2007. After completing that, and having so much fun driving it he had to do another which led to this blue and white '57 Bel Air hardtop. The car was purchased from a family that had owned it 29 years and it was kept in a one car garage with no door and it was covered in junk.
James does all his restoration work from his home's two car garage. A bit of an old car factory, he has recently done several Camaro's, a '68 Corvette, among others.
James loves the Tri Five's though and is a regular at DACC shows like the State Fair display, Spring Classic Chevy Shows, the Autorama and recently had his blue '57 at the Dallas Convention Center in the DACC display at the DFW Auto Show.
Scroll through the photos using the arrows, make full screen using the expanding option in the top right