DACC FEATURE CAR OF THE MONTH
April 2012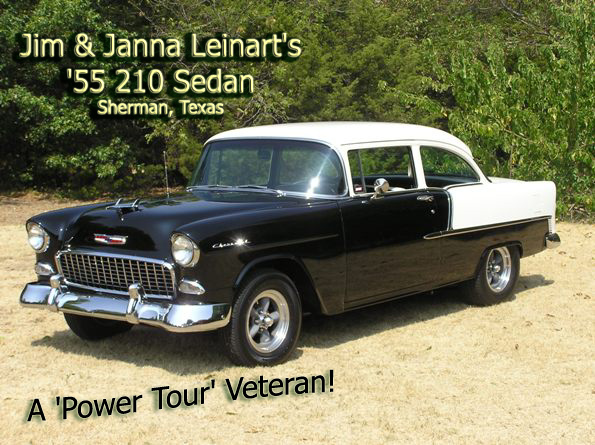 My first love of '55 Chevy's was .. well in 1955. My family bought a new Bel Air 4 door coral and gray '55, so I immediately wanted a '55 from that moment on. I did not get one of my own until 1960 and it was a black and white 2 door hardtop with a 265 V8, overdrive tranny, 4:11 rear end, factory air and power steering. It was really loaded! As time went by I slowly modified it with 283 engine and a 4 speed.

Well like a lot of folks did back then, I sold it before going into the military. I got a staggering $440 for it and it was a sharp car. Today that just seems crazy.

I had dreams about that car many nights and would dream I had it back only to wake up and be disappointed.

About 1997 (do not know why I waited so long) I decided I was going to get another one. I found a 210 model locally that had been restored maybe in the 70's. It was a dark brown metallic and a beige, had brown valor interior that was about as bad as it gets after everything had faded with age. It has a 283 3 speed but it was a pretty solid and good running car. So I bought it. I started playing with the 283 like changing cams, intakes and carbs to try and make it run better. I added American Torque Thrust wheels and it was a fun ride. It just looked really bad but it did not really bother me. I was just having so much fun with the car. Both my wife and sons told me I needed to drive it at night as I should not be seen in town in such a bad looking car!

One day my wife had enough and said if you are going to keep it you will have to repaint it. So I got a razor blade and started scraping. Most of the work was done at my house with the help of a real body man. I did not do a body off resto as I wanted to drive it and did not want it "Too Nice" to drive. It took about 2 years to complete.

My goal with the car was to take it on the Hot Rod Power tours. Well I have made about 10 with 7 Long Hauls so far. It has had various motors from the 283 to a 408 to a 327 and then back to the 283. Sounds strange but I seem to like the little 283 best of all, it just wants to turn some RPMs! It has Power Pack heads, milled 100 thousandths', a re grind 097 Duntov solid cam and cast iron intake and 4GC carb.

I have put over 30k miles on it and it has been a ball. I just regret that I went 30 years with out one!


Scroll through the photos using the arrows, make full screen using the expanding option in the top right