DACC FEATURE CAR
March 2012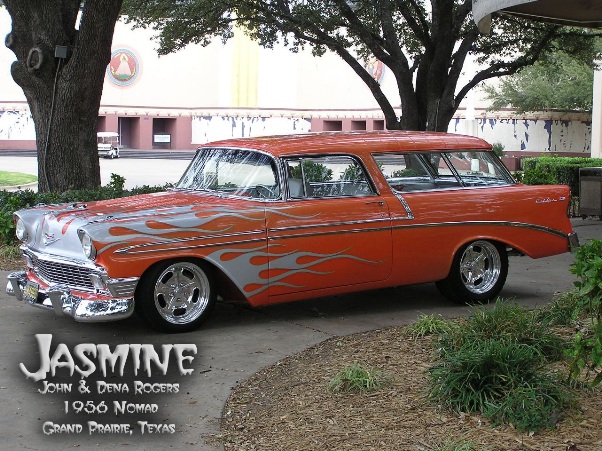 We searched for several years for a '56 Chevy Nomad to restore. After a few years we found this one at Lawrence Marshall Antique Autos in Hempstead, Texas. It was orange with a black interior. At that time it had a 327 4 speed with very rusty floors. We drove it for three years and then the clutch went out. When we jacked it up to change the 4 speed to an automatic we saw the gas tank was hanging down. That when we realized a restoration was needed on this Nomad!

We had bought parts for 8 years. When we started we replaced the floors and took the body off the frame. This is when we saw there was damage to the frame. We clipped the front end and installed a new one from Fat Man Fabrications, along with installed spring pockets on the rear end to accommodate larger tires. Over the years we have added a 350 engine, 350 Turbo transmission and a 9 inch Ford rear end along with disc brakes on all 4 corners. We painted the frame House of Colors silver and the body with House of Colors tangelo orange. We added flames, louvered the hood, and put in a new interior. We have had it in several shops over the years, but Texas House of Hot Rods in Mansfield finished it off installing AC, wipers, power windows, a Pioneer stereo, power seats and interior.

A friend asked me what her name was. She's named Jasmine because our song when we were dating was Summer Breeze by Seals and Croft which has a line that says "blowing through the Jasmine in my mind." Our car was finished in August 2011. We are back on the road meeting new people and making friends!



Scroll through the photos using the arrows, make full screen using the expanding option in the top right