February 2012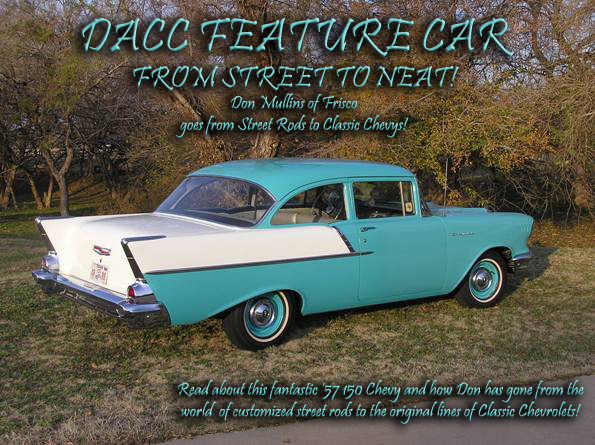 Ever since I graduated from high school in 1959, I've been building and showing "Street Rods" as a hobby. I've even had some of my twenty-some odd creations appear within the pages of Street Rodder, Rod & Custom, Southern Rodder and Street Scene Magazine.

Along my street rod building journey, I have owned a few old Chevys such as a 1954 Corvette, 1958 Impala and three '55 Chevys, all of which have reminded me of my "cruising days" in high school.

I recently sold my latest street rod project, a 1934 Plymouth Sedan, that was three years in the build and was featured in the August '09 Rod & Custom Magazine. After selling my street rod, and going through some serious "without a car withdrawal", I found my latest ride.

My recent find and "pride and joy" is a 1957 Chevy, Model 150, 235 six cylinder, three on the tree numbers matching two door sedan. The only factory option added was an AM radio. My '57 is the kind of car that dreams are made of and I am the proud third owner. The original owner was a lady from Ft. Worth that literally only drove the car to the grocery store on Thursdays and to and from Church on Sundays. She drove the car forty years without a fender bender or scratch until she stopped driving altogether, at the insistence of her children with the speedometer registering only 86,000 miles. The second owner, who bought the car in 1997, spent the next dozen years doing a frame-off restoration and finishing the project with
the '57's one and only repaint using original "code" factory colors. When the project was completed a few years ago, the Chevy took up residence in his garage.

When the second owner retired a couple of months ago and offered the '57 Chevy for sale, I jumped on the opportunity to own a rare piece of automotive history. Being a U.S. Army veteran, I was privileged to be a part of the recent Veteran's Day Parade in Frisco, Texas and proudly displayed my '57 Chevy, which drew much crowd attention. My '57 was also one of the feature cars in the DACC Tri Five Chevy display at the 2012 Dallas Autorama.

My '57 doesn't need much, just a few tweaks here and there. As a new member of Dallas Area Classic Chevys, I am looking forward to being an active participant and anticipate showing up at local events with my new ride.


Scroll through the photos using the arrows, make full screen using the expanding option in the top right