January 2012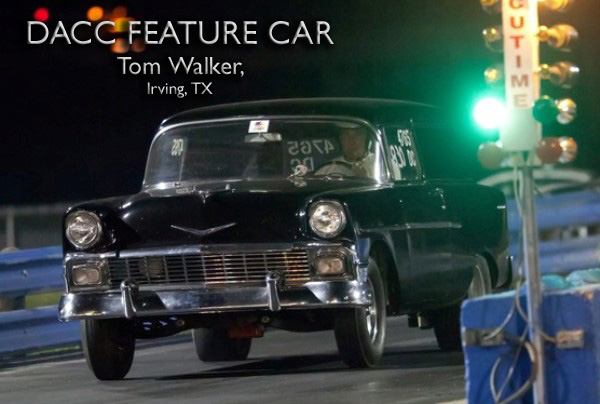 The Life Cycles of a '56 Chevy Sedan Delivery
The Car
This '56 Sedan Delivery is number 648 of 7441 produced. It still retains its original color code 687 of Onyx black. The old original 6 cylinder engine/3 speed transmission are long gone. In its day it was a true work car as some painted scripting was detected on the side panels during the black re-painting in 1971. But it also was pretty dented due to its duty. To this day it's still all original in sheet metal, but it needs some of it replaced and today some of those panels are now available.
Starting Out
This '56 Delivery is my second Tri Five Chevy. During the completion phase of a 1957 2 door hardtop refurbishment in 1969, the search was on for another project as these cars were plentiful, inexpensive, and the salvage yards were packed with parts and pieces for them. The year was 1969 and the opportunity sedan delivery was just a few miles away in sad shape, even that far back. You bet, the price was right and we towed it back to the family house in the dark and spotted it for refurbishment in the back yard. My brother and I towed it home with a chain and vice grips on the steering shaft as it had no steering wheel, engine or tranny. Wow, our parents were tolerant to these car projects as my 2 cars were some of many that 3 boys could afford to buy and drag home for overhaul or parting-out. Our dad even kicked in helping with the projects even though he was not a car buff but mechanically savvy. This all went on for 3-4 years until the back yard was sanitized to its green field state. Eventually all the boys moved on and took our Tri Five Chevys with us, or sold them or had the carcasses hauled to the smelters. I was always a fan of the junior stocker drag cars that sedan delivery cars were famous for exploiting in the NHRA stocker classes. In ensuing years my '56 Sedan Delivery saw 2-3 small block power pack motor changes for various reasons (camshafts, heads, pistons, and intakes) and upgraded from the trusty 3-speed tranny to the popular Muncie 4-speed and Hurst Competition Plus Shifter. Chrome reverse wheels with Cooper F and G 70 series black wall tires from my '57 project car were used. Of course the dated Headman's first commercial 1 ¼ inch Tri-Y headers were used because they were cheap in the used market and offered some minimal performance improvement compared to the cast iron exhaust variants and they looked better than the cast exhaust manifolds. Carburetors? Everything that was available was used, WCFB's, old Holley's, AFB's, 4GC's, Quadrajet's and lots of intake manifolds. Most of it was second hand or not the latest thing but I tried and used all of these parts anyhow. College ended and life moved on at the end of 1973.
1974 Ft Worth
My new job brought me to Ft Worth in January 1974. Did I mention my primary transportation for the previous 5 years and movement to Ft Worth was the black '56 sedan delivery we towed home without a steering wheel? 11 months into my new career I had an assignment that had me park the '56 on a public parking lot in downtown Ft Worth. That turned out to be bad news. One afternoon it was stolen mid day from that lot. My prayers were answered when 2 days later the police had found the stripped but not burned body in the Ft Worth Stop Six area. After paying $90 to the impoundment company, a friend towed it to my rent house with a chain and me in the driver's seat with replacement wheels with 3 lug nuts each. The car was quite a mess, but I was happy to get it back.
The Mid-Late 1970's
The decision was made to not re-register the car after the theft recovery. The new life to be put back into the '56 took a year or two but eventually the grill, sheet metal, 283 engine, hood, and drive train were replaced for bracket drag racing. This new life became a 13 second bracket racer on the drag strips. Trips became regular with tow bar towing adventures to Green Valley Raceway and Texas Raceway from the rent house in River Oaks in west Ft Worth. It was a constant learning experience dealing with mechanical reliability with the Muncie 4 speed transmission. So in 1976 the conversion to the Chevrolet Turbohydramatic automatic transmission was made. But being the low budget entry level racer I was I had to learn how to overhaul automatic transmissions which worked out to be a wise choice as the skill serves me well to this day. The car served both as a challenge to improve it cost effectively and win a few races. Eventually Green Valley closed and I moved out of the rent house and with career demands the car took a back seat and was stored along with my other Tri Five Chevys.
The 1980's, and Later
The car was retired from the grueling bracket racing series about 1979 as getting home at 2 AM Sunday mornings and sometimes later was a stress to be lifted by retiring from bracket racing. It was then only brought out for selected events which included the 1987 Dallas Area Classic Chevy hosted 'Show & Drags' event at the Texas Motorplex in Ennis. Thereafter the car sat on jack stands for a very long period under a tarp in a storage building. Then…
Today
Finally in 2008 the '56 Sedan Delivery was pulled out of storage and part time work commenced to get it street or race worthy as it was in its earlier day. The race venue choice prevailed in 2010 and the car came out in the Spring of 2011 displacing the '57 2Dr Bel Air hardtop I had been using in drag racing in the Texas Muscle Car Club Challenge Series. All of this under the restrictions of a tight budget as a new life change was started as a retiree. The TMCCC series is an 8-9 series race venue through the Spring and Fall of the year in the DFW area. For me the highlight of the year was with the runner up award I earned at the Lone Star '29' drag event. So what's different about the car today than in the late 60's or mid-70's? Not much. It's basically the same drive train from the late 70's racing days with a fresh motor, rubber and racing gasoline and its still runs 13 seconds in the quarter mile with the original WCFB carburetors on the old 2X4 265/225 HP manifold. But it should be noted it has never been in my drag race conversion plan to make the car unfit to go back on the street for daily driving the way it was originally used and intended. For example; the heater core just needs hoses to be functional and the heater blower motor operates. There are no giant rear tires requiring rear wheel tub's sheet metal changes. Also, the rear springs are in the original position. But the car is beefed up in the drive line area with bolt on equipment that can be removed and the original factory installed components re-installed from storage when desired. Today this car weighs 3275 pounds race ready without driver and is in pretty much in stock condition. So for 2012 what should we do? Change some engine parts like in the old days, maybe a cold air induction? Oh, how about the infamous timing chain cover oil leak of 2011, and original tachometer from the 1970's and water temp gauge that reads bad? It never ends! Hopefully not for a long time!
Scroll through the photos using the arrows, make full screen using the expanding option in the top right